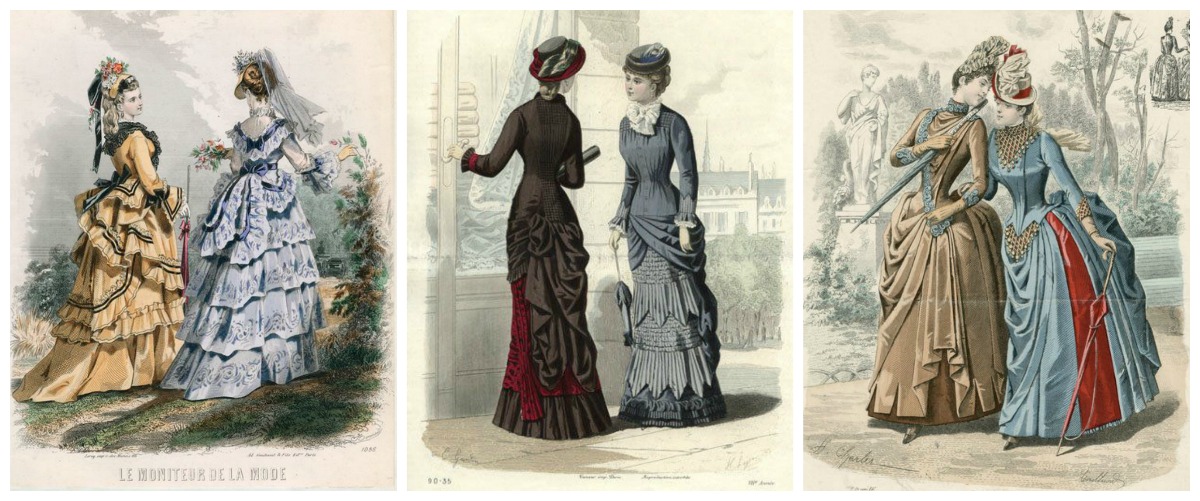 I get many inquiries about the various research and construction aspects of Bustle Era dresses. This period from about 1869 to 1889 is full of the best designs of the later Victorian years. If you want girly and fluffy – you'll find it here. More tailored is your style? Yep. And smooth fitting is smack in the middle.
Below is a list of my posts here on my blog covering the fashions, fabrics, trims, fitting, and undergarments for my favorite period of fashion history.
Bustle Era Specific Posts & Tutorials:
Bustle Era Changes – The Highs & Lows in the 1870s & 1880s – explore the three distinct fashion varieties that reside within these two decades
How Do You Know It's a 1870s Bustle Dress? – 5 features that classify garments of the early-to-mid 1870s styles
Selecting the Correct Bustle to Create the 1870s or 1880s Silhouette You Want – breaking down the Bustle Era years with tips and patterns to get the accurate silhouette shape you want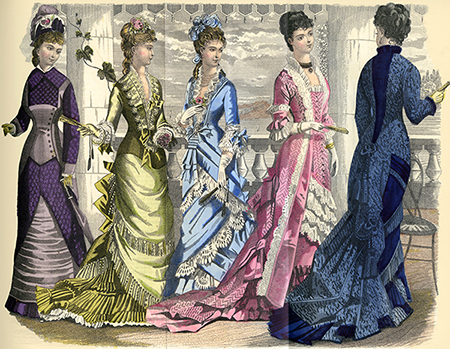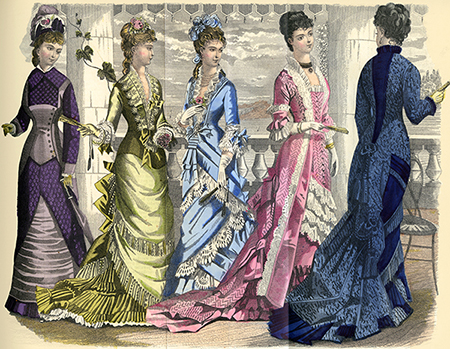 How to Make an 1870s Bustle Skirt – my popular video tutorial on getting those beautiful poufs
Demystifying Bustle Skirt Poufs – take the guesswork out of making a basic bustle skirt back
Quick Study of an 1880 Natural Form Gown – a look at a beautiful silver blue silk taffeta gown displayed at the Fashioning Fashion exhibit at LACMA
Finishing Your Victorian Skirts with a Hidden Placket Opening – how to cut a skirt placket then how to attach it to your skirt for a smooth, "hidden" closure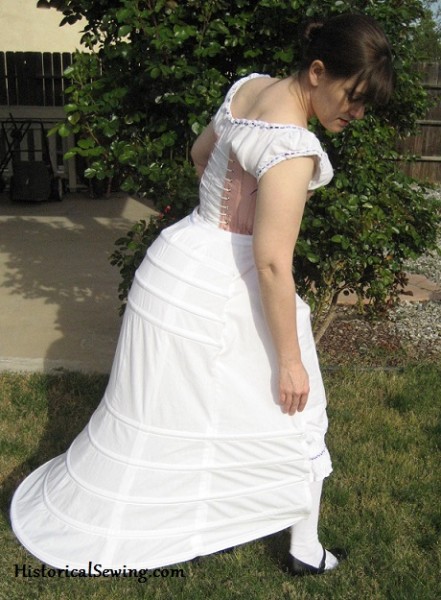 The Tail of 3 Bustles – my sewing review of patterns: Truly Victorian TV163 Lobster Tail Bustle, Truly Victorian TV101 Petticoat Bustle, and Laughing Moon 112, view C Trained Bustle
Cotton Fabrics for Bustle Foundation Skirts – covering cotton fabric recommendations to provide a firm foundation of your dress
Constructing a Victorian Bustle Dress – construction tips of the three garments that form the basic foundation of a bustle dress
Figuring Out How To Do Pleats on the Back of a Bustle Bodice – help creating those gorgeous fluffy bodice tail pleats that float above the puffed up bustle
Boning in Bustle Bodices – a look at what kind and where to apply boning in 1870s & 1880s bodices
Waist Tape Wrangling, or the Unseen Bodice Support – the what, why and how to setting in a functional waist tape on your bodices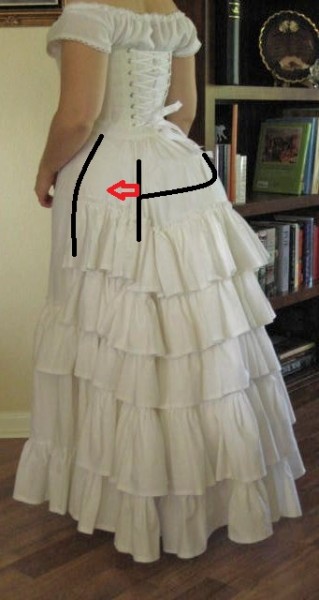 When Your Bustle Poufs Just Don't Lay Right – tweaks you can apply to make that puffy bustle skirt stay in place
How to Deal With Too Much Width in Your Sleeve Cap – 3 techniques shown in a video tutorial on how you can handle extra fabric across the sleeve cap
How to Sit in a Victorian Bustle Dress – for when you've finished your ensemble and are ready to dress out for your event
The Simple Solution to Perfect Pleats – the secret to keeping your finely pleated bustle trim in place
Victorian Dressing Gowns & Tea Gowns: A Brief Overview – boudoir fashion that became popular in the 1870s continuing into the Edwardian Era
Other Posts & Tutorials:
The Big Scary World of a New Time Period
Planning a Big Costume Project
Bringing a Fashion Plate to Life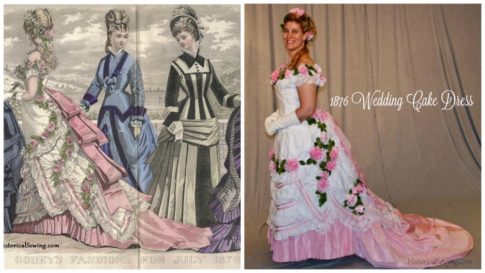 Fitting Guidelines for Flattering Victorian Costumes
Fitting a Victorian Bodice on Yourself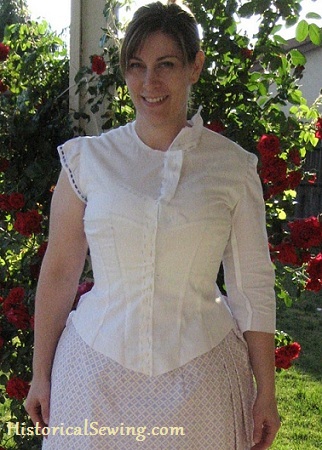 Sleeve Fitting for Movement – or Victorian BFFs
Easy Method to Make 3-D Trim Motifs
How to Make Ribbon Bows for Victorian Costumes
Flatlining 19th Century Skirts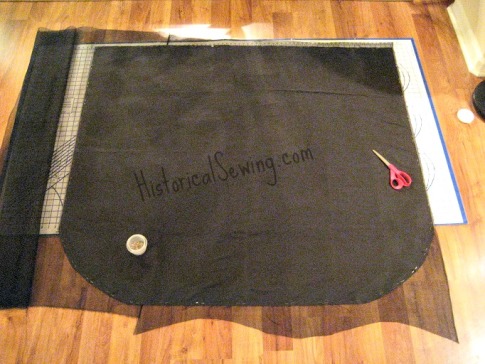 Before Frosting You Must First Bake the Cake! – making the foundation skirt for my 1887 Summer Berry Trifle Dress
How To Finish Your Skirt Hems For The Most Support
A Breakdown of How to Make the 1872 Blue Velvet Dress
Quick Note & Pattern Ideas for an 1880s Winter Dress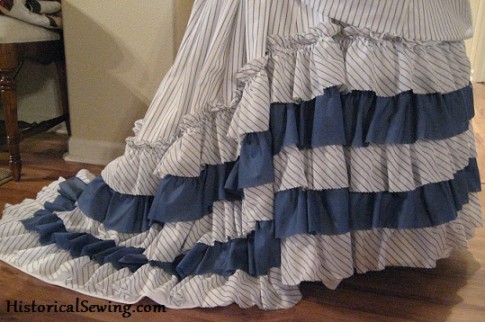 How to Calculate Yardage for Ruffles
Why Sewing Trim to The Back of a Hem is a Good Thing
Fabric Info Posts: Cotton, Linen, Wool and Organdy
Jennifer's Bustle Era Projects:
The 3-Hour Hat Non-Tutorial (hat made for the 1871 Harvest Grape Dress)
1873 Blackberry Cream Victorian Ensemble
1875 Scotch & Soda Dinner Dress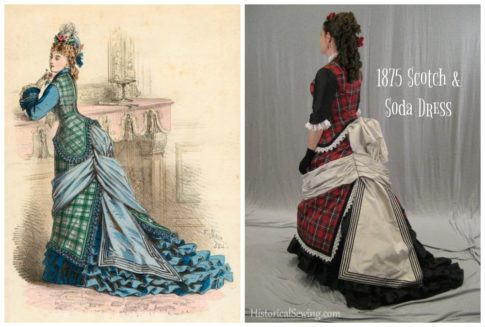 1876 Trained & Ruffled Petticoat
1880 Vanilla Dressing Gown –
Creating the Lace Panels
Constructing the Gown
1886 Pink Bubble Gum Diamonds Dress
1886 Ivory Spring Hat (worn with the Bubble Gum dress)
1887 Summer Berry Trifle Dress
Tips for Whipping up a 1880s Summer Berry Hat (worn with Summer Berry dress)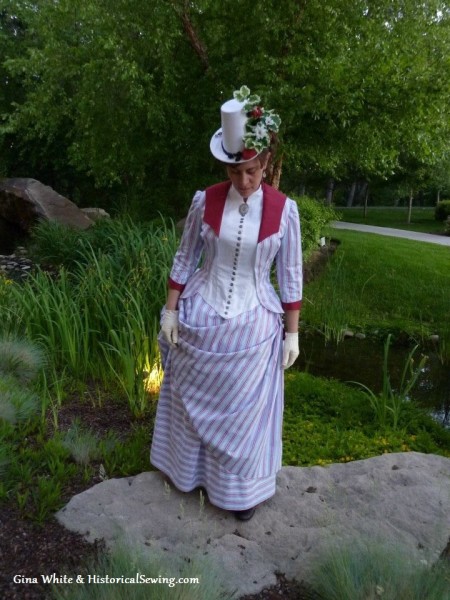 If you need a bit more step-by-step guidance on sewing up your bustle dress I invite you to sign up for my online Bustle Day Dress Class. We go through each step from fitting & patterning to finishing techniques. More on the class here.
To finalize your new dress ensemble I have an online class for making a buckram frame hat to polish off your 1870s or 1880s look. Sign up for the 1880s Hat Class here. (Tips for 1870s shapes included.)