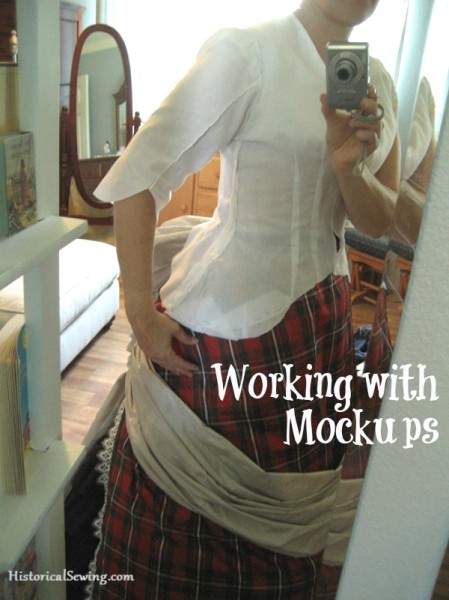 If you've been around garment sewing, and especially historical sewing, for any length of time you've probably heard of mockups, aka toile (pronounced twal), muslin, run-through, or fitting test garment. The purpose is to do a test run of the pattern for sewing errors and also to fine-tune the fit to a body.
Mockups are VITAL to creating a well-executed design.
I've put together some pointers for you for working with mockups so your next project will start off on the right foot.
If you have known fitting issues such as sloping shoulders, a wide back or are short-waisted, alter your pattern first before making the mockup. You basically want the pattern close to what you want before going into the first mockup fitting. If you are using a new pattern, sometimes you can't do any adjustments until you make that first mockup.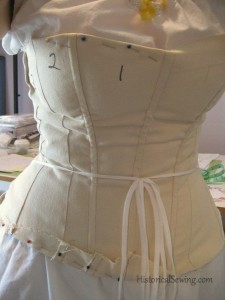 Fabrics for Mockups
First let's talk appropriate fabrics for mockups. This can be a big, confusing issue for some especially those fairly new to making test-runs of a project.
The common fabric that gets thrown around for mockups is muslin (calico). This plain, even weave cotton fabric is marvelous but not always a good choice for garment testing.
The key is to use a fabric that mimics the drape and hand of your final fashion fabric.
Meaning, don't choose a thin muslin for a corset mockup or heavy denim for what will become a sheer summer bodice. If you have silk taffeta for the dress then choose a sturdy cotton like poplin or even lightweight twill for the mockup. A corset mockup requires heavy bull denim or duck cloth.
If your mockup fabric does not reflect the fashion fabric then all sorts of issues could arise – both during the fitting and also appearing in the final garment.
To be honest, I use a lot of basic cotton (muslin, batiste, poplin) for my bodice and skirt mockups. Sometimes twill if I have a really heavy fashion fabric. Corset mockups are done with bull denim or duck. Many costumers use old bed sheets to use for practice garments.
I also don't pre-wash my mockup fabrics. However, I do press them before cutting out garment pieces. There's no need to pre-wash or pre-treat as I'm not making a final garment.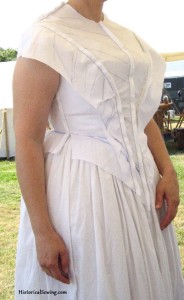 Mockup Construction Tips
Before you sew the mockup pieces together and begin fitting, draw in the grainline, especially near center front and center back. Grainlines are VERY important for how a garment hangs on the body. When they're off, so will the fit be. (You don't need to do this if you have a striped mockup fabric or gingham.)
For mockups, use the main pattern pieces that will help you test fit, proportion and design details. No need to add a lining (or to flatline the mockup) or have facings. If unsure of elements like pockets, collar or cuffs, add them to the mockup for evaluation.
Sew the mockup with a regular or slightly longer stitch length. The seams need to be sturdy enough to handle fitting without stretching or ripping, but with enough ease to let out if needed.
Draw in design details and any sewing marks that aid in putting together the garment. It's helpful to mark stop & start points of gathers, ease stitches and pleated areas.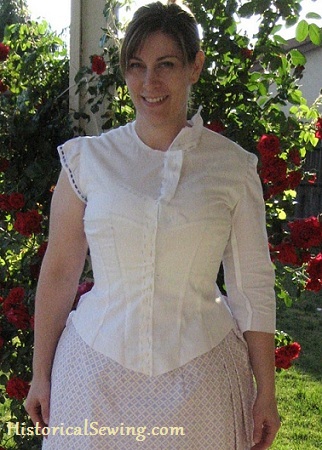 You'll also need to think of how you'll close the mockup for the fitting. Most often I pin the center front line together. Be sure to draw in the center front line if you want to close the mockup this way. Don't guess the seam allowance. Draw it in so you know exactly where it is.
If you have a back closing bodice, an option would be to cut the mockup on the fabric fold on the center back line then open up the front of the bodice at the center front and add a seam allowance for pinning shut for fitting.
Another cool trick I learned from another costumer a few years ago is to add a separating zipper to your mockup opening. This can be either in the center front or center back but makes getting the mockup on and off very easy.
In sewing the mockup, staystitch the edges to reduce stretching during fitting. Staystitch is a regular stitch sewn on the seam line. Do this at the neck, around a shaped hem and top of the skirt (if not set onto a waistband). It doesn't hurt to staystitch all the raw edges either. But definitely do the really curved ones for support.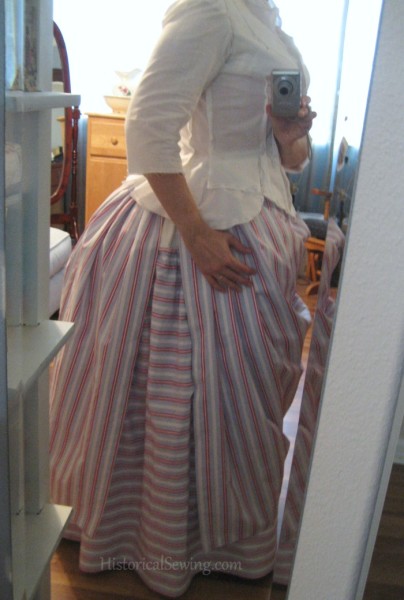 Fitting and Finalizing the Mockup & Pattern
After you've sewn up your sample garment from well-chosen fabric, it's time to fit to the body over all undergarments. (These can include chemise, drawers, corset, silhouette structure such as hoop skirt or bustle, and petticoats.) If fitting a bodice mockup, you'll need to have your final skirt made and on the body so the bottom of the bodice will be fitting correctly over the layers of skirts & petticoats.
For fitting I recommend my more specific articles:
Fitting Guidelines for Flattering Victorian Costumes
Fitting a Victorian Bodice on Yourself
Tips & Tools to Reduce Stress During Fittings
When you're ready to fit the mockup here's a few tools to have handy: straight pins, scissors, marking pencils and colored pens, and seam gauge. Don't be afraid to write on your mockup. Draw on it; write notes directly on the fabric. Develop your own key like stars to indicate the area to take in or little squares that mean "start adding fabric at this point."
Utilize colored pencils or pens to indicate various changes that need to be made.
Don't hold back in manipulating the mockup to get it where it needs to go. Of course, this naturally means you may need to make more than one sample garment as you tweak and adjust the design.
Don't be afraid of this! If your goal is to have a garment that fits well then you'll need to spend time in the adjustment stage…. at the mockup point. Sure, some tweaks can be made during a final fitting but really only minor seam adjustments in or out. It's super difficult to add width or even take it out at the final fitting.
Use the mockup to tweak all those various figure allowances from the start. The final fitting should really only be for how the overall ensemble looks and to move any trim or closure placements.
Follow my tutorial on using a needlepoint tracing wheel to transfer all fitting marks on your mockup back to the paper pattern to finalize.
And I know it's popular (because… time saver!) and even historically correct to use the fitting muslin as the lining in your final garments. This, however, I cannot support. The mockup can become stretched or twisted during fitting, not to mention all the new lines drawn, taken in, or slashed apart. A clean, fresh lining is best.
Although, historically, people were used to fitting with linings to bodies they already knew how to fit clothing to. Most modern costumers don't make clothes on a regular basis so mockups tend to get messy. If you have a bodice from a previous project, use that pattern to make a new mockup to fine-tune. If it fits well enough, go ahead and use it as the underlining layer. However, I still recommend cutting new fabric for the final garment.
And what to do with your mockup after fitting and the project is made?? Keep for future reference of garments made from the same pattern or toss into the rag bag.
Do you have any other mockup tips to add? What has worked for you in making mockups?