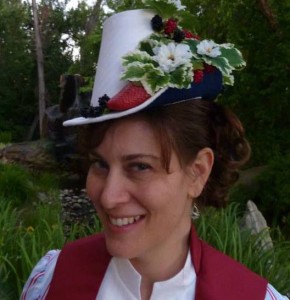 I've always felt like I belonged in the 1800s. I grew up dreaming of Victorian puffed sleeves (like Anne Shirley), romantic homes and one day living in a house that looked just like Disneyland's Haunted Mansion (without the ghosts but with the attic full of treasures). I couldn't get enough of ruffled skirts. And my 16th Birthday was a Victorian tea party on the back lawn.
By high school I was making most of my clothes with added historical elements like those puffed sleeves, long hems, full skirts, Edwardian ruffles and lace inserts.
My grandmother, Elizabeth, started me with a solid foundation in clothing construction (along with other crafts), and now, nearly 30 years later, I still yearn for that 1855 spooky Italianate home but my sewing talent has brought the 19th Century into my life.
In 1998 I stumbled upon Jennie Chancey's Titanic Project at Sense & Sensibility. The next year I discovered Truly Victorian and Past Patterns.
Did you hear my squeal of delight? It echoed for miles: "There are patterns to make Victorian clothes?! Oh my gosh! No Way!"
Four years after graduating with a Bachelor in Entrepreneurship/Finance, I decided to go back to school simply to learn new techniques and didn't care a jot about the degree. I enrolled at FIDM (Fashion Institute of Design & Merchandising in Los Angeles) to absorb all I could about pattern making and garment draping.
I felt freedom from not having to rely on finding that perfect commercial pattern anymore to make my Victorian garments a reality. (But I DO think commercial patterns are still a great jumping off point for a design and use them extensively.)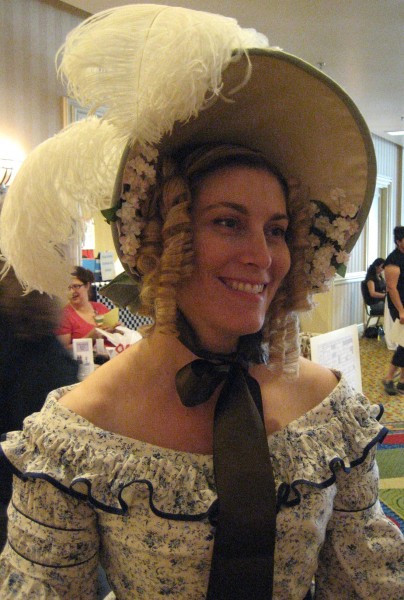 To further my love of sewing historical clothing for time-traveling events, modern workplace clothes and just to have fun dressing up, I joined the Costumer's Guild West and experienced my first Costume College in 2000. Because of all the valuable knowledge I gained there, I decided to give back by becoming a teacher (in 2004) to pass on the creative hobby of costuming.
In 2006, with an increasing awareness of civilian importance in Civil War reenacting, I helped found the Historical Citizens Association. We specialize in creating town life at Civil War reenactments but also organize and host all manner of historical activities including Regency, Victorian and Edwardian dinners, events, picnics and workshops throughout the Southern California areas.
I consider myself a Neo-Victorian believing that you CAN merge 19th C. aesthetics, manners, thoughts and behaviors with modern living.
I do not view the 1800s through rosy lenses, but rather, I take the good things of the past I am fond of and combine them with my modern lifestyle. My projects reflect that creative blend because I use contemporary and innovative methods to fabricate my 21st Century life – doing exactly what my ancestors did.
God has blessed me with a tremendous talent that I choose to honor Him with by passing on my passion of sewing and creative work to others who want to express their personality and incorporate a bit of the past into their life so together we may understand the strength of our ancestors who passed the torch through time to ignite our being.