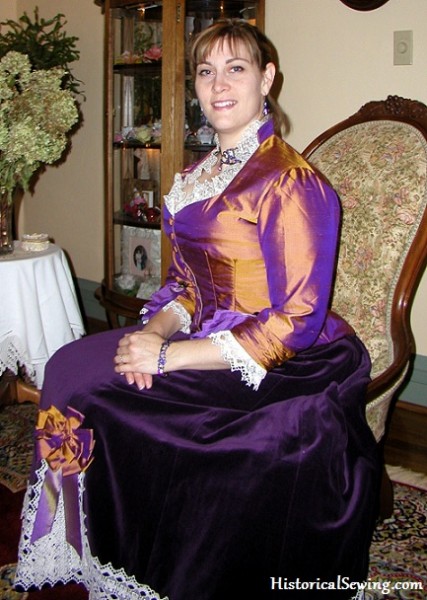 Do you love cotton? You already know I do. In fact, many of my costumes get their start from a cotton textile and my historical garments have at least one cotton material in them. This is true for all of them – especially those poufy bustles of the 1870s and 80s.
The base for all awesome bustle dresses is the foundation skirt, sometimes called an underskirt. When you start with a cotton base, you'll have a firm support to throw all those fancy trims and ruches and ruffles upon. The cotton underskirt also helps stabilize itself on the petticoats and wire support.
I heartily recommend 100% cotton for your bustle costume base.
However there are some natural fiber blends available that work just as well, like cotton/linen (soft hand) and cotton/silk (can be stiff and difficult to sew as well as warm). Remember to check the end of bolts or do a burn test with a swatch(outside of the store!).
Below are appropriate cottons I recommend for your gorgeous bustle dresses.
Cotton Fabrics to Use When Mounting Fancier Fashion Fabric to the Skirt
You'll want a sturdy fabric whenever you mount something on top of it, whether that be a silk or simply rows of 4″ fringe. Many of my more intricate bustle skirts have a foundation skirt that then get decorated on top. Here are cotton fabric suggestions for a successful underskirt to support that fancy design.
Twill
Lightweight denim
Firmly-woven polished cotton
Home dec lining (like Rain No Stain at chain fabric stores)
Poplin
Cotton Fabrics for Stand-Alone Foundation Skirts
Sometimes you'll find a gorgeous cotton print that just demands it be seen. Add a little pleated ruffle to the bottom and voila! a quick and easy underskirt. Check out the delightful printed bustle dresses in the Victoria & Albert Museum or the book Nineteenth Century Fashion in Detail for inspiration.
Dotted Swiss
Quilting fabrics in solids or prints
Calico prints with a solid hand and not much drape
Corduroy
Velveteen
Sateen
Cotton moiré
Cotton Fabrics for Summer Wear Underskirts
Even when making a sheer bustle gown, I strongly recommend making a lighter-weight foundation skirt, even in twill or poplin, then flatlining a lighter fabric over it. The strong base under the flowing overskirts will smooth out the top layer of petticoats and set the perfect silhouette.
If your top petticoat works well as a foundation type of skirt, then by all means tackle that underskirt in one of these delicate fabrics.
Printed lawn
Dimity (shirting fabric)
Eyelet
Voile
Whether worn alone or with mountains of overskirts, a good cotton underskirt will help support that lovely bustle silhouette. Be stylish, period appropriate and comfortable!
Do you consider your foundation skirt when making a bustle dress? Have you used cottons for them?