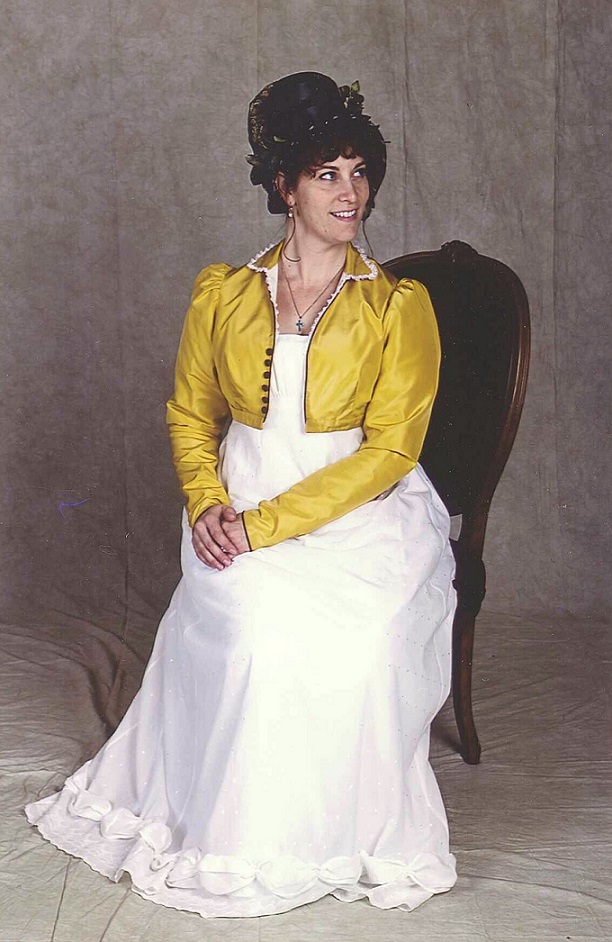 Looking Good in Regency Dress IS Achievable!
Quit trying to talk yourself out of pursuing this beautiful era because you think you won't look good.
Do you feel that Regency clothing looks terrible on you? Afraid to make something from the Regency era because you have a large rib cage or are well endowed on top?
Do you feel that your curvy figure doesn't match the slim Greek aesthetic of the early 1800s?
Well, nonsense!
You CAN look good in Regency styles with a little bit of work to make the garments fit your figure in a complimentary manner.
With just a few pointers you can feel confident when wearing these ethereal fashions. Of course, it IS work and it won't be done quickly. But take it a step at a time and you'll be amazed at how flattering early 1800s start to look on you. It really can happen!
Rarely does a pattern fit straight out of the envelope. Anyone who sews knows you have to fiddle with it so it lays correctly over the individual figure.
But sometimes it can get confusing. You can feel lost and overwhelmed looking at such tiny Regency dress pieces and wondering how they will ever cover you properly. That was how it was for me years ago when I first started sewing Jane Austen fashions. It *looks* easy, but… not. Until I learned a few tips to make it easy.
We all want to look fabulous and be proud of our costuming. Right? Well, when you know your garment is well-fit your confidence will soar. No matter what your sewing skill YOU CAN achieve great fit!
Knowing a few tricks can help.
Like how someone with large arms can look decent in puff sleeves. It IS possible! You'll find loads of tips on pages 10 & 11.
How about disguising a wide rib cage? Or simply, how do empire-waist gowns look flattering on anyone with wide hips & full bust?!
The biggest issue I hear with wearing Regency styles – "The dresses make you look pregnant! I'm 55 years old!"
Well of course they do… UNLESS you know the keys to solving this problem. They aren't hard.
Let me teach you the tweaks to avoid this undesirable look.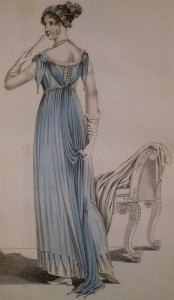 ________________________________________________________________________________________________
What some happy customers are saying:
"Will refer to this again and again. A regency sewing can't live without." ~Roberta H.
"I bought your Regency Fitting Tips recently and I love it! It has many great tips and I haven't even finished reading." ~Victoria Woten
"Very good information for many aspects of putting together a regency dress and achieving the regency silhouette." ~Pemberley Dreams (on Etsy)
_______________________________________________________________________
In this valuable handbook you'll get straight on your way to looking like you stepped out of the past.
Handbook covers:
Practical guidelines for fashions from c.1795 to 1820
Tips to enhance your sewing skills (pg. 4)
Day and evening bodice fitting techniques
The secret to a slim appearance in early 1800s clothing (pg. 3)
Avoiding the pregnant look (pg. 5)
Corset fitting & sewing tips for a proper Regency silhouette
How to fit fabric to the bust, shoulders and upper chest (the biggest area with fitting issues) (pg. 6)
How to cut sleeves to hide large upper arms (and minimize that banded-stuffed-sausage look) (pg. 10)
Working with sleeves for both day and evening bodices
How to avoid gaping necklines (pg. 9)
Dealing with extra fabric around the shoulder area
Keys to making the rib cage visually smaller (pg. 11)
Skirts of the period – how wide; where to gather; and trains (pg. 13)
Other general era-specific sewing information
and much more!
There's no reason you can't fine tune your costumes to look your best. You deserve to be confident and present a proper historical silhouette… and feel great in your costume!
You want your historical garments to look like clothing they wore 200 years ago. The secret is in the fit of the fabric to the body! I'm excited to share with you the techniques I use in my own early 1800s costuming.
Let's work together so that not only does the costume look good, we FEEL fabulous while wearing it. And playing dress up is the best when we enjoy doing it!
Details: Purchase of digital PDF eBook is through our online store: Old Petticoat Shop. 
All Historical Sewing products are covered with a 30-Day 100% Satisfaction Guarantee. If you are not completely satisfied and find no use for the product send us a quick email. For book returns, please follow the instructions on your packing list. For digital items we will refund your purchase price, no questions asked, within 48 hours. You can read our full terms here.