We all have our "comfy clothes" we wear around the house. For some that may be yoga pants and a t-shirt; for others, jeans and sweater or cotton dress. If friends come over for a Saturday BBQ we might put on something a bit nicer… like shoes.
But in thinking about those who lived in the "lavish" world of the late 19th century, what did they put on to "dress down?"
What did the Victorians wear at home? While they lounged on the sofa watching Outlander or playing Words with Friends? 😉 Let's take a quick look.
Obviously, I'm looking here at middle- to upper-class ladies who had a maid or two. Although there was a large population of lower class who would wear wrappers or a work dress at home, many of us modern costumers want to dress up pretty. So let's dream about frills….
For the first few decades of the Victorian Era (1837-1901), at-home wear was generally a wrapper, kind of like a robe. This front button, full length garment was fitted with darts or drawstring waist, could have a fitted lining or not, and could be made for wearing over a corset… or not.
It was functional. Quick to put on. Made in patterned fabric or darker colors to hide stains. Easy to slip on over the most basic undergarments of chemise and under-petticoat. Worn only at home in the bedroom or around intimate family.
In the 1870s the basic wrapper was becoming outdated. Boudoir fashions were changing as the sewing machine allowed for more trim and faster completion of garments, not to mention a certain "refined elegance" seeping into all aspects of Victorian life.
Around 1876 the dressing gown became the selected habit to wear at breakfast. The idea was stolen from the French (aren't they all?) and became very popular.
The dressing gown – an incarnation of the house dress – was the forerunner to the tea gown which appeared quite generally by 1877. The tea gown was also a loose (appearing) gown for afternoon teas at home with or without guests. A muslin (sheer cotton) and lace cap appears to always be worn with the tea gown. (take note!)
"The teagown arose from the habit of ladies having tea in the hostess's boudoir and donning smart dressing gowns. Now that the gentlemen are admitted to the function [of five o'clock tea] 'peignoirs have developed into elegant toilettes of satin, silk, foulard, etc.'" Pg. 283 from English Women's Clothing in the Nineteenth Century under the 1877 section.
Essentially the foundation of the "house dress" (which is little trimmed, has outside pockets and with Watteau pleat and train of another fabric) is the same as used for the "breakfast dress". Which means you can use one basic pattern to make both types of these robes worn at home.
The formal "dressing gown" differs with a semi-train and narrow pleating at the hem. It can have trimming en tablier in the front which is like an apron-front panel trimmed separately from neckline to hem or waist to hem.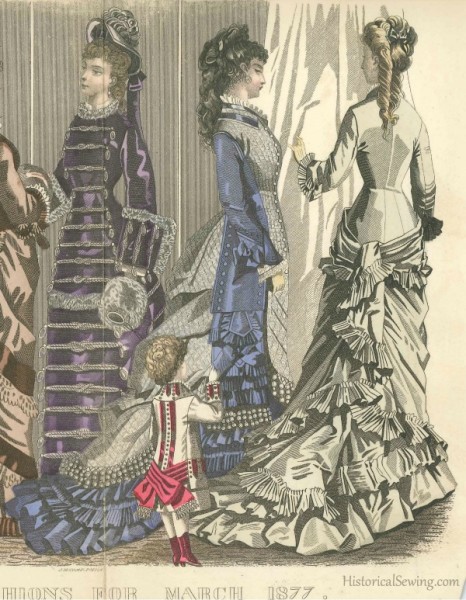 Descriptions for the above two gowns from March 1877, Godey's Lady's Book: "Fig. 4 – House dress of navy-blue silk and gray matelasse. The underskirt is of the blue silk: it is trimmed with narrow ruffles and plaiting: the polonaise is of the gray, with blue silk sleeves, and trimmed under each arm and down on the skirt of polonaise. Fig. 5 – House dress of myrtle-green silk cut in the Princess shape, trimmed with narrow plaiting. Scarf overskirt, trimmed to correspond with the dress skirt."  
Tea gowns took off in the late 1870s from the subdued dressing gown to a more loose garment generally as an open robe with fitted blouse or plastron, belt or tablier (apron from waist to hem) and a Watteau pleat in back. They were reserved for married women and a cap always worn as an accessory. This style lasted into the 1890s.
For both dressing gowns and tea gowns, bows or lace running down the front opening reflects the 18th century influence in this era. Necklines could be cut square or en Coeur. They sometimes bordered on fancy dress (Victorian term for dressing-up costumes).
By the late 1880s tea gowns could be open redingotes over draped under-dresses with loose fronts. The sides and back were pulled in with cords or fitted with princess seams. This particular style lasted through the late 1890s.
By the time we get into the early 1890s the tea gown develops into brighter colors and richer materials to evolve back to the "house dress." The house dress now is worn with a corset whereas the tea gown can still be worn without one.
Sometimes tea gowns were simply cut as a tea-jacket and skirt and morphed into a dinner dress. Tea jackets became much more popular in the 1890s.
Sleeve styles changed over the years, too, as dress fashion changed. The 1870s dressing and tea gowns had close fitting long or elbow sleeves; the 1890s saw large, full sleeves as reflected in current fashions.
To help you in re-creating your own dressing or tea gown, I've compiled a brief list of fabrics used and trim ideas taken from my research.
Fabrics for Dressing and Tea Gowns:
Cotton muslin – sheer lawn or voile in today's fabrics
Barege – a sheer wool nearly extinct today
Other lightweight wools with silk trims
Cambric – a 100% linen or linen/cotton blend
Cotton batiste
Cotton sateen
Printed cottons with dark grounds and large flowers & leaves
Satin, velvet and brocade for fancy tea gowns in the 1880s and 1890s
Pale pink satin petticoat with dress of ruby plush (velvet) with Watteau pleat (1881)
Plush or velvet
Silk faille (ribbed silk) or bengaline
Wool cashmere
Trim Ideas:
Flounces either plain or embroidered
Lace edgings, collars and flounces, or jabot
Cascades of flounces (in lace especially) down the front opening
Bows at neck and wrist
Draped skirt panniers emphasizing hips
Swiss belts or girdles
Chiffon draperies
Embroidered collars and cuffs
For further reference:
English Women's Clothing in the Nineteenth Century by C. Willett Cunnington
My Pinterest board on Victorian Dressing & Tea Gowns
Sewing patterns: Truly Victorian TV432 – 1882 Tea Gown (Wrapper) or Past Patterns #211 Tea Gown or Wrapper, 1894 or La Mode Bagatelle Artistic Reform Tea Gowns
Have you made a late Victorian dressing or tea gown? What event was it for? Tell us your experience!