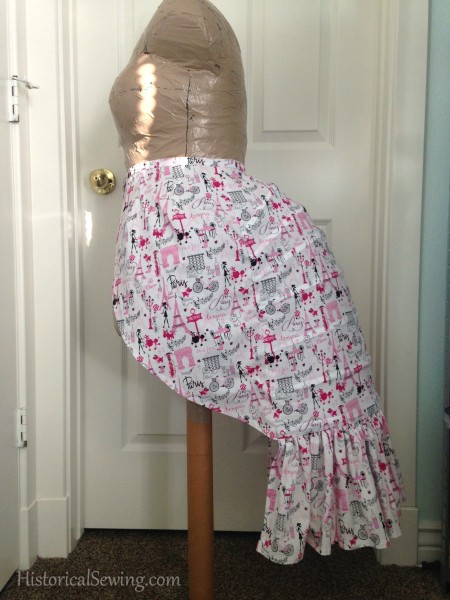 Let's go to Paris!
I've needed a small lobster tail bustle for a while. I made one years ago from Jean Hunnisett but didn't size it up for my hips. A few years ago I made the imperial size bustle from the Truly Victorian pattern in a wonderful red paisley.
Although the red one works wonders under my late 1880s bustle dresses, I needed a smaller size for the mid-1870s dresses I make most often.
Plus… you can never have too many ready-to-go undergarments in the costume closet!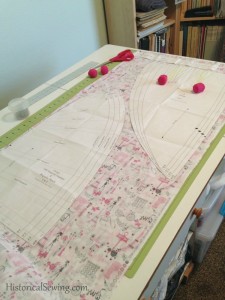 I did indeed use the same Truly Victorian TV163 pattern for this and cut the regular size. The size is terrific!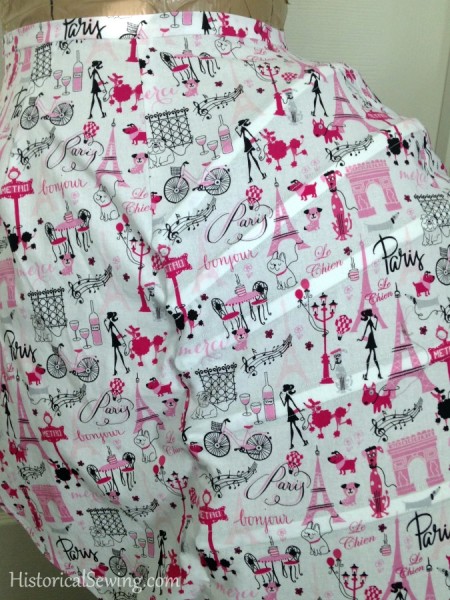 As with the red paisley bustle, I wanted something fun for this one too. At my local JoAnn Fabrics I found a cute cotton print in pinks and black with various Paris symbols, terms, and sketches. So cute!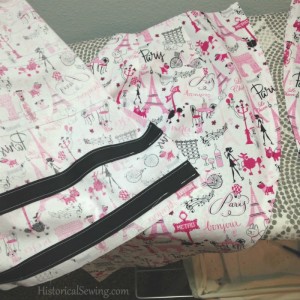 Just to be different, I used black bias tape for the wire channels. They were sewn to the inside following the pattern diagram. I absolutely LOVE the boning layout on Heather's pattern. It's strong to support heavy skirts while keeping a pleasing aesthetic look.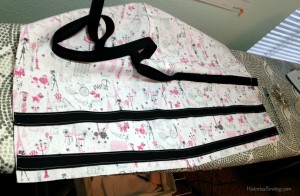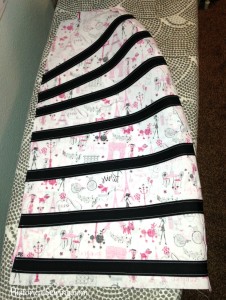 Since the world lost its hoop wire manufacturer late in 2015, we've had to search out other sources. (If you find the two-wire encased in plastic or buckram hoop wire, snatch it up! We don't know when it will be made again, if ever.)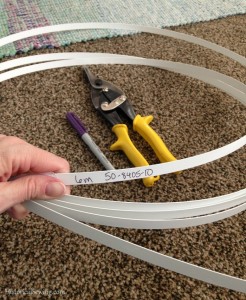 For this bustle project I went with the suggested wire from Farthingales. It is 10 mm of light spring steel coated in plastic just like the metal bones we use for bodices and corsets. (Item number is 50-8405-10 as you can get bogged down on the Farthingales' site.)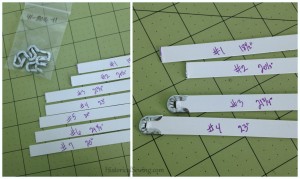 Because this wire comes by the yard, I had to cut and tip each piece for the bustle using the common U-tips. Take note – SOOOO much easier to set them on when using two pliers to pinch the tips around the wire ends!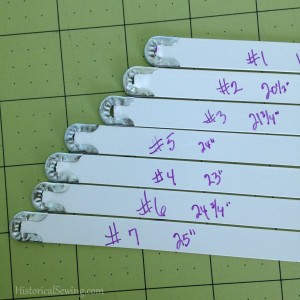 As with all my bustle and hoop skirt projects, I use a Sharpie to mark the channel number and length of each cut piece. When I go to wash the bustle fabric this makes it much easier to reinsert the pieces instead of having to measure them again later.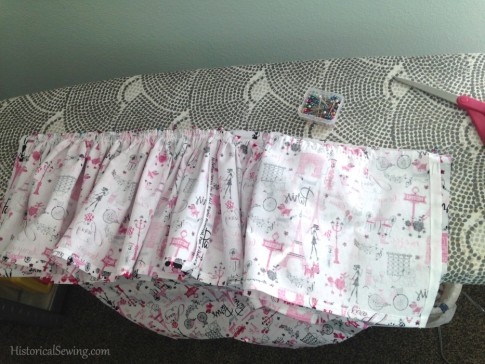 Of course, inserting the wire is one of the last things to complete on this project. After sewing all the black bias casings on, I added the lower ruffle. I said – to heck with the pattern – and simply cut two full fabric widths to make a full ruffle. I also did a traditional gather instead of pleating it. Because, why not?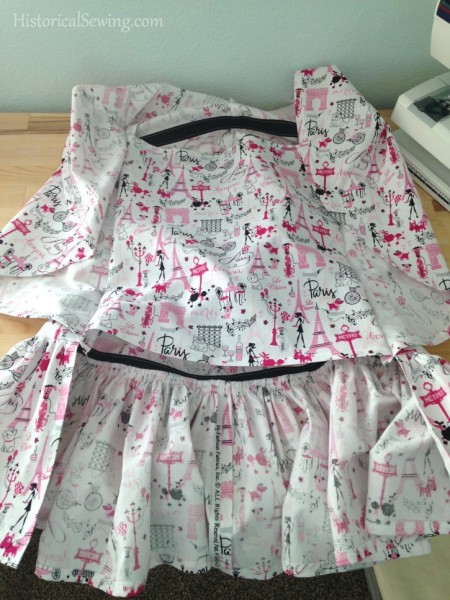 Then came time to attach the inside support piece – very important as it is what holds the curved shape of the wires in their channels. At the same time you attach the front/side panels.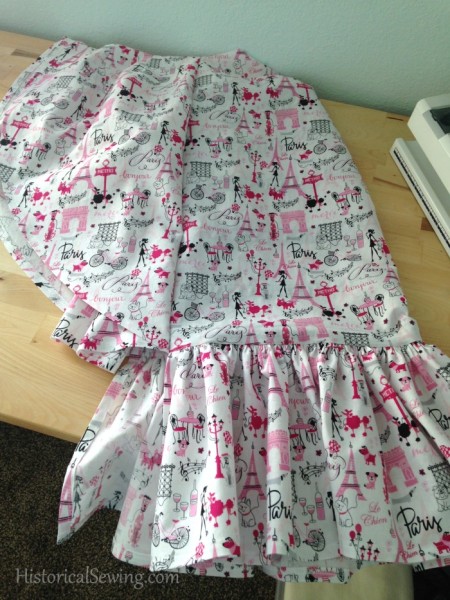 Finally, the narrow waistband was added. I still don't have hooks & eyes to close as I'm waiting until after my pregnancy to get back into my corset and verify the waistband overlap.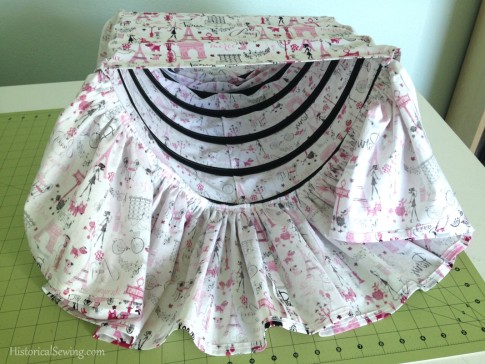 After the wires were inserted I hand stitched up the openings in each of the seven casings. (If you make this pattern it is VITAL to do this. I didn't with the first bustle and my wires popped out horribly. Fortunately it was before I wore it to an event.)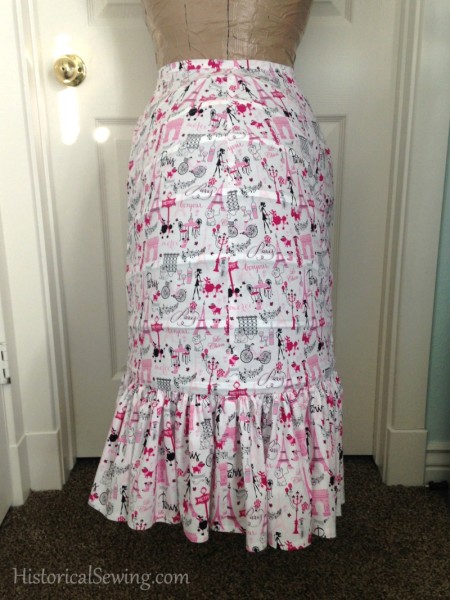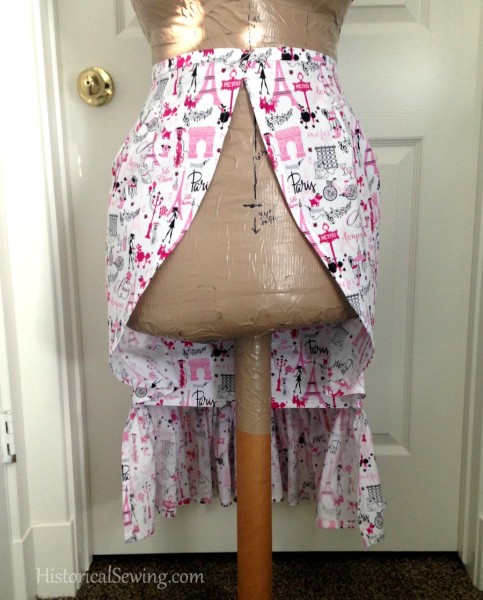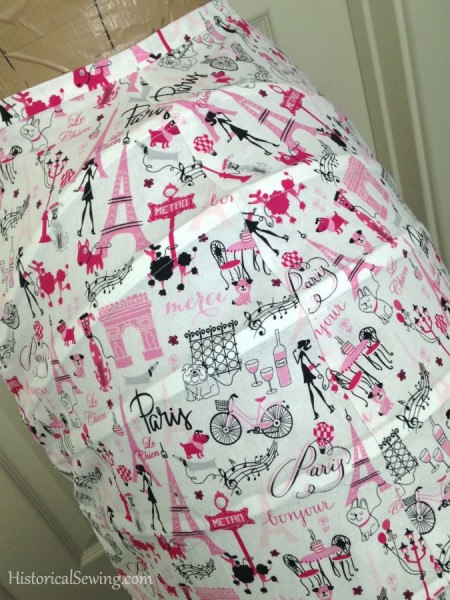 It's such a fun undergarment! Who says your bustles have to be white and/or plain?? Many examples exist of colored and printed bustles from the 1870s and 1880s. Use them for inspiration or go off on your own creativity! 🙂