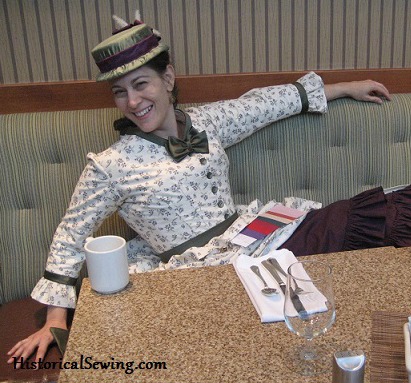 Ahh… sleeves. The bane of nearly every historical costumer. Aren't we glad we only have two arms!
Ever work yourself into a frenzy just trying to get your sleeves right so you can at least *move* in your costume? Yep. It's the challenge for most of us. Over and over with each bodice….
Well, after years of sewing sleeves (we're talking nearly 30 here) and a few years of teaching about sleeve fitting, I've picked up a secret or two on making them not only look good but also sit right into your bodice where you can actually move. Come discover a tip or two on fitting that will allow you to eat and dance comfortably. 🙂
Years ago a costuming mentor (the brilliant Mela Hoyt-Heydon) was speaking to a class at Costume College about costumes for the stage and film. Someone asked about the actors moving in such restricted garments. To which she replied (paraphrased): I don't care what time period you are doing. I can fit anyone so they have full range of arm movement.
Those words stunned me.
As in… to this day they still affect me. And they challenge me to make my fitting better.
Because seriously, people living everyday lives had to move in their clothes. I'm not talking about court wear or special pieces where the elite were dressed to simply stand for the portrait.
No, it's the folks like you and me who got up each day and dressed in the clothes (aka the costume) they would need based on that day's activities. They ate, walked, visited, shopped, used the bathroom, wrote, and went to bed.
My side question here is: why do so many modern people think our Victorian ancestors couldn't move in their clothes?? But that's for another lively discussion….
But also – this is the question that lingered in my own mind when Mela made her simple statement in that class so many years ago.
From that point on I have been working out just HOW to make a bodice and sleeve fit so as to have freedom of movement and not rip a seam or cause the bodice to pull up indelicately showing undergarments.
Now, in all honesty, I'm still working on this. Sometimes my bodice fitting comes out as if magic happened, like on my 1875 Scotch & Soda bodice. Other times, I'm still fighting with lifting my arms enough to perform tasks.
Even when I think I have the most beautifully fitted, perfect bodice & sleeve pattern, the garment ends up too tight or too loose or just… I can't bloody move in it!! That's because, I think, bodies change and we mentally change with just a breeze. Two months from now that bodice pattern may be too small or that I simply *think* it fits small.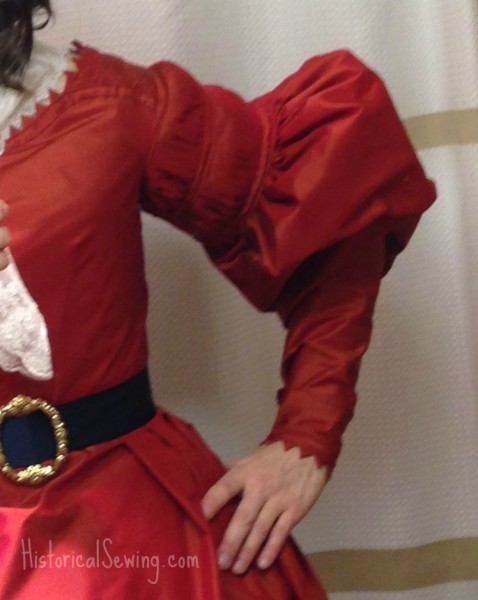 So despite the physical and mental changes that will occur, how can we, today, improve our fitting techniques so the garment fits us right 80% of the time? Let's take a look at the points that make a difference with how we move in a bodice.
(You may have noticed I have mentioned bodice fitting more than how a sleeve fits because sleeve fit and movement in the sleeve starts with the bodice. Oh, yes – BFFs right here!)
There's an intimate relationship between the bodice and the sleeve. Like, very close. They touch and connect together and move together. Ooh la la….
Our main fitting secret to learn is how to isolate the arm from the bodice and place the seams in such a way as to do that.
"But Jen! You just said there's an intimate relationship between bodice and sleeve. How does isolating the arm allow for movement??"
Well… think about how you move your arm. It can move while the torso stays in place. Sure, the skin and muscles move, but you can stand still and shake your arm. If you fit the bodice close enough around the arm and allow enough fabric to cover the body when you move, you shouldn't be restricted by moving.
Points to ponder on fitting your bodice to isolate the arm:
Lengthen the side of your bodice high up under the armpit. Don't over-do it and pinch yourself. But allow about 1/2″ space between bodice armhole seam and the high point under your arm when it's hanging by your side.
This is the first step to isolate the arm. By allowing enough length to the bodice side, when you lift your arm your bodice will stay in place (or only move up a minimal amount – again, this takes practice and every project will be different.)
Second point in fitting for movement is to know where the crook of your arm is. It's that point where your arm attaches to your torso, a few inches up from the armpit point where the skin & muscle starts to move away from the body. You want your bodice armhole to be snug (isolation) under the arm from front crook point to back crook point.
A final point to consider for movement fitting is: do you have enough fabric in your sleeve cap at the sides and under the arm to match up with the bodice and allow an arm to move without moving the bodice?
The main place that this makes a difference is at the crook point of the arm. Many times there's not enough sleeve fabric (length in cap) to cover the underarm when the arm is lifted. When your arm is up, there must be enough fabric to cover your body and the arm so the bodice and sleeve don't go to war with each other. One will "borrow" fabric from the other to cover the body as it moves.
Think about the placement of your armhole seam to isolate the arm so the sleeve fabric covers the part of the arm it needs to cover, and the bodice covers what it needs to remain in place. This is about where your armhole seam needs to be.
Get some exercise:
Try moving around and lifting your arm while keeping your modern bodice/top in place under your arm and at the front of the chest.
Cup your armpit with your opposite hand – that's the critical place to put the armhole seam.
Feel on the front where the muscle starts to go away from the body into the arm, a few inches up from the armpit – that's your crook. Everyone's crook is different.
Fit to YOUR figure and your crook point and you'll be able to move in the Victorian bodices that you make. 🙂
Have you any experience with fitting where you isolate the arm for movement? Share a good (or bad) experience you've had with too short bodice or too large an armhole.
For more on sleeves you might like:
How to deal with too much width in your sleeve cap
I can't move my arms – adding ease