Visit our shop – the Old Petticoat Shop for more selections.
Detailed workbook patterns, handbooks & online classes to help you sew 19th Century garments.
Take your costuming to the next level!
–> All books authored by Jennifer Rosbrugh are available in spiral-bound printed format as well as digital eBooks.
–> All online classes have 24/7 unlimited access. Each class is broken down into easy-to-follow lessons complete with handouts and homework assignments to keep you on track.
Victorian Undergarment Online Class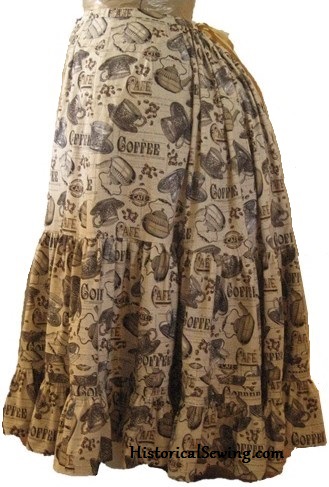 Are you new to historical costuming and don't know where to begin? Perhaps you've been sewing period clothing for a few years but you've never sat down to make a set of undergarments – well, time to get 'em done!
If you want to get into historical costuming and not just dream of the past but dress in the fashion too – this is where to start! 
Through 6 lessons with 6.5 hours of video tutorials we'll cover four undergarment projects so you'll be ready for the real dressmaking and the dressing up.
1880s Bustle Era Hat Online Class (works for 1870s too)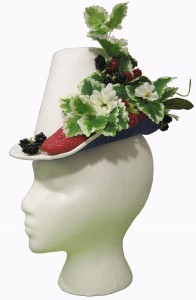 You have your bustle dress but now it's time to complete the outfit with a fantastic hat! But you have no idea how to make one, where to get started, or even what supplies you need. You need HELP! 
Stop dreaming – this is the class for you! 
 
Through 4 detailed lessons, we'll cover all the steps needed to create a buckram hat with formed crown and brim. Each lesson has 3 to 5 videos along with an accompanying PDF handout complete with homework assignments to keep you on track with your project.

Lobster Tail Bustle Online Class (for Early or Late Bustle Eras)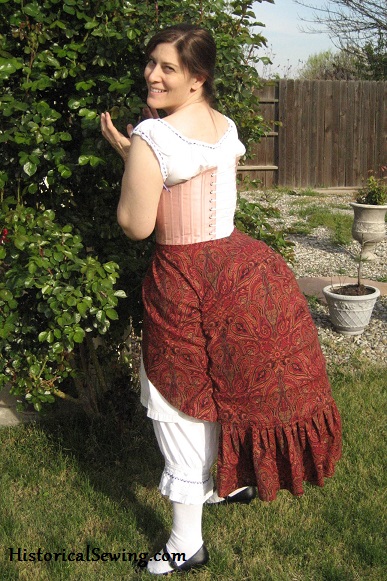 Want to sew a 1870s or 1880s dress but need the bustle undergarment first? Confused of where to start when making a bustle? You've come to the right place! 
Through a short but detailed 2-lesson class we'll walk through each step to create a lobster tail style bustle support. Each lesson has 5 videos along with an accompanying PDF handout and homework assignments.
This is a beginner to intermediate level class. So if you're new to the Bustle Era (1870s & 1880s) you can start here.
(This project is also included in the above Victorian Undergarments class if you are starting from ground zero.)
Demystifying corset construction through a work-at-home sewing class on DVD!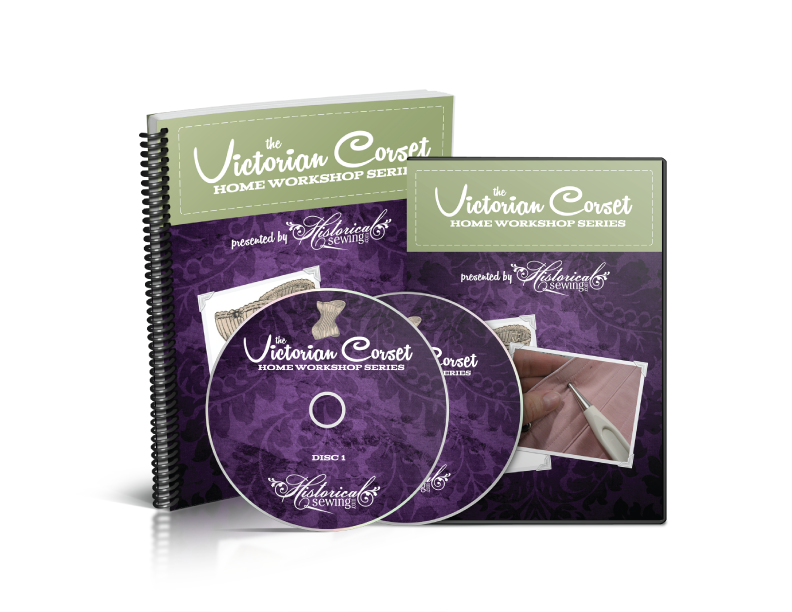 Need a corset for your lovely 19th century gowns? Want to "do it right" with a corset silhouette but have no clue how to make one? Know how to make corsets but feel like you're missing something?
Then this is the class for you! It is for those truly serious about learning how to sew a Victorian corset suitable for under your Victorian costumes.
The best part? You can now take advantage of our online class at home!
Through a self-paced 4-week series of lessons, we'll cover all the bases needed for a complete Victorian corset. Each lesson has a minimum of 3 video tutorials (and many lessons have 4 or 5) along with an accompanying workbook section with homework instructions.
As always, our 100% Satisfaction Guarantee applies.
Demystifying Corset Construction!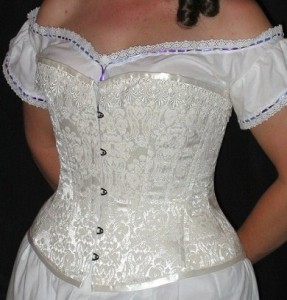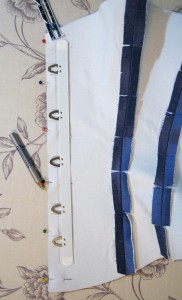 Think sewing a corset is hard? Scared to make one? Corsets aren't really that difficult. You only have to know the right supplies to get and the order in which to use them. Apply them with simple seams and you can sew a corset!
You'll learn about the fabrics and tools you'll need, then I'll walk with you step-by-step how to put your corset together. From cutting the coutil and inserting the busk to grommets and adding laces to the back when you're done – we go over it all! You'll also get my recommended vendors & online suppliers for corset making materials, including patterns.
(Note: the construction method presented in this workbook is different than what is covered in the DVD set and online class.)
As always, our 100% Satisfaction Guarantee applies.
Tips and tricks to help you look like you stepped out of history!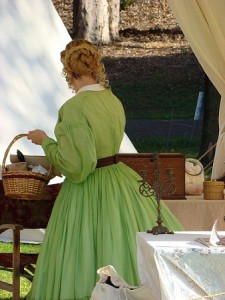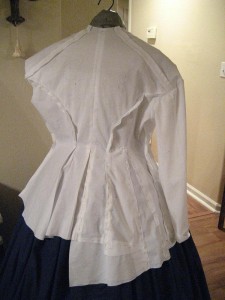 Pages of helpful notes describe how to deal with the unusual dropped armhole seam, gaping necklines in ball gown bodices and the notorious "Gaposis." Also covered is how to deal with extra fabric around the shoulder area and how to cut a perfect skirt length. Enhance your sewing skills and develop personal fitting techniques with this valuable handbook!
Our best seller!
Discover tricks to make you look beautiful and feel confident in these slim styles!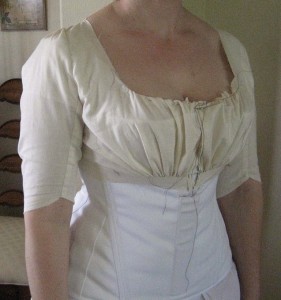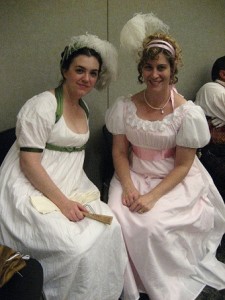 Feel like you look pregnant or fat in Regency styles? Don't fret! Knowing the right tweaks to fitting fabric to your figure will banish those thoughts!
Achieve the slim Regency silhouette with practical guidelines for sewing, fitting the bodice to the shoulders & neckline and the keys to making the rib cage look smaller.
Disguise those large arms and hips with tricks advanced costumers use. If you do ANY Jane Austen, Napoleonic or late Georgian events, don't pass up this opportunity to get the secrets for this beloved time period.
Our most popular workbook!
Keep your hands warm at events with a muff!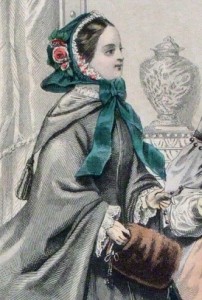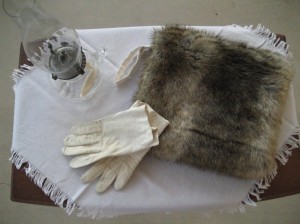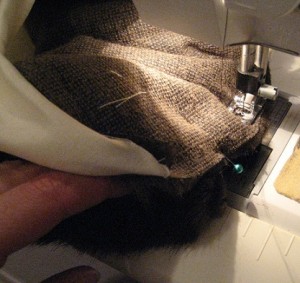 Taking only about an hour to make up, a muff is the cold weather accessory for ANY time period.
Workbook includes detailed instructions and color photos covering how to sew a muff with a warm batting interlining and secret pocket to hold your modern keys and cell phone. Tips & tricks are given for working with faux fur.
Finally! Detailed instructions for how to make corded petticoats for 1820s to 1855 costumes.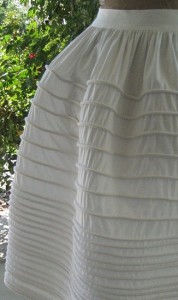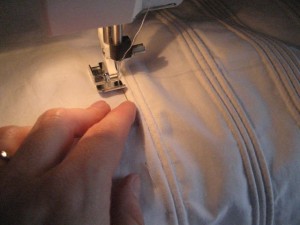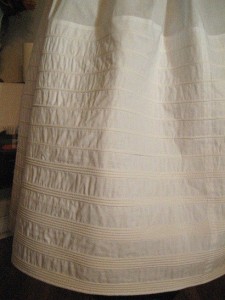 You'll get full sewing instructions for the 2 methods of making a corded petticoat. Includes information on what fabrics & cording to use, the number of corded rows and how far up to set them in, and starching instructions.
Want to know how our ancestors made their corded petticoats? You'll also get a full chart with measurements from original petticoats for you to adapt to your own project. Make an authentic reproduction for those Dickens', Alamo, Gold Rush and other Early Victorian events!
A valuable resource when sewing sheer dresses and undergarments.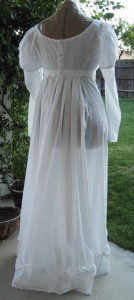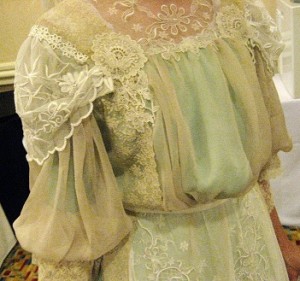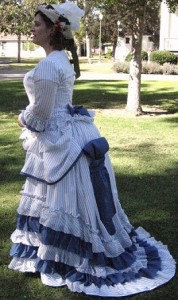 Working on a Civil War sheer dress or Bustle picnic gown? Learn sheer fabric options for use in summer dresses, late Victorian shirtwaists, undersleeves, chemisettes and more.
Tips for how to pre-treat your fabric including ironing and how to properly cut thin fabrics. You'll also get tricks for easier sewing with sheers, types of hems for 19th C. garments and working with your machine for smooth stitches.
Have the complete, original issue at your fingertips! 172 high-resolution scanned pages.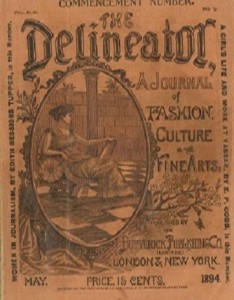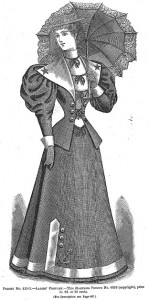 Discover popular fashion for the everyday woman. Dozens of fashion pages & descriptions of dresses, bodices, skirts, sleeves, collars, bathing costumes, styles for misses, girls, toddlers & babies, and boys.
Don't forget the dainty lingerie, seasonal hats & millinery and gentlemen's neck ties and scarfs.Also in the issue are lifestyle articles, needlework patterns, recipes and over 30 pages of pattern offerings and period advertisements.
So much is packed into this primary source magazine! Digital PDF format only.
We stand behind our projects with our 100% satisfaction guarantee.
If you are not completely satisfied and find no use for the product send us a quick email. For book returns, please follow the instructions on your packing list. For digital ebooks we will refund your purchase price, no questions asked, within 48 hours. You can read our full terms here.
Other Details: Purchase of printed spiral-bound books, DVD sets, or digital PDF eBooks is through our online store: Old Petticoat Shop. Physical handbooks are shipped from USA to domestic and international addresses. Options are presented at checkout.
Please visit our full store, Old Petticoat Shop, for additional printed materials, digital eBooks, online classes, sewing patterns, books and more!
Future eBooks include instructions on Ruching, Pleating, Fabric and Pattern Selections, Undergarments, Bonnet Construction, Petticoat Tucks, Fitting Tips, Design & Silhouette Tips and so much more. You'll be sure to find that workbook that teaches you, in clearly-written, detailed instructions and full color photos, those methods to create fabulous 19th C. costumes.
If you would like to see a particular workbook on any aspect of 19th Century costuming, please contact us with the form below. We'd love to hear your ideas and help you out!