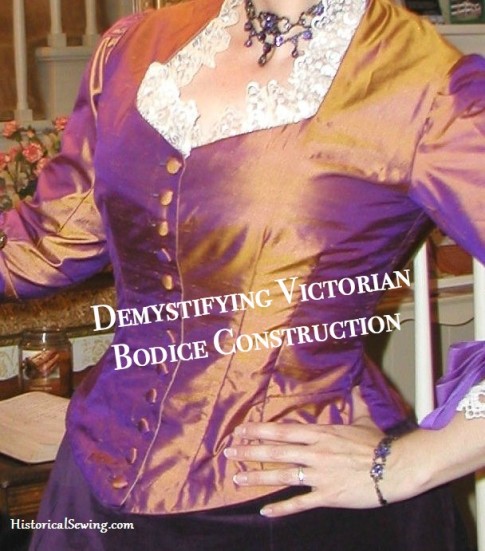 That moment when you are ready to jump into your first Victorian dress and hold out hope that it's not as complicated as it "seams."
Because I'd been sewing clothes for about a dozen years before I got into historical costuming I wasn't afraid. But so many I talked to in that early part of my journey said the bodices of the 19th Century were complicated. Difficult. Time consuming.
I agree and disagree. Perhaps you do too?
First, yes, making a bodice of any decade from the 1840s forward takes time. Sometimes 40 or even 50 hours for that one garment. Depends on your overall design and speed of sewing.
I also agree that they can be complicated. Complex. Intricate. There's probably a very good reason I haven't yet attempted an elaborately draped mid-1890s Worth bodice reproduction with all those hidden and catty-wampus hook & eye closures. They are intense!!
However, I have to oppose those thoughts that Victorian bodices are too difficult to make.
Because when you peel off the outer layers – the lace, the tucks, the ruched center panel, the bertha, the ribbon trim – there lies an inner structure, a foundation we can call it, which is nearly uniform throughout the era.
Let's look at the construction of that basic foundation. Let's shine a bright Edison light onto the basics of what makes one of these "complicated" bodices so we can be brave in our next project.
Let's kick fear in the face because really…. They're just articles of clothing; they are simply a garment to cover our upper body.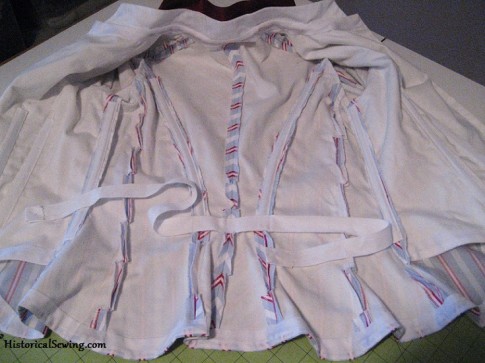 Now obviously, fit is HUGE when it comes to sewing a bodice. Maybe that's why it seems difficult. So for the sake of simplicity let's shelve the topic of fit for a few minutes and concentrate on the actual sewing.
Order of Sewing a Victorian Bodice – 10 Steps
1. Flatline main bodice pieces
2. Sew front darts
3. Sew main design seams (aka side front seams, all side back seams)
4. Sew shoulders and side seams
5. Flatline sleeves as desired and sew seams
6. Hem & trim sleeves
7. Add bones in casings to seams and darts
8. Set sleeves into the bodice
9. Sew bias around neckline and lower edge to finish
10. Finish with closures of buttons & holes or hook & eye sets (or tape)
That's it! Doesn't seem too hard, right?
Extra Sewing Tips
1. Flatlining your fashion fabric helps give structure and support for the tightly fitted bodice. It strengthens seams. It provides a foundation for trims (even heavy ones). For detailed instructions on flatlining a bodice read my tutorial here.
2. Nearly all Victorian bodices have two front waist darts to shape the fabric over curves between bust and waist and hips (for those longer garments). For large bust cups or really curvy figures use three small darts in front. Use the darts where you need them. Sew them beautifully.
3. The main seams are simple seams. Sew regular seams and finish raw edges at this point with serging (my modern shortcut), hand whipstitch or binding. You could also pink the edges. Press seams open. I will say, some original bodices have seams pressed towards the center back, so they all weren't pressed open.
4. Shoulder and side seams are just like the main seams. Sew, finish raw edges and press open.
5. Not all sleeves need to be flatlined. Some light fabrics for summer could simply have a short sleeve lining and be sewn separately (not flatlined with the fashion fabric). Other sleeves, like 1890s full puffs, definitely need inner support. I recommend organdy or silk organza for nice structure here. After flatlining (or not), sew the main length seams (1 or 2 depending on the pattern).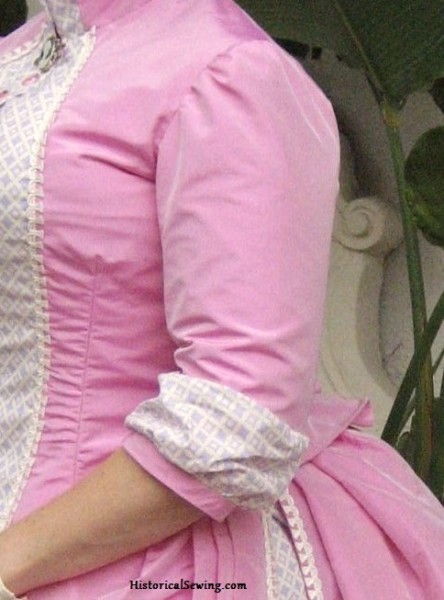 6. I like to finish the hem of my sleeves while they are still separate from the bodice. Just makes it all easier, right? Hem with bias tape (a common Victorian hem). Add cuffs and any other trim now.
7. Before setting in the sleeves you'll want to add the bones to your bodice. Many costumers leave boning til last but it's so much easier to apply to a bodice with no sleeves. Plus, bone casing can be sewn straight to the seam allowances of the bodice. Here's how and where to apply the boning in 1870s & 1880s bodices, but this tutorial will work for other Victorian decades. You'll want to apply bones to the darts too.
8. Set in the sleeves. You may dread this step. Don't. I hear talk about "evil sleeves" so often it's no wonder a smooth set-in eludes sewers! Don't mentally set yourself up for failure.
My first step is to pick up one sleeve and try it on. Is it the left or the right? Once decided which arm it goes on, pick up your bodice and find that same side. Start pinning at the bottom most seam/notch at the underarm. Pin up to the easing or gathering stitches (if you have them), then pin the rest. Get more sleeve setting tips here.
9. Raw edges along the neckline and lower bodice edge were frequently finished with bias tape on original Victorian bodices. (Sometimes you'll see full linings but those were for expensive garments.) The bias tape finishing method was the most popular. Bias can be cut from the fashion fabric, the underlining fabric or another lining fabric.
10. Our last step is to add the closure. Evening bodices were sometimes closed at the back with individual hook & eye sets or hand eyelets & lacing. Front closing bodices had buttons with hand or bound buttonholes (I personally do them by machine) or with hook & eye sets. Hook & eye tape was used later in the 1890s and on.
To get buttonholes spaced evenly, mark the top and bottom holes first (look at originals for placements as they are not always near the finished bodice edges). Decide how many buttons you want on the opening. Measure the space between top & bottom marks and divide by the number of buttons you want minus 1. For example, if you want 10 buttons, divide the length by 9 which will give you the spacing between each button. Pin mark first before drawing in with pen/pencil.
Then your bodice is done! See? Easy.
The more detailed parts come when you want a ruched panel or that draped bit over the shoulders. But essentially, the above 10 steps will get you through most any 19th C. bodice. Try it!
Do you have a set of steps you follow when sewing up a Victorian bodice? Share your tips and experiences below.