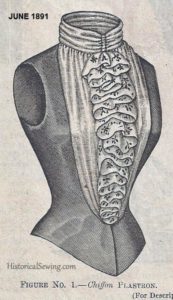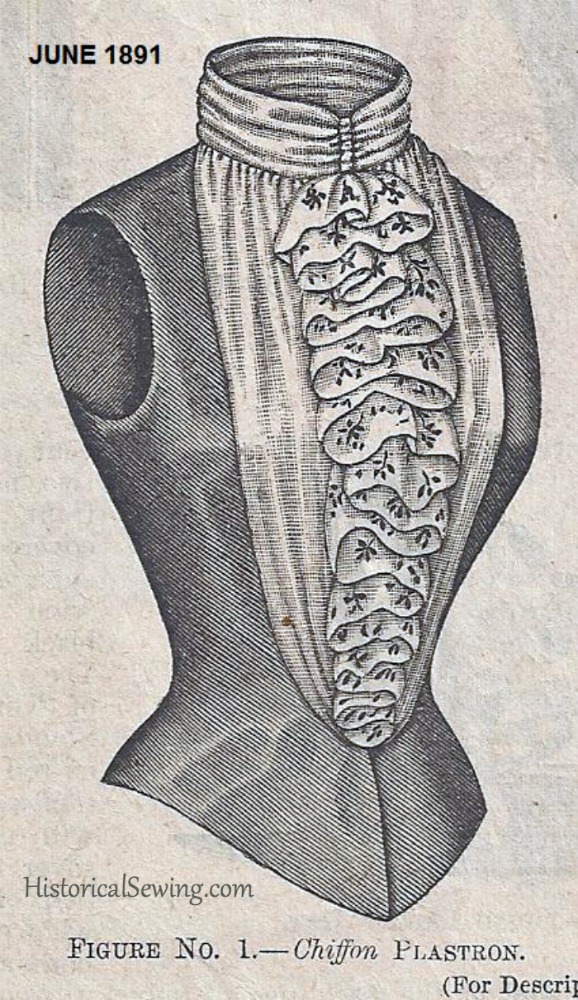 "Plastron" – say what?? It sounds so formal. Or rather gladiator. I mean, it's traditionally the chest and sleeve pad worn by fencers. So how do they connect into Victorian fashion?
(Hint: they aren't chemisettes but are related in being Victorian accessories.)
As with all things Late Victorian with feminine frou-frou and gorgeousness, you'll come to drool over the possibilities of what a plastron accessory can do for your costume.  It can kick up your ensemble a good notch or two!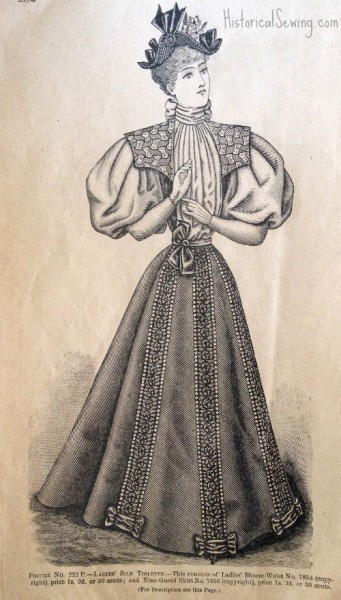 Usually when one thinks of the last decade of the 19th century, visions of huge puffy sleeves and full skirts come to mind. Yummy!
Detailed embroidery and carefully placed trim is everywhere. Even though layers of petticoats, Gibson Girl hair, tightly-cinched waists and fine tailoring abound, they are enhanced with the proper accessories.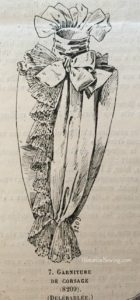 If you look through the various fashion publications and magazines of the time you'll notice a wide variety of collars, fichus (yes, that term was still used in the mid-1890s), plastrons, epaulettes, jabots and ruffs decorate the most basic of bodices and turn them into exciting "new" garments to wear again.
(Isn't it fun to revamp the historical wardrobe?)   
These indispensable additions conceal worn out areas and keep your wardrobe looking fresh and sophisticated.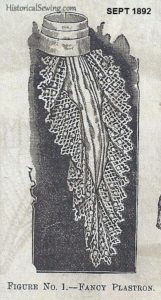 The "Stylish Lingerie" section from the September 1892 Delineator describes these fancy articles perfectly. (Although in our modern reading of it, these accessories seem strange to be under the "lingerie" heading, but just go with it for now.)
"Novel and striking accessories for simply fashioned toilettes of dark fabrics that require their brightening influence are the cuffs, collar and girdle [wide belt] wrought elaborately with bright, shining gold embroideries. Pretty, dainty fronts and neck garnitures are always favored, since they serve such a number of purposes. To a partly worn gown or one that is slightly passé in style, a fluffy, fancy front of lace or some diaphanous fabric is a positive boon."
So take heart if you view your costume as plain. Do what our ancestors did and add some "shiny" or "bling!" A remnant of lace or embroidered chiffon will do well for a quick bodice accessory.
In simple fashion terms, a plastron covers the chest. You could also think of it as a false front and resembles a jabot.
In the 1890s most plastrons were made of a stiff cotton lining, possibly boned, attached to a collar piece and decorated with frilly lace along the sides. It was wide at the neckline and shoulders and most often tapered to a point or narrow width at the waist.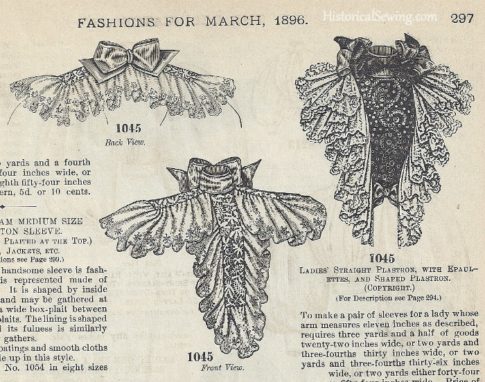 Epaulettes (shoulder bars) were sometimes attached to the plastron to fall over the shoulders and around the back neckline – to beautiful effect!
The epaulette extended to the armhole seam where the lace or ruffle sewn to the epaulette fell over the top of the full puffed sleeve. (Gotta make those shoulders as wide as possible so your waist looks as tiny as that girl in the corset ad!)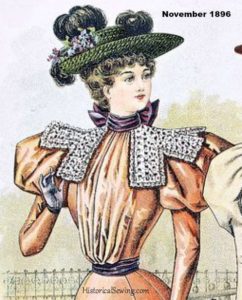 How to Attach the Plastron to a Bodice
Make up the bodice with the right-hand side of the plastron enclosed in the right-hand side front princess seam, finishing that half of the bodice. Close up the center front of the bodice with hook & eye sets. Finish the plastron left side edges.
When wearing, fasten up the center front of the bodice; Fold the plastron over the bodice front (covering the opening) and fasten with hook & bar sets along the left-hand side princess seam. If the plastron has an attached collar, wrap it around the neck and fasten at center back.
The plastron can also be detachable and simply laid over the (completed) bodice and fastened on with hooks to keep it in place. With this method you can sew a variety of plastrons to change the look of your costume without having to make a new bodice each time.  (Aren't accessories great?)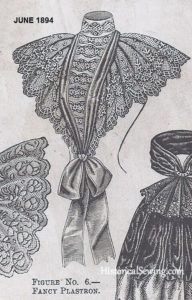 Fabrics and Trims for Plastrons
Satin or silk with lace overlay
Chiffon edging
Ribbons
Velvet
"Spangles, jet and jeweled buckles."
Embroidery was also popular
Be creative with all that you can achieve with a triangle of fabric, neckband, ribbon, lace and beads!
Have you made a plastron for a 1890s ensemble?  How did it enhance your outfit?