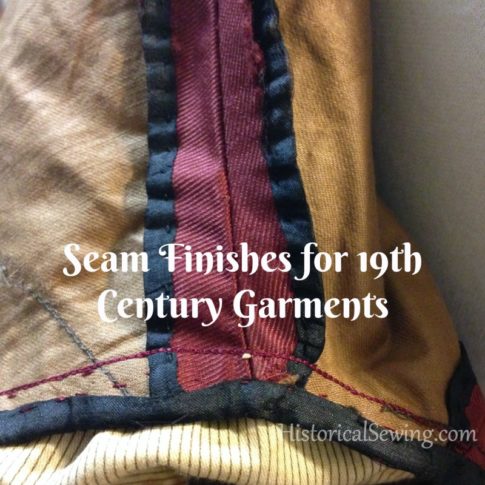 If you're like me, as you sew up a garment you wonder how you'll finish the raw edges of the seams. You know I cheat on nearly all my historical projects by serging the exposed raw edges.
But what if you don't have a serger? Or don't want to use something so modern as a zig-zag stitch with your machine? What other options are there to handle the raw edges left during or after sewing?
Let's take a look at what you can use in your historical (and modern, for that matter) projects.
In my research of 19th century clothing I've found seven main ways they finished their seams… from super nice to raw & raveling. These methods are described below for your reference. Select the style you prefer based on your skill and the final finished look to your garment.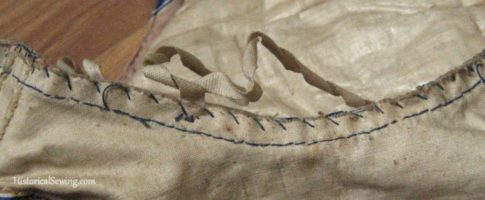 Hand Whipstitch
"THE" most used seam finish used in the Victorian Era. In my research over the years from examining my own personal collection of antique garments to photos of museum pieces, I've come across raw edges being hand whipped to finish more than any other method to treat them.
And why not? It's super easy, handy, and can be done at many stages of construction.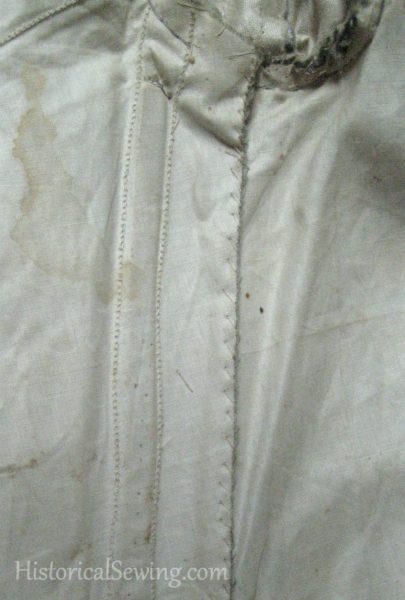 To do this yourself, keep the stitches no more than 1/8" apart and about 1/8 to 1/4″ down into the seam allowance. Vary these recommendations according to your fabric – if it frays a lot or is tightly woven. Some fabrics will need more stitches and others less.
One strand of thread is fine. No need to use two unless you have fabric that frays or is bulky (jean or denim). Even then, varying your stitch width and depth will be more beneficial than a double strand of thread.
Don't grade the seam allowance first. This will kind of defeat the full purpose of the whipstitching.
Both sides of the seam can be whipped together and the seam allowances pressed to one side or the seam pressed open and each half of the seam whipped separately.
On curved bodice seams, cut notches first and press open flat. Then do your hand whipstitch around the edges (or leave raw or bind, see below).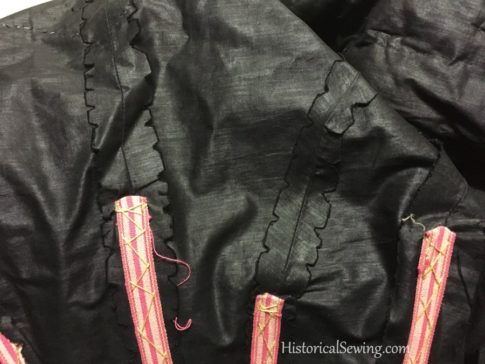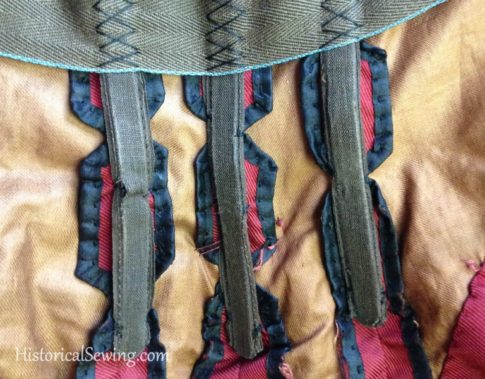 Bias Bound
A "fancy" seam finish still used in couture and high-quality fashion today is to bind the raw edges with bias tape – known today as the Hong Kong Finish.
Notch curved seams first, and press seams open before binding.
Use thin silk like China or habotai or even a thin taffeta to make your own bias strips to bind.
A modern substitute is packaged hem tape. Although, it's generally polyester, so if that makes a difference to you keep that in mind before using or make your own. Packaged, narrow double fold bias tape is ok too but can be rather thick for binding seam allowances.
Sew the first side of the bias, right sides together, to the seam allowance. Sew this by machine or hand. Wrap the bias over the raw edge, tuck under the bias raw edge and hand whip or slipstitch to the back side of the seam allowance. You could also machine this second side.
Or bind in one step by hand sewing through all layers at once in a running stitch.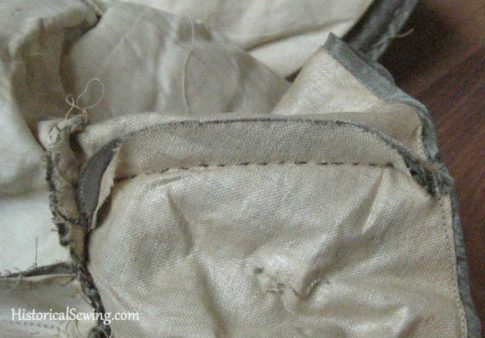 Leave Raw
Believe it or not, you'll find a number of original garments with all the raw edges left as-is on the inside. Just sitting there looking like they don't care. Or, at least, the dressmaker didn't give a thought to neatening the edges. It wasn't for competition anyways….
Although a HUGE time saver, leaving the seam edges raw is period correct but not necessarily the best method.
Through wearing (and cleaning), those edges are bound to fray even a little. If your seam allowance is less than 1/2″ then you risk the fabric shredding and, literally, coming apart at the seam.
I advise doing *something* with those edges, even if it is merely pinking them.
Pinking
Speaking of pinking…. The first patent for "pinking scissors" was in 1893. However, it wasn't until 1931 when they were invented and patented (1934) into what we know them to be today.
I've seen Victorian garments with pinked edges, but it seems most were finished that way in the 20th century – perhaps for the dress-up box or theater use. Or perhaps we are lucky to find couture pieces that were hand pinked during construction like the Worth bodice shown above.
Pinking is a great way to keep your seam allowances flat – e.g. not making a bulky appearance on the correct side of the garment. It's also easy and quick. Whoot! Well…. As long as your shears are sharp 😉
Flat Felled
This type of seam finish was mainly reserved for undergarments as it makes a sturdy seam. The seam is sewn then pressed to one side. The layer closest to the garment is trimmed short; the top layer edge is turned under and topstitched to the garment fully enclosing the raw seam allowance edges.
One thing to note here is that the topstitching is visible on the right side of the garment…. not really the best construction on a skirt or bodice. However, petticoats, chemise and drawers, bustles and hoops benefit greatly from this finishing method.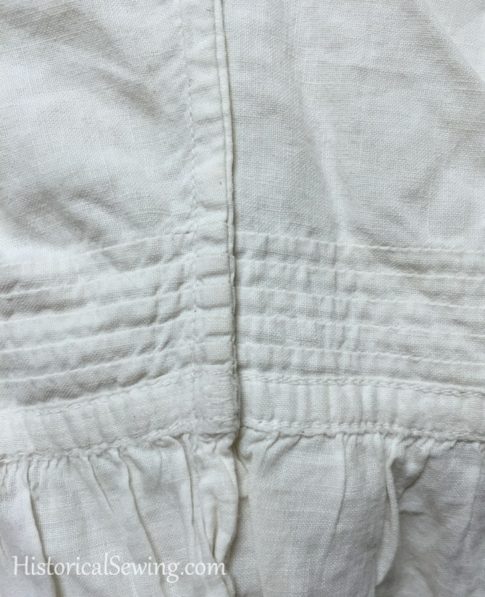 French Seam
I'm including this here as an alternative method, although not used often in the 19th century. French seams were mainly used only on sheer fabrics and undergarments. (The seam is constructed in two steps to fully enclose the raw edges.) I can't recall seeing a true French seam on antique garments that are flatlined or cut from anything heavier than a sheer material. (Of course, you can always find exceptions.)
Seams were left exposed for a variety of reasons:
-It makes later alterations easier.
-The method of flatlining and not putting in a full lining in most things (a modern/20th century dressmaking technique) would create too much bulk for French seaming.
-The progress of dressmaking did not include French seams until later on. Those making clothes simply didn't have it in their repertoire as something to use when creating garments.

Fold Under and Stitch (aka Hem)
A more 20th century devised method of dealing with raw edges….. Press the seam open. Then press under the seam allowance edge (towards the garment). Stitch this small hem of the seam allowance in place by machine.
It's kind of like doing a one-turn hem on your seam allowances. Protects the actual raw edge from wearing out by not rubbing against the body/undergarments while giving a neat appearance when viewing the inside of the garment.
The c.1896 bodice shown above had the raw seam allowances of both fashion fabric and underlining turned into each other and topstitched by machine – a variation of the simple "fold under and stitch" but one that completely encloses the raw edges.
Modern Technique: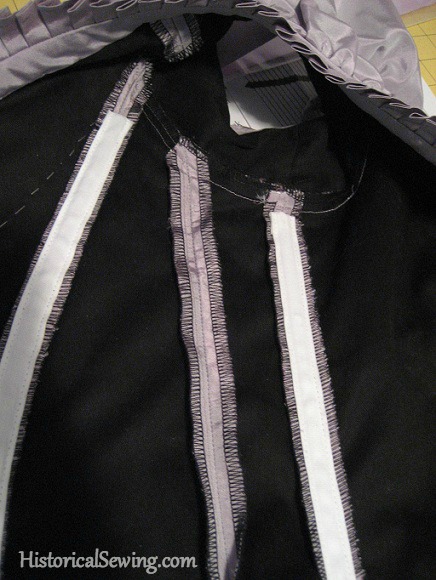 Serger/Overlock or Zig-Zag
Of course it's not period correct, but it *is* my favorite method. I like to do it in the flatlining stage of both skirts and bodices instead of basting and then finishing the raw edges. 😉
As you construct your garment, think about the finishing of raw edges – mainly those on the seams; hems and necklines are generally finished other ways with facings or bias tape. Many times you'll need to finish raw edges before continuing with other sewing steps.
What's your favorite way to finish seam allowances?