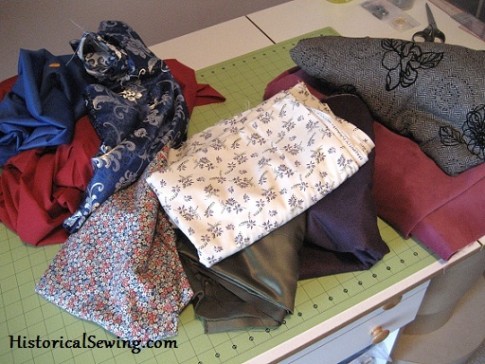 This week Elise sent me an excellent question on historical projects that can be made with little fabric.
You know…
The 1/2 to 2 yard pieces left over from other projects or the beautiful fabric you had to buy (and did so before you knew how much a period costume would actually use). To Elise, myself and many others it can be frustrating to have to make yet another trip to the fabric store before a new historical costume can even be started.
So what's possible with small bits hanging around? Here's some possibilities for you.
Cover hats & bonnets
Make self-fabric trim to go onto other garments (like pleats and puffs or small ruffles)
Cut contrast bias piping
Cover buttons
Apply vest insets on bodices
Sew contrasting collars & cuffs
Create reticules and other small handbags
Make parasol covers
Get creative with millinery & garment flowers from fabric pieces
Make mockups
Sew quick poke bags for holding your historical undergarments for storage & travel
Embroider sections for applique onto other accessories
Cover Styrofoam balls or heads for decorative hat stands
Make a Victorian crazy quilt or pillow forms
Create fast placemats for a tea party
Save larger pieces for bodice and/or sleeve linings
Cover shoes to match or contrast an outfit
So many ideas!
It can be challenging to find the right project for the small yardages in the stash. Have fun using yours!
Any other thoughts as what you'd do with yardage under two yards that's costume related?