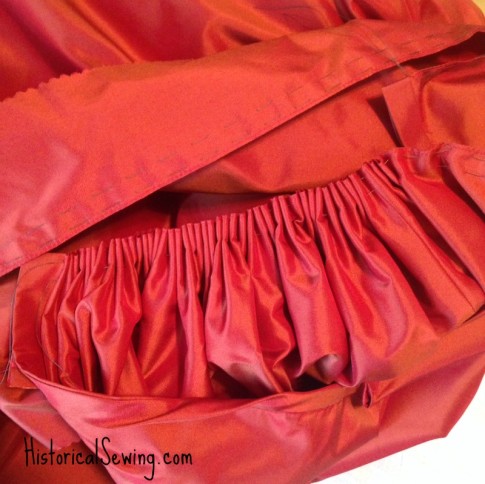 Over the years I've seen many, many costumers question and ponder and debate and frustrate themselves over how to calculate cartridge pleats. I get it. It's pleating. Pleats need to be calculated (or can be, but it's not absolutely necessary).
But cartridge pleats – or gauging as is the 19th century period term – are a bit different.
Simply, it's a method of drawing up a long length of fabric to fit a small section (most often setting a skirt onto a waistband). It's a little like gathering evenly. It's also like making knife pleats… really uniform and tiny knife pleats!
So if you are trying to produce tiny knife pleats with rows of hand sewn thread lines, why bother doing so much math? It doesn't have to be that difficult!
The main question I see over and over is, for example: "I have a skirt 165" around and my waistband is 27". How deep do I make my cartridge pleats?"
I understand where the math thinking is going. I understand the question to divide the skirt by so many equal parts to make it all nice and even. I'm a math person too. I get it.
Let's not overthink this though.
What if we throw math out the window?! Ack!!
Let's look at it from how you want your pleats to look (tight or some space between is ok) and also the thickness of your fabric. Keep it simple.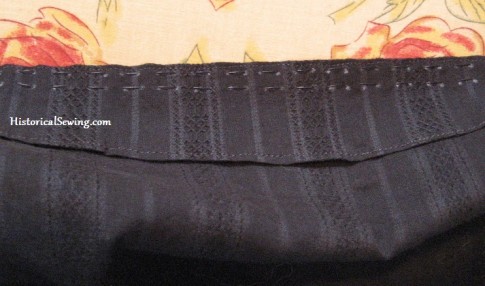 I tend to make nearly all my cartridge pleats the same no matter the fabric. I mark the dots 1/4" apart from each other and 1/4″ width apart of the two rows. I start the top row at 1/8" down from the folded edge. With thicker fabric I'll open up the rows to 3/8" or even 1/2″ apart.
The further down from the top folded edge you sew the second (and third) rows the longer the controlled pleats will be visually.
The depth of the pleats (the spacing width between dots in the row) is where costumers get caught up in the math stuff.
"If I make my dots 1/4″ apart then each pleat takes up 1/2″ of skirt width and my skirt is 180" then I'll have 360 pleats then I need to put 90 pleats into each quarter of the waistband, right?"
OR…. "I have a 180" skirt and I want 300 pleats so I need to make each pleat 0.6" so the dots should be 0.3" apart."
I say: Who cares HOW many pleats you have? Why does the actual number of pleats matter?
Take the skirt and waistband and divide both into quarters (I like to go further with eighths). Mark the skirt with the dot spacing you want. Pin quarter marks together. Pull up pleating threads to fit each section. Fiddle with each section one at a time to spread out and tighten the pleats until it looks good and they are even. Pin in a few places to hold then sew the folds to the waistband. Done.
Why was that so complicated?
(Don't worry, I will inevitably make it complicated for myself when I go to make my next cartridge pleated skirt…. You're not alone.)
For varying fabric thicknesses:
If you have a sheer or very thin fabric go with no wider than 1/4″ between dots. Use 1/8" or 3/16" or the 1/4″ width. No real need to use widths other than these.
For medium weight fabric the 1/4″ really does work just fine. You can vary from 3/16" to 3/8" and even 1/2" for deeper pleats (fewer).
For heavy fabric like heavy wool or twill you'll want deeper pleats as the fabric doesn't "smash" as much when you pull up a lot of pleats. A 1/2″ dot width is probably the smallest you want to go. A 5/8" width is good. Larger at 3/4″ width will make deep pleats.
Remember that the wider your dots the deeper your cartridge pleat folds which gives you fewer pleats total and will make them more open and less squished together when you go to smooth them out in your quarter sections.
Make a few samples by marking and sewing about a 10" length of your skirt fabric (from the extra stuff not your actual skirt) with your chosen dot width plus one or two other options. Pull each up and see how they look. Decide on the width you like best with your particular fabric.
Keep cartridge pleats simple. And remember not to overthink it all. It's clothing. 😉