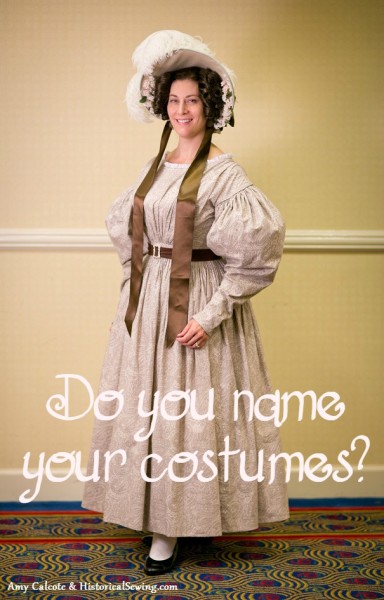 So here's a fun topic: do you name your costumes?
I was asked about this recently (again) about why I name my costumes and particularly, HOW I go about selecting a name. I'll admit I didn't do this for years – you know, 'cause "1883 tea dress" worked just fine at the time.
For those inquiring minds… here's how I go about my scientific method of costume names.
I think when we start our historical costume journey the last thing on our minds is a freakin' name for the ensemble. Right? It's all about the fabric, the pattern, and worrying if we'll get the fit right.
Back in about 1999 when I switched over from so much modern clothes sewing to costumes it didn't even occur to me to name my costumes. It was simply my "Blue Floral Regency Dress" and the "1922 Blue Satin Evening Dress."
The more costumes I made the more I was running into the issue of having TWO "Bustle Dresses." And "blue stripe" or "red floral" only go so far until you can't keep track of them.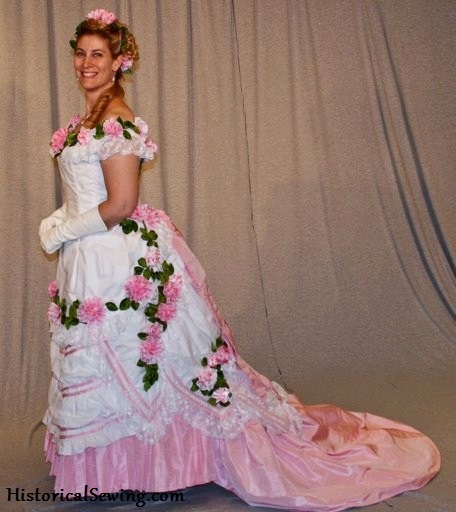 I believe my naming habit started with my "1876 Evening Gown" fashion plate reproduction made in 2008. Someone said it reminded them of a wedding cake. Well! I was truly not going for that – I simply wanted to try my skills at reproducing my very favorite fashion plate. Wedding was not on my mind.
But it stuck.
It is now my "1876 Wedding Cake Dress." I think it fits.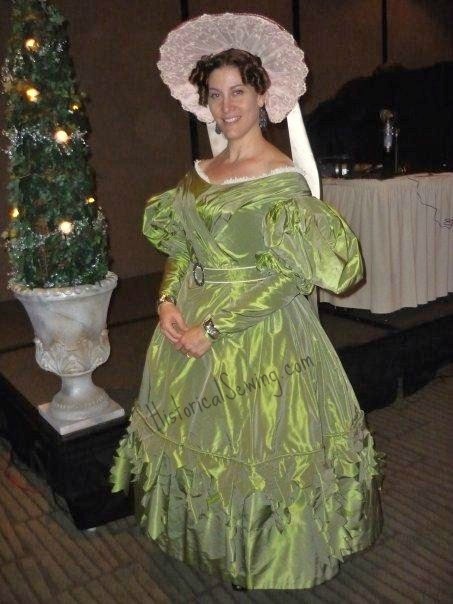 My very next project was my "1830 Wives & Daughter's Picnic Dress." Blah… As I was working with this very cool gold & green shot taffeta my husband pointed out it was the color of the Dark Mark from Harry Potter. Oi! I didn't quite want to go there; so adapted it to be my "1830 Slytherin Dress."
After that, the naming procedure just sort of fell into place, albeit very slowly.
Usually when I start a project I only think of it as I did before: the "1838 summer dress" or the "1899 winter ensemble." It's really only after I've decided on colors that I start thinking of names. Of course, the colors are chosen at the beginning as you have to get fabric to even start on it. (Although, that may change according to what's available in the market or the Stash.)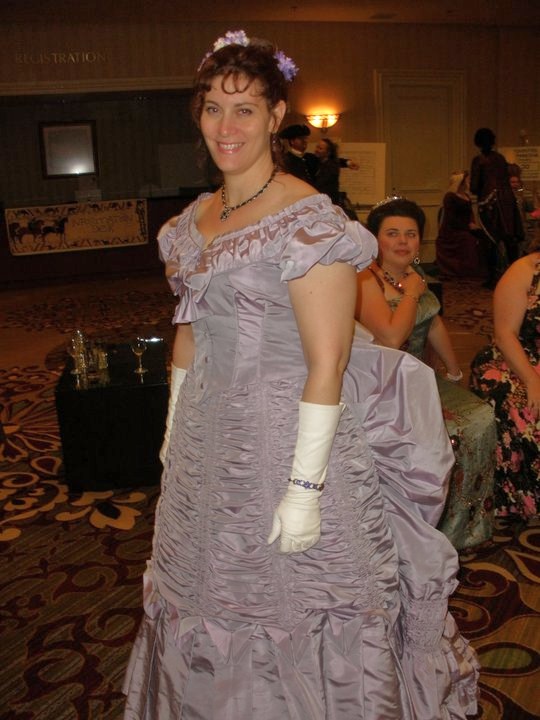 A few years ago when I had to switch from a deep purple color I was scrounging for to a lavender silk in the clearance bin (as, who can pass up $8 silk taffeta when your desired color is nowhere to be found??), I came across some blog or other who the lovely young lady had named her dress from a food or fruit (can't remember exactly).
I thought – how perfect! I love the food name thing! So I thought for a few hours and that lavender reminded me of crushed blackberries with cream mixed in as, say, a topping on a trifle. Yum….
The name stuck and someone on Facebook said that naming costumes after food was delightful. So now every costume gets a food name.
But believe you me, it's not always easy.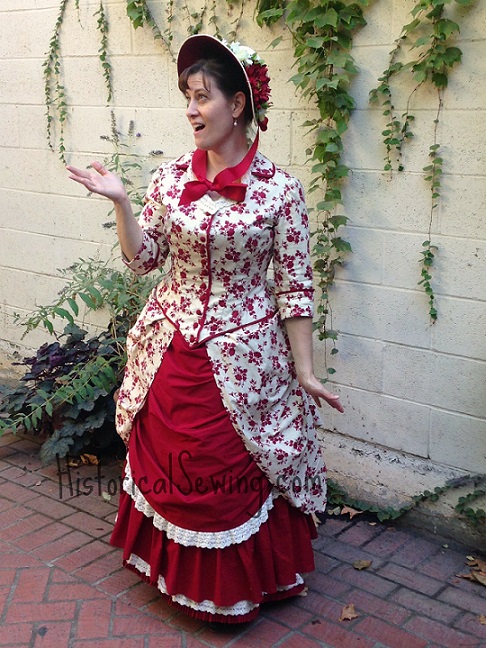 There've been some fabrics that just don't scream food. And there are some food items that you'd really not want to name costumes after…. Zucchini just doesn't have a good ring to it…
So the challenge for me in naming costumes has expanded from only allowing food names to nature too – sunsets, mountains, rivers. I've opened it up a little to places or names from books as well.
But food names reign here! And it comes back to the color of the fabric.
Do you name your costumes? Any specific method you follow to do so?
A few of my lovely costume names:
1873 Blackberry Cream Dress
1913 Sugared Violets Dress
1905 Lemon Chiffon Dress
1887 Summer Berry Trifle Dress
1898 Iced Sugar Cookie
1887 Pink Bubble Gum Dress
1830 Slytherin Dress
1875 Scotch & Soda Evening Dress
1838 Persimmon Puff Dress
1875 Licorice Princess