In preparation of my probable attendance at the Gaslight Gathering in San Diego in May 2011, I've been casually searching for late Victorian designs and silhouettes to replicate. There's no better time than to fall into a pile of gorgeous purple silk and come up with this…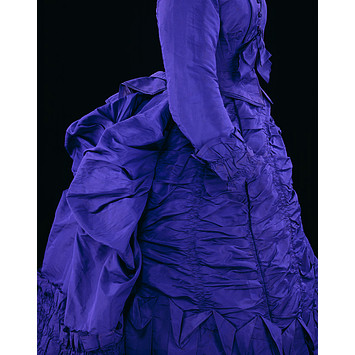 Isn't that amazing?!
I think the use of the one fabric for the entire ensemble makes it most striking, focusing the attention on the details, rich color and fine dressmaking skills.
So here's what I'll be starting with:
Find the perfect silk – maybe taffeta or fine ribbed silk – in my favorite shade of purple – not too light, not too dark but one that triggers the imagination to a brilliant green grassy landscape in late spring with the perfect shade tree to enjoy a 19th Century picnic under the lemon yellow sunshine while watching the puffy white clouds form into the most interesting of creatures

Sketch out the design and add in details I can't see in the museum photo

Pull out multiple block patterns to start the pattern design process

Start the list of sewing instructions on how to get this major project finished in time!

Dream of how this beautiful piece will be a delightful addition to my dress-up closet – 'sigh'
I can't wait to get started and show you just what goes into the production of a a gown such as this!