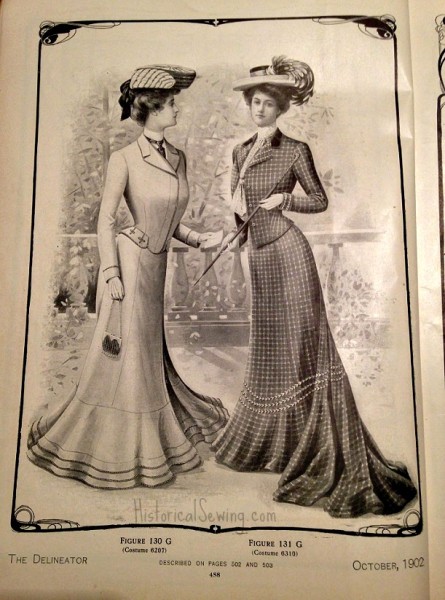 THE AUTUMN DRESS FABRICS
WITH ILLUSTRATIONS IN ACTUAL SIZE, OF NEW DESIGNS IN FANCY VELVETS, AND VELVET CORD
This 2-page article was featured on pages 546 & 547 of the October 1902, The Delineator magazine. Just think! Our great grandmothers were pouring over these fabric & color hints to get the latest news of what was to be fashionable that autumn.
I have typed out the pages exactly so you may read at leisure. I've also included footnotes of some of the more obscure fabric names. Pin the pages to Pinterest for future research on early Edwardian fabrics!
[page 546]
While conservative tastes will cling to smooth-faced cloths, satin-faced prunella [1] and soleil [2] as the most desirable materials for Autumn dresses, the more up-to-date woman will select the soft, silky fabrics characterized by a rather open mesh suggestive of the veilings and Eoliennes [3] that have held such popular favor for several seasons past and, because of their adaptability to present graceful modes, will not easily lose their prestige.  In the delicate shades of gray, beige and blue these fabrics are suitable for ceremonious wear even when Autumn has passed into Winter.  A silk foundation is, of course, essential with these thin materials, and many attractive results are achieved by selecting a contrasting by harmonizing color for this purpose.  A two-toned or chameleon taffeta showing green and gray would be effective beneath a very pale gray or even a beige open-mesh goods, while a greenish-blue taffeta would be pleasing under a very light beige.  Some of the new samples of thin silk-and-wool fabrics simulate Louisine [4] in weave, while others show a rough surface as a result of bourette [5] yarns in the filling.  White flecks on neutral-tinted grounds are a conspicuous feature of many of the recent importations in these diaphanous materials as well as in those of heavy weight.
One of the novelties of the season shows a camel's-hair ground in brown with alternate stripes of green and blue, the latter bearing a flamme' [6] effect which pleasingly lights up the dark-hued goods.  The idea is equally attractive in black and gray or garnet, blue and green.  This material will be most appropriate for the smart walking dress or two-piece costume which is now indispensable to the perfectly appointed outfit.  Trimming bands of stitched cloth or satin in a shade to harmonize with or match the predominating tone in the textile will be used, or a silky fibre braid arranged in some fanciful design or conventional pattern may be substituted.
Another new fabric shown is striped boucle', and like the material just described, it will be used to make street dresses.  A dark-red ground illuminated with white and black loops or knots at irregular intervals on the white stripes marks one of the most attractive samples in this material, though that showing a black ground with the stripes and knots in white is perhaps better suited to conservative tastes.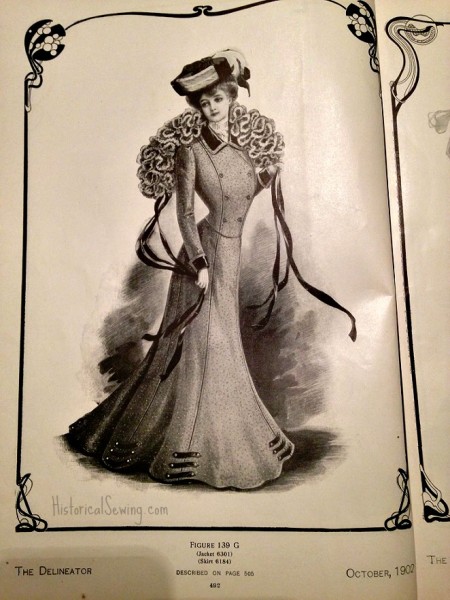 There is a wide assortment of heavy textured, or "manish" goods as they are termed, any one of which is appropriate for jacket-and-skirt suits, and the smart appearance of these costumes, when carefully made, will win favor for them even with the woman whose tastes incline to the purely feminine.  The plaited habit-back skirt, in comfortable walking length, and Norfolk jacket with semi-adjusted back and fronts or the military coat is the usual style in these stylish and serviceable suits.  Camel's-hair mixtures are exhibited in all the fashionable colors, each showing the long hairs that especially characterize this material, in either white or black.  Either plain or fancy velvet may be combined with this handsome material.
Scotch cheviots [7] and homespuns [8], especially in gray and white and black and gray, are not likely to lose the popularity they have gained through their wearing qualities and extremely stylish appearance.
That checks will be a distinguishing feature in both silks and woolens is indicated by the many samples shown.  These are generally in two shades, the ground being of the darker with the cross-bars in a lighter hue.  Very dark and very light blue, and bright green and blue, are among the most fashionable combinations, while black and white, dark green and white, and blue and white are extremely modish.  These
[page 547]
Fabrics are frequently trimmed with cloth or silk bands in a shade to match their predominating color.
Taffetas and Louisines [4] in the tiny checks that have been so fashionable for the late Summer gown will continue in favor until late in the Autumn, when they will be replaced by the fancy velvets and corduroys.  Indeed, at no time in the history of dress have velvets assumed the important position they now occupy, and to be without at least one velvet gown is to be almost out of fashion.
The smart and rather severely fashioned shirt-waist and walking skirt of polka-dotted or striped velvet, or of velvet cord, will be quite as conspicuously worn as was the satin Liberty or foulard [9] shirt-waist suit during the past Summer. One of the special novelties in these rich fabrics is in golden brown with almost invisible red lines through it, and gray velvet with lines or spots of black or white is both novel and attractive.  Metallic effects are very fashionable, especially in the silver ground bearing black, sapphire-blue, dark-green or golden-brown velvet spots in both regular and irregular sizes.  Entire dresses as well as separate waists are made of these fancy weaves.
Boulevard velvet cords are shown in a wide assortment of colors, and no more fashionable material is shown for walking or street costumes.  These materials are characterized by a wide, heavy cord or rib.  An unusually smart street gown recently ordered for an Autumn wardrobe was made of this velvet cord or wide-wale corduroy.  A rich, deep shade of blue was the color chosen, while a blue and white mixed fibre braid and enameled buttons were the decorative features.  The skirt was in fashionable walking length, made with box-plaits all around and stitched on each edge to graduated flounce depth.  Three rows of the braid arranged in zig-zag fashion simulated a hip yoke, and three enameled buttons were placed at the back of the yoke effect.  The waist was box-plaited and stitched to correspond with the skirt, and a yoke was effected by an artistic arrangement of the braid, while groups of three of the small buttons were arranged on the plaits between the rows of braid.  The sleeves were box-plaited, and a rather deep cuff was ornamented with rows of the braid and buttons.  There were epaulettes formed of the braid to accentuate the breadth across the shoulders, and the standing collar was ornamented with braid and buttons.  A belt to match completed this most attractive costume.  A turban in toreador shape, of beaver to match the blue in the gown and simply trimmed with a blue band headed with white and a white bird or plume, would be a charming addition.
A new imported rough-surfaced fabric resembling zibeline [10] that will attain popularity is procurable in black and also in pure white, the latter being used for smart carriage and afternoon toilettes.  Motifs of white, or ciel-blue cloth embroidered in black will be employed in the decoration of both.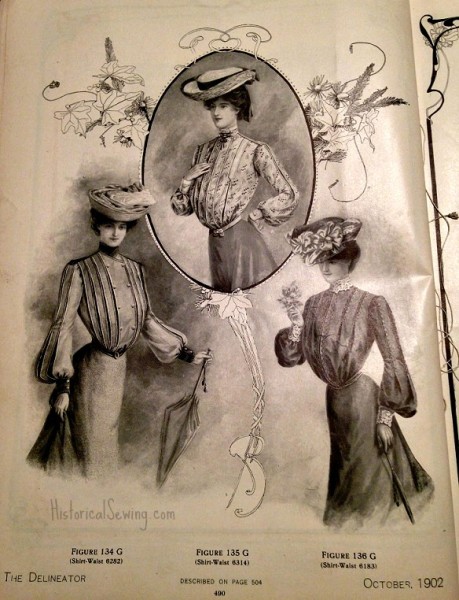 White cloth and heavy white silk embroidered in dots or French knots in black or some delicate shade will be in high favor for entire dresses as well as for the separate waist to be worn with a skirt of black or dark-blue velvet or a lustrous cloth in some delicate tint.
Fine French flannels in all the fashionable shades are among the most popular materials shown for shirt-waists for actual service, and the embroidered and warp printed effects in the material make further ornamentation, except perhaps fancy buttons, unnecessary.  The soft wool fabrics, such as albatross [11], cashmere and veiling will also be much used for shirt-waists.
The silks that are highly approved in fancy bodices are those of the Louisine and peau de cygnet order.
Footnotes – descriptions taken from Fairchild's Dictionary of Textiles, 7th Edition:
[1] prunella – a two up, one down. warp-faced twill weave; An 18th- and 19th-century English worsted fabric made in a three-harness twill; usually dyed a dark purple or plum color
[2] soleil – materials finished with a high luster in addition to the material itself; a class of weaves, either plain or ribbed; a doubled or trebled satin weave gives a closely woven, strong fabric
[3] Eoliennes – lightweight dress fabric in plain weave made with fine silk warp and heavier worsted or cotton; dyed in the piece and given a lustrous finish; originally a very lightweight dress fabric made with organzine warp and fine, lustrous worsted filling in different colors in twill weave, with the warp forming little brocade-like patterns
[4] Louisine – lustrous, lightweight silk dress fabric made with twice as many ends as picks per square inch forming warp ribs; synonym: summer silk
[5] bourette – lightweight, rough-faced, dress fabric made of bourette yarn, in either a twill or plain weave; (bourette yarn: fancy ply yarn with knots or nubs produced during carding; the knots are threads of another color)
[6] flamme' – French term for plain weave yarn dyed fabric with linen warp and cotton filling
[7] cheviots – broad term for rough surfaced, heavily fulled woolen or worsted fabric with a hairy nap; similar to serge but it does not become shiny as readily
[8] homespuns – generally plain weave, loosely constructed, heavy woolen fabrics made of coarse, uneven yarns, similar to tweed
[9] foulard – lightweight, lustrous fabric made with a two up, two down twill, originally with a silk construction and soft finish; printed with a small design on a plain ground
[10] zibeline – woolen overcoating with a long, hairy, lustrous nap pressed down in one direction; warp is woolen or worsted with filling generally a blend of wool such as camel hair or mohair
[11] albatross – soft, loosely woven, lightweight cloth of wool or worsted in plain or twill weave with a crinkly, napped, fleecy surface; also a lightweight, plain weave cotton with soft nap made in imitation of the worsted fabric
[12] peau de cygnet – lustrous, heavy silk fabric with a pebbled effect; made of crepe yarns in an eight-harness satin weave; French for swan skin
Do you study period magazines for fabric and color research?