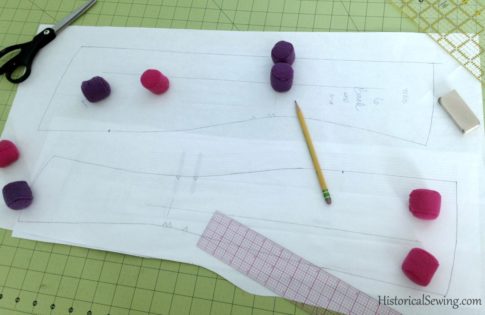 Save the original pattern!
It is generally suggested in the sewing world that you copy that precious, new paper pattern you recently received and are getting ready to sew with. This is so you keep the original intact. I would agree – about 80% of the time.
Most of the time I'll only copy my expensive historical or indie printed patterns. I don't want to lose the original sizing and grading. They cost good money, right?!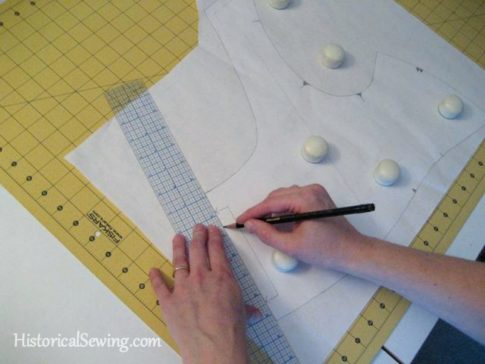 For those tissue patterns from the Big 4 (Simplicity, Butterick, McCall's and Vogue) I'll just cut straight into them. I'll draw new cut lines first, however, making my own grade between the sizes I need. (Remember to iron them afterwards!)
And for PDF patterns I can easily go back and print the pattern (or size) again. So I don't worry about tracing these after I've taped the pages together.
So when you're ready to start your pattern work – especially for a historical garment – I highly recommend you trace out your pattern size and use that as your working copy.
If you get a bad pattern or it's not making sense and you have to do several mockups you've got your original pattern to refer back to or simply start over with. (So handy!)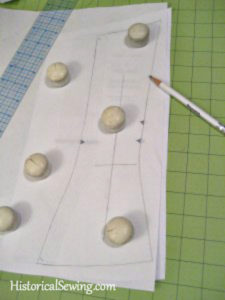 Paper for Tracing Patterns
You'll get a lot of varying answers when you talk to sewers and costumers about what they use to copy their purchased paper patterns.
Personally I use presentation (or easel) pad paper that comes about 28" x 32" (give or take). You can find it at office and school supply stores and lasts a long time. I've used this paper for years and love it. It's lighter than copy paper and see-through enough to trace. It is durable, too, to get me through lots of alterations and drafting.
I've tried the pads with the post-it sticky on the back so it stays put on my table – it works ok but you lose the top 3" with the sticky. I'd rather have the full sheet available.
Oh, and be VERY careful with the 1″ marked pad paper. I've noticed it was not printed at a true one inch and had to use the reverse side.
Lots of people use heavy interfacing (sew-in) or Swedish Tracing Paper with good luck.
Paper Options:
Large presentation pads
Heavy interfacing (sew-in) like Pellon brand Easy Pattern
Other 1" grid or blue line interfacing
Medical paper (narrow rolls but quite durable)
Blue Dot paper or other sewing/drafting industry paper
Regular good quality tissue paper
Craft or butcher paper
Unprinted newsprint paper
Unusual: clear vinyl, plastic sheeting, or a shower curtain (with Sharpie pen)
Off-beat: Christmas/holiday wrapping paper with 1" grid on the back
What is your favorite paper for tracing patterns?
Links to Amazon are under an affiliate account.