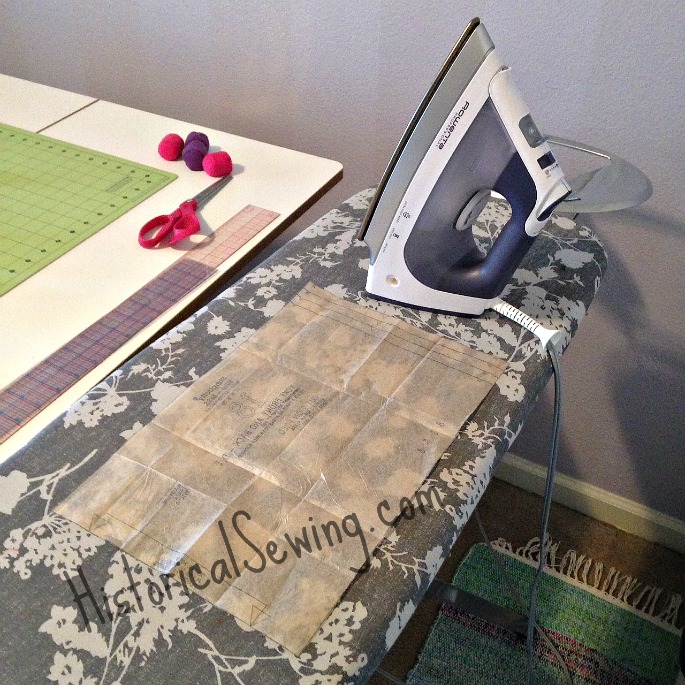 Yes, it may sound kinda strange to be ironing patterns… but you really can do it!
Although, I only do this on tissue patterns – not the heavy bond paper patterns that are so common amongst independent pattern publishers. But for the Big 4 companies (Simplicity, Butterick, McCall's and Vogue) and others who publish tissue-printed patterns, ironing is a boon for smooth cutting.
Plus it gets all those crazy wrinkles out. (Although, it's not my fault if you can't re-fold the pattern to fit into the tiny envelope anymore. 🙂 )
Use these 5 tips the next time you pull out a new tissue pattern.
Even if you are going to copy out the pattern – to follow a particular size or to preserve the original – these steps are very helpful as you begin.
1) Unfold the tissue sheet and cut around the specific pieces you'll be using. You don't need to cut on the lines right now. Just separate the individual pieces.
2) Set your iron to a very low, warm setting and turn off all steam (REALLY important!).
3) Press from the WRONG side of the pattern – do not press on the side with the printing. If you press from the printed side the edges will curl up on you. For some reason if you press from the back it stays flat.
4) Hold the iron cord up or drape on an ironing board hook to keep it from sliding over the edge of the board wrinkling (or even tearing) your newly pressed area.
5) Press half the pattern at a time turning it frequently.
It's best to work in little areas at a time. Don't try to press a large piece like you do when pressing fabric.
Also, I've found that tissue patterns can take more heat than you think. Start at a low setting and move up if you need to.
But remember, NO STEAM. Ever. Yeah… paper doesn't like water. If you get the pattern wet it will dry crinkly (like when the rain got to your paperback book). Then the pattern size won't be accurate anymore. (word of warning…)
Have you or do you press your tissue paper patterns before using them? Any stories or wisdom to share? Post a comment below.