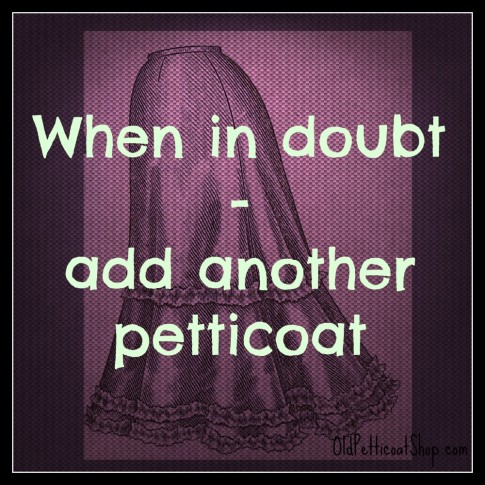 We've all seen it.
A beautiful period gown spoiled by a limp, dragging skirt. Besides good flatlining in that skirt, the use of petticoats can take that loose mess and make it a beautiful reproduction worthy of a fashion plate.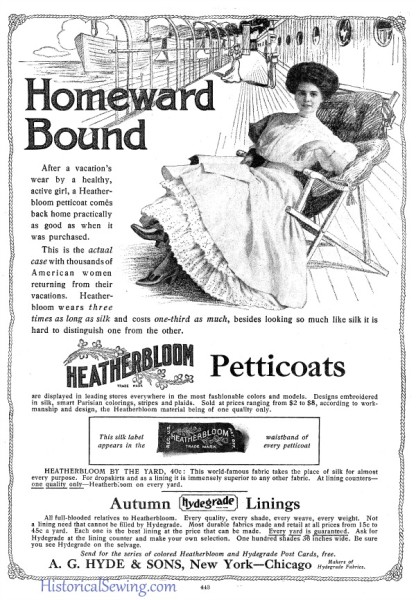 This is one of my biggest pet peeves (and one of the Biggest Mistakes) when admiring reproduction historical clothing – being able to tell where there is a shocking lack of petticoats. A woman may have the most beautiful gown, the correct silhouette, and fabulous accessories – but it can all fall flat if she doesn't have enough (and I do mean that) petticoats.
One petticoat usually doesn't cut it.
(I'll let the "one" slide during the Bustle Era as a wired bustle with ruffles covering the wires is like the first petticoat. Throw just one more petticoat on top and you're good to go in many instances.)
The worst offense is when a hoop skirt is worn. Have you seen a Civil War or 1860s skirt where a distinct wire row is visible about 6″ to 12″ above the hem? (yikes) Sometimes the row is seen even with a petticoat. That one petticoat is not enough! Obviously.
So I'll shout: It really IS ok to wear multiple petticoats!!!
They won't hurt.
Multiple petticoats are period correct.
They make your costume SO much better.
If you're worried about adding to your waistline with several thick waistbands under your skirt, set the petticoat panels onto a yoke or set them all together onto one waistband. Brilliant!
The two early-1850s skirts below would not have that gentle bell shape without the use of multiple petticoats supporting them underneath. Like, several of them.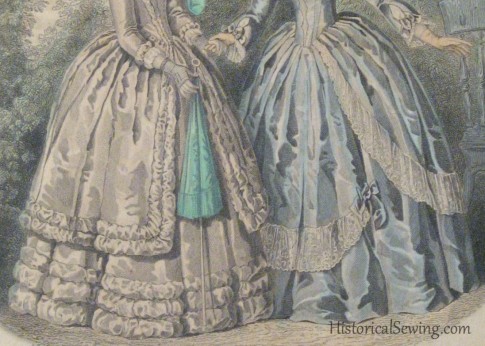 I just cringe when I see a fantastically made 1890s gown only to notice the skirt falling flat against the wearer's legs (I'm guilty of this too.). Even if the skirt has all the proper panels, the full hem width, and stiffened hem facing, it won't cut it for achieving that beautiful flared 1890s silhouette we love.
The problem is, simply, NOT ENOUGH PETTICOATS.
Listen. Our ancestors knew the secret to a fashionable silhouette. They knew that you won't look the same with just a skirt about you, over your chemise and drawers. They knew the extra foundation skirts, cut just so, would show the world your fashionable eye.
And isn't that what we are striving for? The fashionable silhouette?
So many problems can be solved by adding an extra petticoat – I challenge you to try it!
That airy ball gown skirt will stay put; the bell shape you desire will form; the cold air you feel will be dispelled; that train will lay flat…
Plain, corded, ruffled, trained, gored, tucked, paneled, shaped, tied – you name it. That extra petticoat or two could be the missing element of your costume. Give it a try!
What are your thoughts on petticoats? Please leave a comment below.
P.S. I love petticoats and have given you more resources to make them up. Take a look at my post on good fabrics to use for them and then how to starch petticoats when finished. If you're new to historical sewing, my list of patterns will help – including many for you to create petticoats with. 🙂