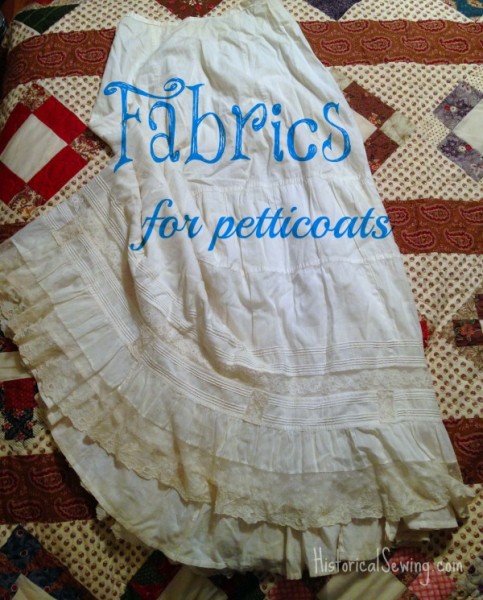 Petticoats are those undergarments that invoke romantic notions, feelings of nostalgia, and visions of swirling colors from Oklahoma!
If you've followed me for even a bit, you know I strongly support the wearing of petticoats. First, for historical costuming they provide much needed under-structure to support the silhouette; second, they are one of the easiest garments to make (relatively) for those just getting started in antique fashions; and third, they are just plain FUN! And frilly always brings out the delicate feminine side.
To reminisce of yesteryear's styles, let's go over modern day fabrics that will work well for petticoats for the historical impression or dress-up box.
For simplicity and ease of reference I'll break this discussion down into fibers & weaves and give suggestions for what time periods they are recommended. I strongly recommend the basic, plain weave fabrics for most kinds of petticoats. Petticoats stand up to much wear & washing; make yours durable!
Also, go for lightweight materials. Don't repeat my early mistake of making petticoats from heavy fabrics because I thought they would support the skirt better. Wrong! You merely need light petticoats – more of them. Don't weigh down your already-substantial historical ensemble with heavy petticoats!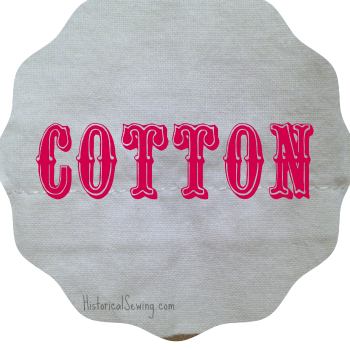 Cotton
This is perhaps THE most used textile for 19th century undergarments, petticoats especially. You'll find cotton – plain, embroidered, embellished and starched – in petticoats from every decade cut to the shape of the skirt for best supporting that skirt. (<< silhouette tip here to keep in mind)
Use cotton for Regency bodiced petticoats, mid-century corded & quilted petticoats, ruffled versions, and plain, top-layer petticoats for all eras.
Muslin/Calico – one of the most basic cottons that can be used for nearly all petticoats. It's an even weave in 100% cotton that varies in thickness and hand.
A word of warning here: you want the high-quality, bleached or un-bleached/natural muslin/calico sold as apparel or crafting cotton. There's a fashion industry version of muslin that is quite stiff and used for mockups in design companies. This is NOT suitable for petticoats.
Organdy – my particular favorite for certain petticoats. An even weave fabric with a sheer or opaque appearance that's been treated to starching/sizing for a stiff textile. Read my in-depth article on organdy because it truly is an amazing fabric.
Use organdy for 1820s to 1850s corded petticoats and smooth, single-layer-gathered-at-the-waist petticoats as a top layer under the skirt. I've been asked a lot about using organdy for a full ruffled petticoat… I love using organdy for ruffles for more "flouf" under the skirt with less weight. However, I recommend a plain muslin type of base fabric to which the organdy ruffles are then mounted.
Lawn – a beautiful, even weave cotton fabric that's on the light, semi-sheer side with a slight stiffness. It's more a dress or shirtwaist fabric but can be made up into light petticoats for summer wear. Use for mid-century through Edwardian, plain or ruffled or embroidered petticoats.
Shirtings – a delicious, even weave material that's tightly woven for a drape-able but slightly stiff hand. Used more for dresses, shirtwaists & blouses, shirting fabric can be delightful for light petticoats that layer well. You'll finding many shirtings in prints but look for the white or white-on-white prints & stripes for good petticoat fabric. Be watchful that you get 100% cotton and not a cotton/poly blend. Wonderful for Late Victorian and Edwardian petticoats.
Broadcloth – another great, even weave fabric for light petticoats. However, I have to caution you here as a lot of broadcloth nowadays is a cotton/polyester blend. Ugh. Sure, it's lightweight and comes in a kazillion colors and is inexpensive. But… avoid the poly blends if you can simply because artificial fibers will hold in heat and make you feel sticky. That said, 100% cotton broadcloth can be harder to find (as "broadcloth" but is similar to quilting goods (see below)), is generally thicker and resembles more of a muslin in texture.
Quilting Cottons/Kona Cotton – I have a love/hate relationship with quilting cottons. I love them for underlinings and pretty bustle dresses. But they tend to make h.e.a.v.y. petticoats. Sure, they wash well and come in pretty prints and colors (who doesn't want a red petticoat?!), but just be careful when you need to layer up for skirt support.
That said, I think they make up well for Regency petticoats, and also under-petticoats for mid-century and 1890s when you want a modesty layer but don't want to use heavier flannel. Using a quilting cotton as a top petticoat layer may weigh down all your other petticoat layers and not puff up the skirt in the silhouette you are going for. Wear with a lighter petticoat on top.
Flannel – cotton (or wool) textile in a fuzzy, thick appearance that's very good for warmth and basic under-layer petticoats throughout the century. Flannel makes up nicely in a quilted petticoat for 1830s through 1860s. Keep this petticoat fabric on the bottom with lighter petticoats on top. Leave the ruffles to some other petticoat.
Batiste – a light, opaque cotton that's widely available in a cotton/poly blend. (You already know how I feel about that.) But for budget and value, batiste makes up into beautiful petticoats for every 19th century historical era. Get lots of yardage for making several petticoats to layer without adding a ton of weight to the overall ensemble. Works lovely for ruffled petticoats, and the 100% cotton starches very well for beautiful stiffness and silhouette support.
Sateen – cotton fabric in a satin weave. You'll find a few hand variances so shop around. Although, the heavier the sateen (bottom-weight material), the heavier the petticoat so keep that in mind.
The sateen I bought for my Regency corded corset was light enough I could make it into an elegant Late Victorian or Edwardian petticoat. Some of the other sateen I've seen in local chain stores and online is simply too heavy for a petticoat. I suppose you could use it for an underpetticoat, but why waste the money on this lovely textile to only hide it?
Other cottons that are wonderful for historical projects but NOT petticoats are voile, twill, denim, chambray, netting, home dec fabrics, and polished cotton (which, I mainly recommend for underlining skirts or for hem facings and not using for a petticoat itself).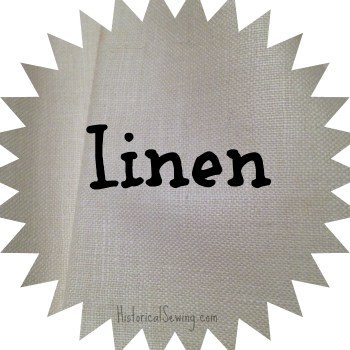 Linen
Moving on from cotton (which is good for 80% or more of your petticoats), linen has been used for petticoats for a really long time. Period correct but used more in some eras than in others.
Linen comes in basic and even weaves making it strong and flexible. Look for the tighter weaves for petticoat use so the fabric doesn't stretch out on you too much. It's sold in weights by ounces (per yard/meter), the lighter stuff used more appropriately for undergarments.
Cambric was originally a very tightly woven linen fabric that made up into stunning petticoats throughout the entire Victorian era. Many of the petticoats with embroidered flounces were made from cambric. Although, later in the century it was combined with cotton for fashion goods.
Cambric is a bit more difficult to find today (as named) and primarily found in cotton or a cotton/linen blend. A very high quality cotton muslin is quite similar. It starches VERY well for those papery-smooth finishes in Victorian petticoats. Similar in properties as shirting or lawn.
Other linens can be used for other under-layer petticoats such as corded or quilted or modesty. Remember to pre-wash the material a couple of times to shrink the fibers as much as possible before sewing.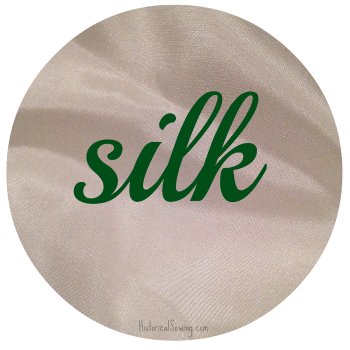 Silk
This luxurious textile was frequently used as undergarments and petticoats in the later Victorian decades and Edwardian era. Even so, the cost of today's silks can still be prohibitive to historical costumers.
The original silk taffeta petticoats we know and love (remember Mammy's red taffeta petticoat?) were made from a textile that was much lighter than our modern silk taffetas. Sure, you could use it to make up a petticoat that would rustle delightfully, but it would be on the thicker side, hold in heat, and at costs ranging from $15 to $28/yard aren't necessarily best for hiding under a dress.
I will mention faux silk taffeta here because, as a costumer on a budget, it may be what you're looking for. Lightweight and fluffy, it makes a wonderful top petticoat either plain or ruffled (just watch out for all the fraying when you sew it up and the water marks if it's acetate rather than polyester).
China Silk – also known as habotai silk, this thin, very drape-able and soft hand textile is a nice choice for a top ruffled petticoat for Late Victorian and Edwardian petticoats. Be aware that it can snag easily though.
I'd recommend China silk more for underlinings and accessories like chemisettes and jabots rather than petticoats due to its soft hand, but for under evening gowns it's a delight. Habotai can be rather slippery to work with. Use tissue paper underneath when cutting and sewing.
Crepe de Chine – soft, silk crepe that was used in Late Victorian petticoats and throughout the early 20th century. Another very common textile produced nowadays in polyester. Lovely petticoats that can layer well, but remember polyester will keep you warm (or hot, depending) and is not a period correct fiber.
Silk Organza – same tight weave as cotton organdy but in silk fiber. I love silk organza as an underlining! You can find it around a similar cost as organdy. For petticoats, use in the similar manner as organdy with ruffles on a cotton or silk base. Poly organza is SOOO common that you can get the same fluffy petticoat affect under Late Victorian dresses but with an immense amount of fraying until your nerves are frayed to bits. Use the silk or none at all…. Just my opinion.
Other silks: silk satin would make a wonderful 1830s to 1850s quilted petticoat but at an extreme cost. Silk twill, serge, or suiting is generally light enough for a petticoat, but again at a cost. Don't use silk shantung with all those slubs even if the $5/yard screams your name.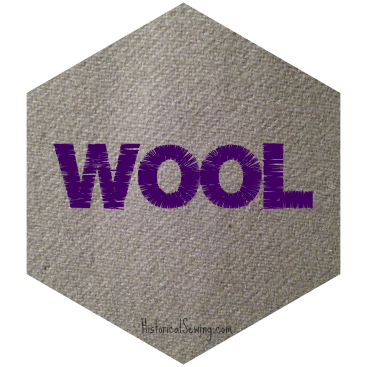 Wool
Historically, wool was used for underpetticoats for warmth or for rough work. They were more functional than decorative. They work for 1820s through Late Victorian under other cotton or linen petticoat layers. Cut in basic panels or as a quilted petticoat.
Search for wool broadcloths, summer twills or tropical weight suitings for petticoats. Wool flannel would make a very nice petticoat indeed and quite historically correct.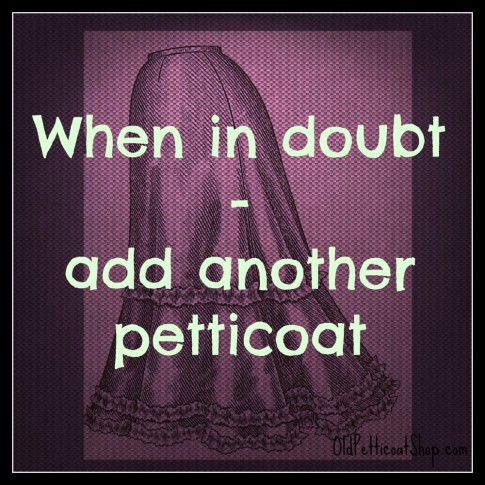 Happy petticoat sewing!! 🙂
What's your favorite petticoat fabric? Have you made a petticoat from one fabric that turned out awesome? Or used a particular material that just didn't do the job it was supposed to? Share with us in the comments below!
For more on petticoat fabric shopping, check the Fabrics & Trims Resources page.