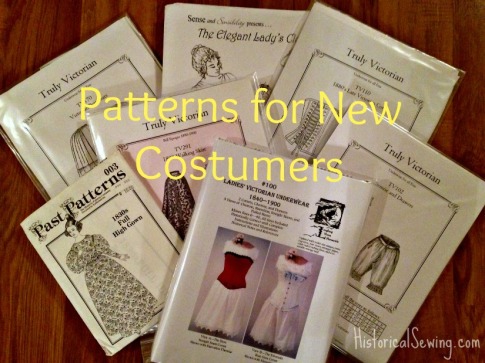 First and foremost it's all about the silhouette of the time period you want to achieve. You build the undergarments first then all the pretty things that go on top.
But as a beginner you're starting from ground zero. You have nothing…. Except maybe a bonnet or a petticoat or your grandmother's fur jacket.
And you have dreams of dressing up. Of being a "lady" from the Victorian times. You may have even said you were born in the wrong century.
This was me in 1999. Not a single garment but wistful thoughts of being a Victorian.
So where to begin?
In my list here I offer pattern suggestions to sew appropriate garments from a costume beginner's standpoint.
For the sake of this article (and this entire website for that matter), please note that "beginner" means you know sewing basics like threading a machine, and jargon like seam gauge, grainline, and selvedge are familiar to you.
Undergarment Patterns 
Underneath it all you need to start with a chemise and, more than likely, a pair of drawers. A basic set will carry you through nearly the entire 19th Century (from 1820s) and into the Edwardian/early 1900 years. Start with these.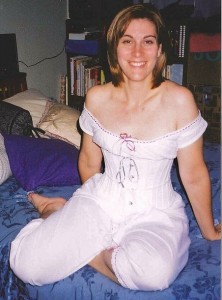 My first set of basic undergarments in 2000 was made from the #1800-3 Ball Gown Chemise pattern from Mantua Maker and drawers from the Laughing Moon #100 Ladies Victorian Underwear. I already knew how to sew so was not intimidated by these patterns and even put in tiny tucks in the drawers.
However, I highly recommend the Truly Victorian TV102 which gives you both undergarment patterns. Very easy to put together. Plus, if you need extra help I created an online class to walk you through each step of both garments.
The chemise in the Truly Victorian pattern is easier to make than the yoked chemise from Laughing Moon which may be frustrating or confusing for some.
Corset Patterns for Beginners
Next up is the corset. The corset is paramount to the right period look. Don't shy away from this! There are options in stores and online to purchase, but when you're ready, you can tackle this fitted garment.
The best corset for a Victorian shape is the Truly Victorian #110. Straight-seamed, a beginner can put this together, or if you need a bit of help on certain steps, I've got an online class for that too. 😉
Second would be the Laughing Moon #100 – but for a newbie stick with the Dore style with the straight seams. The Silverado has gussets, and although great for those with smaller cup sizes, is more on the intermediate to advanced sewing level. (Also, personally I believe the Laughing Moon to be more cylindrical in shaping around the torso whereas the Truly Victorian can produce better curves if the size is chosen properly.)
Silhouette Support Patterns
Now that you have your frillies or unmentionables you'll need to decide what time period you want to pursue first. The support garment comes next and that can be a corded petticoat, wired hoop skirt, bustle or bustle/ bum pad.
Remember it's all about the silhouette to make a believable costume and the support garment is the main thing that helps create the "look."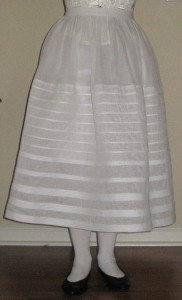 Corded Petticoat – no need for a paper pattern, use my detailed workbook for putting this together. It's all straight lines, the use of a zipper foot, and some gathering so it's perfect for a beginning costumer. A corded petticoat works for 1820s to 1860s fashions.
Wired Hoop Skirt – this is definitely a more challenging support garment for when you're ready to jump from just petticoats to a wired frame for 1856 to 1869 fashions. Most are put together with twill tape and cotton. Some, like the cage crinolines, use bone casing running through casings sewn into twill tapes lengths.
My first hoop skirt was made using Simplicity 9764 (yes, the large one from Martha McCain – search eBay and Etsy for vendors). I added ruffles above each wire casing to alleviate the need for one petticoat. It's a large size hoop but fairly straightforward to make. The Simplicity 7216 more elliptical (and smaller) shaped hoop is also a great pattern.
For the challenge, I recommend the Truly Victorian TV141-1858 Round Cage Crinoline or TV103-1865 Elliptical Cage Crinoline. Both take much patience. Beginners should stay away from cage crinoline kits with smaller & more numerous wires. Get more period costuming under your belt before jumping into these.
You'll find much discussion about how large hoops should be. The originals are narrower than you think. Plus, you can add layers of ruffled petticoats over a narrower hoop to widen your silhouette if needed. Upon recommendation, shoot for 90″ to 120″ on average with 110″ to 115″ being a nice width for most everyone.
Bustles – really a much easier support garment than a full hoop skirt. I LOVE, LOVE the Truly Victorian TV163 Lobster Tail Bustle! Again, if you need help with it and using hoop wire I have an online class for this bustle pattern (but it's also included in the Victorian Undergarments class if you want to knock out chemise, drawers and this bustle (and a petticoat too!)). Beginners will find this pattern a lot of fun and quick to make. Works for 1870s and 1880s
Other options include the Laughing Moon #112 – it's okay but may challenge the beginner; and the Truly Victorian #101 which includes a petticoat body and ruffled overlay (optional). The TV101 was my first bustle and I was a giddy schoolgirl when it was finished. 🙂
Bustle/Bum Pads – use for Natural Form Era dresses, 1830s & 1840s, and 1890s into Edwardian years – all depending on how much you need to enhance what nature gave you. My main bustle pad came from the pattern in Laughing Moon #102. It's a simple half-oval or elongated half-moon shape stuffed with fiberfill. Basically a small pillow that's shaped to fit your back side.
For beginners, try your hand at making your own pattern from paper, cut two, sew around the outer edge, turn & stuff with filler then sew the top closed. Tack on tie strings for the waist.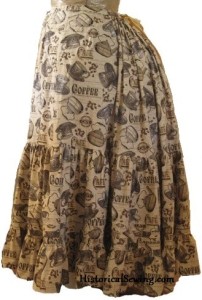 Petticoats – oh boy! You know how I love these! And they can make or break your historical silhouette. In fact, I think they are ultimately responsible for a successful period look. Make lots and wear them.
My go-to pattern is the Truly Victorian TV170 Victorian Petticoats. The pattern covers four styles for fashions from 1870 to 1900, but I'll admit to wearing them for Early Victorian 1840s too. (yeah, cheater here…).
A basic three- or four-paneled skirt gathered into a waistband makes the easiest of petticoats. Add ruffles for more skirt lift and support. The skirt panels are cut in straight lengths of fabric across the full fabric width from selvedge to selvedge.
Patterns for beginners who need a petticoat pattern (I know where you're at as I depended on patterns SO much when I started) – Past Patterns #706 (dated 1850s to 1870s but would work for 1820s and onward); Truly Victorian free hoop petticoat pattern; Period Impressions #001 (1820s to 1850s); Truly Victorian TV201 (skirt pattern for 1870s) and Truly Victorian TV261 (skirt pattern for 1880s) and Past Patterns #037 (1798 to 1825 high-waisted petticoat).
Dress Patterns for Beginner Costumers
(You'll notice I don't elaborate as much on the following patterns as I did with the undergarments above. Yes… undergarments are THAT important. Plus, when you have the undergarments & petticoats done you can spend more time making a variety of dresses to go on top!)
Regency Era – 1800 to 1820
Laughing Moon #126 – truly, a great pattern with lots of options
Sense & Sensibility – Regency Gown or Elegant Lady's Closet patterns
Period Impressions #460 1809 Day Dress (easy but the sleeves are HUGE – you may want to pinch up some width a bit before cutting your fabric)
Romantic Era/Early to Mid-Victorian – 1820s to 1860s
Past Patterns #003 Full High Gown
Sensibility Romantic Era Dress
Past Patterns #702 1850-63 Darted Bodice
Past Patterns #700 1850-1862 Skirt
Truly Victorian TV446 Darted Bodice
Laughing Moon #111 Early 1860s Dress
Bustle Era – 1870s & 1880s
Truly Victorian TV201-1870s Underskirt – basic gores that are fit to the waistband with darts/tucks and gathers or pleats in the back.
Truly Victorian TV261 -1885 Four Gore Underskirt
Truly Victorian TV460-1885 Cuirass Bodice – the standard bodice of the Era that I use for *many* of my bustle costumes.
Truly Victorian TV305 Bustled Overskirt – basic shape and so lovely when made up.
Late Victorian – 1890s
Laughing Moon #101 1890s Five-Gore Walking Skirt
Truly Victorian TV291-1898 Walking Skirt
Truly Victorian TV493-1896 Plain Bodice
Of course the above listed patterns are just a small sample of the multitudes of wonderful patterns that exist. You can see I'm rather particular with a few companies. However, I wanted to keep the list short and aimed at beginners that will get you the "look" until you build up your budget, research and technical skill.
A resource that many have found helpful over the years is the Greater Bay Area Costumers' Guild Great Pattern Review. Be sure to check it out.
If you have had particular good luck with a pattern that would be appropriate for new costumers please post the name & number in the comments.