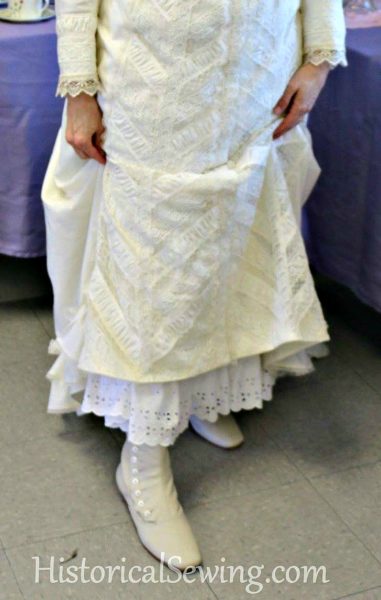 We're talking about petticoats again!! [This should come as no surprise if you're a regular reader here.]
It's that important to your overall historical look to do the best you can with these undergarments. From the "why" to the fabrics used to selecting the patterns – each component plays a part.
That now brings us to discuss length and width – an important aspect of petticoats.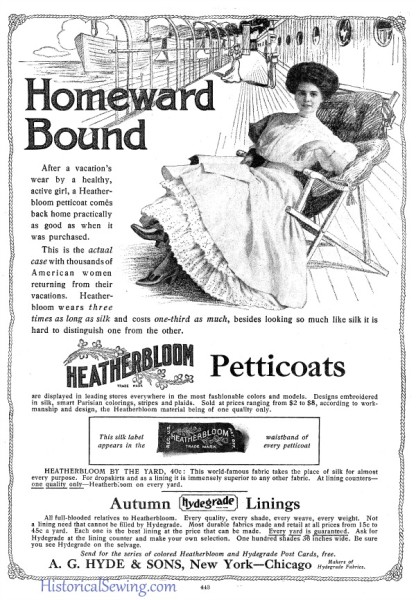 Length of Petticoats
"Should I make my petticoat layers different lengths? And how does a petticoat length correspond to the outer skirt length?"
These were recent questions posed to me and I wanted to make sure more of you got this information.
Petticoats can generally range from about 2" to 5" shorter than the top dress skirt. You want the hem lengths to be long enough as to not make a visible "break" line in your dress skirt and short enough to not show when standing upright.
Most of my dress skirt lengths are 38" or 39" at center front from corseted waist to finished hem. I like to make my petticoats 36" in length.
Of course, when wearing hoops the center front length is slightly longer. For your length measure over your hoop at center front from waist to your finished skirt hem. Adjust for your petticoat length(s).
As with skirts, I focus mainly on the center front length rather than concerning myself with the side and back measures. If the front petticoat length is short enough then it'll be good all the way around.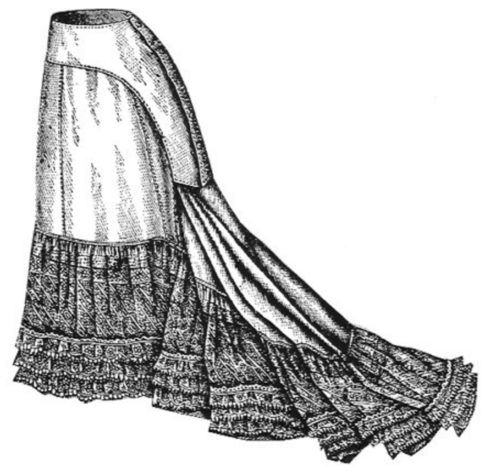 Now, if you are making a shaped petticoat for under a shaped skirt (think 1860s gored skirts or bustle dresses) then you might want to keep the side and back lengths in mind for creating your petticoat hem. This is the same for trained petticoats as well.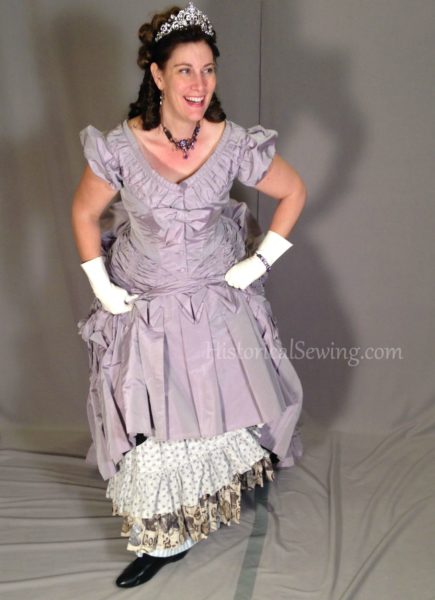 If you want to vary your petticoat lengths then make the under-most one – the one worn closest to the skin – the shortest.
So, with a corded or quilted petticoat, keep that at mid-calf to just above the ankle for most Victorian ensembles. The top petticoat layers will be longer and smooth out any break from there to the skirt hem.
You CAN have multiple petticoat layers that are the same length. Be sure to check for any break line in your dress skirt before going out.
And if you're creating an Early Victorian ensemble your inner petticoats can vary in length even as worn.
But I highly recommend that that top petticoat is the longest of them all. (Is that like the fairest of them all?? 😉 )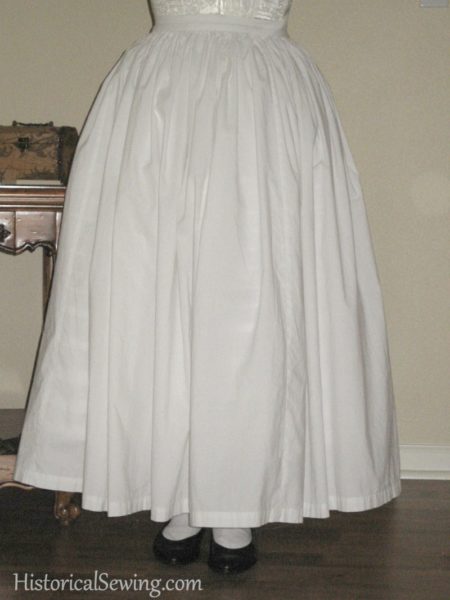 Width of Petticoats
Then comes the question: "How wide should my petticoats be?"
Petticoats should be slightly less in circumference than the dress skirt. But the idea is to have the top skirt lay smoothly over all the layers of undergarments without showing strain or pulling.
Did you get that?
The "general" rule is to make petticoats less in width than your skirt. BUT… the true goal to shoot for is that your skirt lays nice and neat over the petticoat layers.
If your event is in two days with no sewing time beforehand you pull out your 150" petticoat and try it on under your 120" skirt. How does it look? If it looks like it's straining to lay flat and loose over the petticoat then it's a no go. If it lays full? You're good.
Don't be so concerned with skirt width and having a particular calculation for a petticoat circumference to match with it.
Remember, the whole point of building your undergarments is to allow the outer dress to lay smoothly over them and be in the proper silhouette. This supports the theory of "building from the skin out."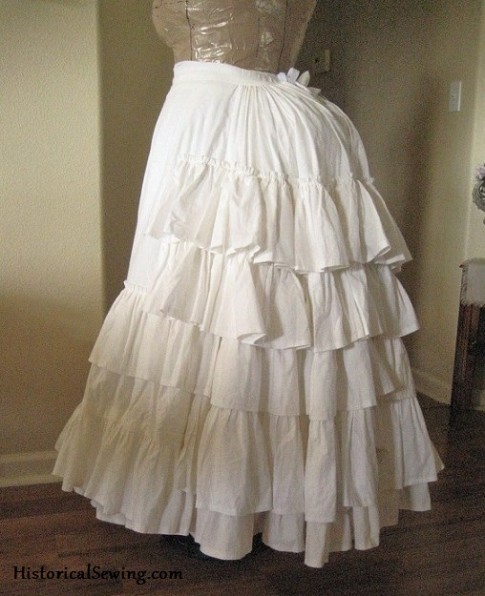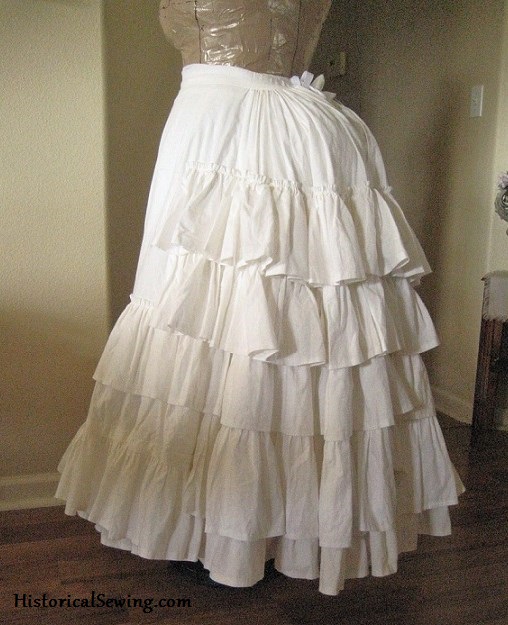 Now, this may sound strange when you have a ruffled petticoat and the rows of ruffles have a longer hem width than the petticoat base they are mounted to and are longer than the dress skirt hem width.
Don't overthink this!
A ruffled petticoat adds more "fluff" support and width to your skirt, but that petticoat base still needs to be a good deal smaller in width so the skirt floats on top.
If you are wearing a ruffled petticoat I always suggest a plain petticoat worn over the top to smooth out the ruffle bumps. This plain petticoat can be simple panels or one with a deep ruffle at the hem for variety and beauty.
As you put together your petticoat layers make the one closest to you the narrowest. You can keep successive ones the same or go a bit bigger with each layer. Remember the top one should be about the same as your dress skirt or a little smaller. Or even bigger if it works with your skirt.
After you build your undergarments put them on, including all petticoats for the silhouette, and measure from waist to desired skirt hem to finalize your skirt panel measurements. This way you will know your skirt will cover all those pretty petticoat hems.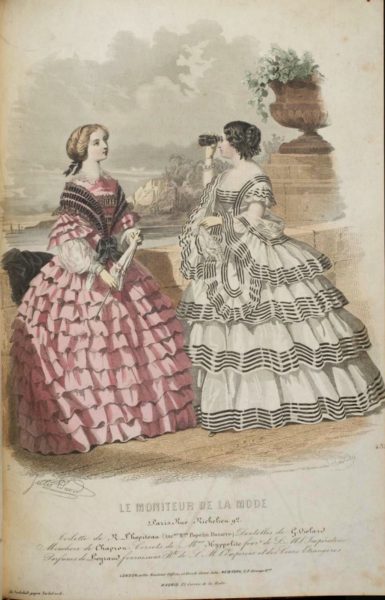 Are you one for always getting petticoat lengths right? Or are they constantly peeking out from under your skirt?