The Golden Age of Hollywood: 1930-1955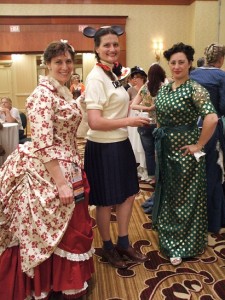 It was another spectacular year at Costume College! New friends were made, classes taken, sleep lost, stitches made, food eaten, Time Warp dancing happened and all the other wonderful happenings at this can't miss event weekend.
A huge thank you to the committee and to my friend, Becca Metzger, who was Dean of this year's College!
Now for the photos…
It's a random sampling of ones I personally took (unless otherwise noted).
This first set is from the Ice Cream Social on Friday night. What a blast! I met so many of you and chatted up a storm.
Lauren R. was in my sleeve fitting class earlier that morning and told me she's ready to tackle sleeves with the awesome Sleeve Power I presented. 'blush'  I love it when everyone can learn something from other very talented costumers. (Have you seen her 18th Century outfits?! To die for.)
The sweetest lady I've met in a long time, Kristine! Bet you can't guess her age!
This lady used the Lynn McMasters' hat pattern that I'll be using for my early 1900s white & teal hat (to be made later as I didn't have time to finish it before the weekend). I LOVE this!
Saturday morning I had breakfast with the lovely Lauren M. of Wearing History.
Then I taught (i.e. was MC for) the Dressing the Silhouette class [fashion show].
I love this shot after we undressed their layers down to corsets and undergarments.
Saturday night was the Time-Travellers Gala. Hollywood starlets were out in full force!
My fantasy/Victorian costume debuted too – inspired by The Hunger Games and my love of bustles with the bodice drafted from a 1891 photograph.
Sunday dawned bright & early as I headed to Sunday Undies in my new Edwardian undergarments and corset.
After I taught my Transforming a Fashion Plate to Reality class, I did some shopping then headed to the Sunday Fantasy Tea.
If you want to see my full photo album (as there are more), please visit the Flickr set here. (You can also probably search on Facebook for more Costume College photos as there are tons of them out there.)
The weekend always seems to fly by, but is SO enjoyable with meeting up with old friends & new.
I do hope I was able to meet you this year. (Maybe we met last year?) If not, put it on your calender & in your budget to save for 2013. The theme will be "Cavalier with a touch of Pirate." Ha!