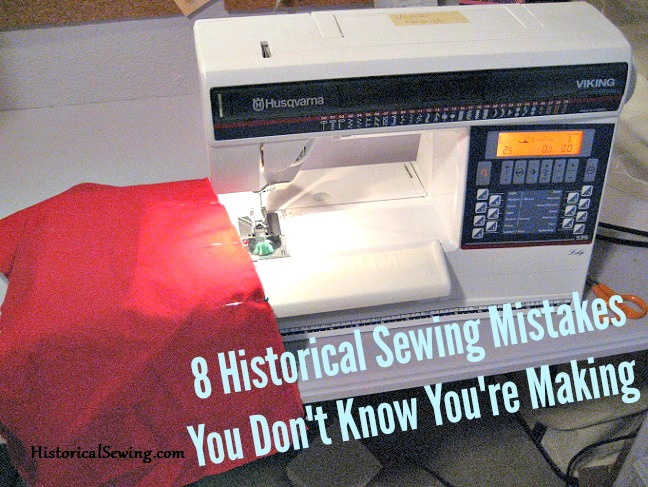 As we worry about how that seam or hem will come out, we also fret over whether we're doing it right or not.
I say, don't worry about "doing it right." Sew your project how you see fit. Use a new technique you've read up on. Practice – again- that same step you're always trying to make work. Listen to the fabric and your own mind.
There's no "right" or "wrong" way to make a period garment. But, there are "better" or "best" ways to follow in your sewing.
We focus on historical costuming around here, but these mistakes happen in modern sewing too – at least in the more advanced garments or special occasion wear.
#1 – Not sewing with the fabric grain
Improve your sewing right off the bat by running your pinned edges through the machine following the grain. This means you sew from widest part of the garment piece to the narrow.
For example: sew skirt panels from hem to waist; sew sleeves from underarm to wrist. Sew necklines from shoulder seams down to the centers (front & back).
If you need a refresher on fabric grains go read this article (after you've read this one).
#2 – Using 1 pair of scissors for both paper and fabric
*shudder*
If you're doing this, STOP. That pair of scissors is now just for paper. Go get another pair for fabric and mark it "FABRIC ONLY" and hope no one in your house (or you!) use it again for paper.
#3 – Not using underlining fabric to support your fashion fabric
When making historical costumes this is a given. A basic. Go read this article on what is the difference between an underlining and lining (and how they work for period garments), then pop over to this article on how to flatline your bodice once you have your fabric.
Underlining fabric supports the garment. It helps it lay smoothly over the silhouette built by various undergarments. It provides a firm foundation to all the decorative accents and trims applied on top. Make sure to use it.
#4 – Using plastic boning
I know… some of you are yelling at me now because you've used plastic boning (be it zip ties or German boning or rigilene) to great effect. That it's "affordable" or easy to work with.
But I say, if you want to build garments using quality materials that don't frustrate you then go for the metal boning or reeds.
Plastic warps with heat. Guess what – the human body is hot!  The precious time you spent to apply boing to your bodice or corset will quite quickly mold to your figure – this can make it quite uncomfortable. I've not used plastic boning in my 19th Century garments because someone told me early on about the problems with plastic stays. Metal boning and reed pieces ARE affordable and support the garment indefinitely. Take that leap and buy metal stays. You'll wonder why you waited so long.
#5 – Not loosening the thread tension when running gathering stitches
I machine gather ALL the time and have done so since my earliest skirts made in the mid-1980s. I love double basting rows of stitches for nicely gathered… anything!
After getting my digital Viking Lily 535 machine I learned that you need to loosen the tension of the upper thread when running the basting stitches. This keeps the upper thread loose so you can pull the bobbin thread to gather up the fabric (You DO remember to pull up the bobbin thread, right?)
So be sure when you lengthen your stitch length for gathering that you also loosen the tension. (But also get into the habit of tightening that tension right after basting!)
#6 – Pleating before hemming
You've spent hours pleating up your fabric in nice crisp 1″ pleats. Now to hem this ruffle and get it sewn to the skirt!
Oops….
For most Victorian trim treatments, whether a ruffle, ruche or bias bertha, it's best to hem, pink or otherwise finish the raw edges before gathering up and mounting to the garment.
#7 – Machine stitching hems
The mark of a well-made garment is in how it's finished. Do you machine-stitch your hems? Well, unless that bustle dress hem will be covered with a finely pleated ruffle, you'll be better off completing the hem by hand. A machine sewn hem loudly announces a "happy hands at home" project. Some hems in the 1870s & 1880s were done by machine, but for most of the 19th century you'll want to push the machine aside.
Kick your finishing skills up a notch and use my tutorial on the slipstitch. (It's been pinned on Pinterest over 140,000 times so it obviously works for others. Try it!)
#8 – Not pressing seams flat first
The iron is SO very important in sewing. In fact, I often mention that half your sewing time should be at the ironing board. Pressing makes a HUGE difference in the final appearance of your garment.
If you sew all your seams, do a quick press open then move on to the next seam, you're missing a vital step of the process. As soon as you sew that seam you'll want to first press that seam flat. In other words, lay it on the board just like it came off your machine and press down along the seam length. The heat and pressure helps to set the thread into the fibers of the fabric – molding them together.
After you press it flat, allow to cool then press the seam open. Finally, press to one side or leave open as is. (Another good trick is to turn the seam over with the right side up then press the open seam again. Use a pressing cloth here to prevent marks.)
Have you been making any of these sewing mistakes in your historical wardrobe? What's the first thing you'll start doing from this list to improve your technique?