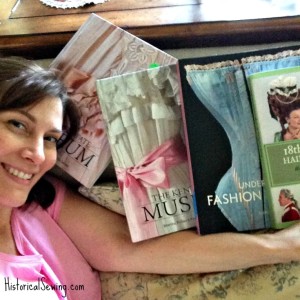 Every year in my Costume College budget planning I give myself some spending money for books. Because… BOOKS!
Some years are rather dry of good resources to pick up; others – too many to narrow down the purchase.
This year I managed to find four that needed to come home with me: one that's been on my list for a few years, a brand new book that was just published, and two that I didn't expect but who called my name as I walked by…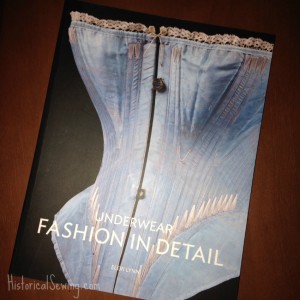 #1 – Underwear Fashion in Detail by Eleri Lynn published by V&A Museum
This book was originally published in 2010 but the paperback copy that I picked up just came out in May 2014. Part of the exquisite Fashion in Detail Series, this is a MUST have for any costume resource collection. I'm so glad to finally get it! Do you have it yet?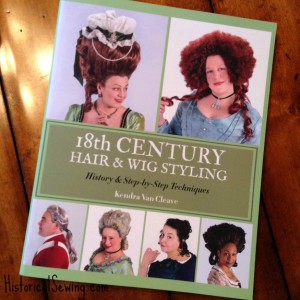 #2 – 18th Century Hair & Wig Styling: History and Step-By-Step Techniques by Kendra Van Cleave
Absolutely beautiful!! Knowing Kendra around the historical costuming world for years reassured me I would not be disappointed in her new book. Wowzers! I don't do much 18th Century, but the section on using wigs and hair pieces along with how to manipulate them into styles will translate very well into what we want to achieve for 19th Century styles. It's a great jumping off point to working with historical hairstyles. Must have!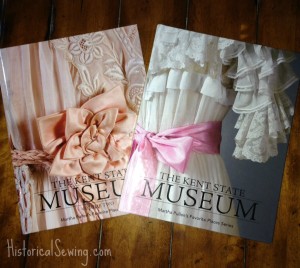 #3 & 4 – The Kent State Museum: Martha Pullen's Favorite Places Series, Volume One and Volume Two
Published in 2007 and 2008, respectively, by The Martha Pullen Company and Hoffman Media, LLC, I was completely unaware of these drool books until I saw them featured on the top shelf of a vendor's booth.
Oh.My… As Ms. Pullen focuses on heirloom sewing, these books (and there's a 3rd one in the Kent State Museum set) offer a gorgeous look into historical garments, primarily children's clothes or women's fashions that display embroidery or fanciful trimming such as this c.1820 cream striped gown. In stunning photography accompanied by descriptions and a bit of historical perspective from period quotes, these books offer endless daydreams and loads of inspiration.
Terrific additions to my costume library! Do you have any of these books in yours?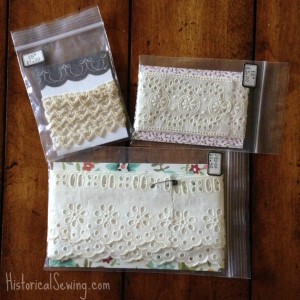 Oh… and I didn't just get books. These laces are antique and found at Acme Notions' booth. Now what to make to put them on???…..