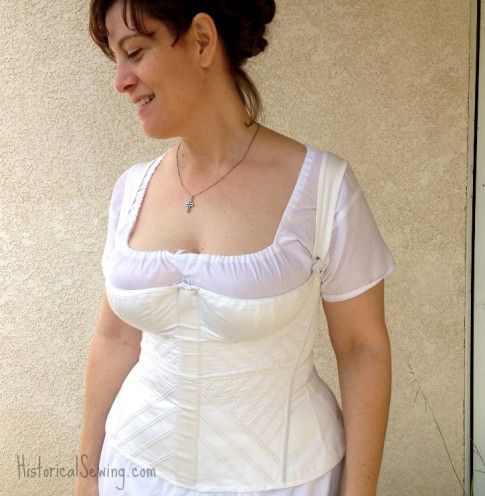 Finally finished!! My, but this took me longer than I anticipated. I'd made Regency corsets before but not a fully corded one. I love all the details and can actually say this one is 100% done. (Yes, I even flossed all 8 gussets. Ha!)
It's very comfy, has six metal bones, wood busk and I love it!
Here's more details and photos of my new undergarments.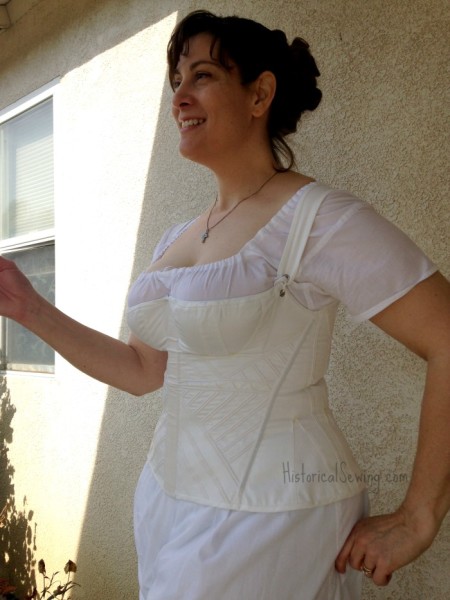 This corset (along with the chemise) began in late November 2014 and was finally finished in very early February 2015. I used the Laughing Moon #115 pattern complete from the package with only personal fitting tweaks.
In early 2014 I was trying to get together a new online class for a Regency corset. I can't even begin to tell you the fear that held me back from such a project when I'd already successfully made other Regency corsets as well as many Victorian corsets and one Edwardian. But this one was different. It kinda scared me.
Well, perseverance took over (as the deadline for class registration approached) and I kicked fear in the face.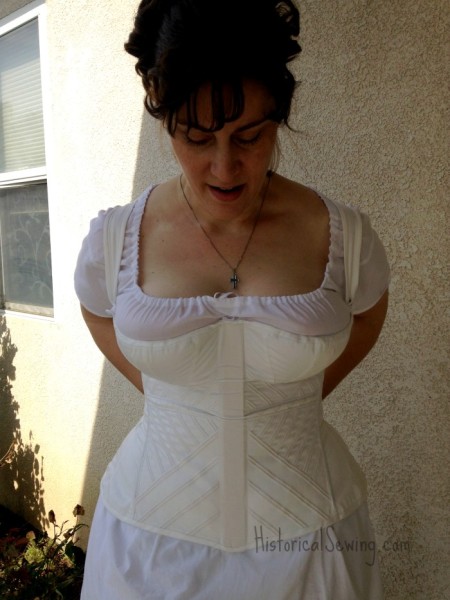 The chemise was fairly basic but made entirely with flat felled seams. I made it from a cotton lawn from Renaissance Fabrics. So comfy! My only only gripe is the back is really high near my neck. I cut the low front but I think if I make it again I'll cut the back down and use longer shoulder straps so I can cut low back necklines on my dresses.
For the corset I used white cotton sateen (also from Renaissance Fabrics – fantastic quality!) for the face and plain cotton broadcloth (a high quality muslin from the local store) for the lining. I followed the pattern for selecting my sizes and only needed a few minor tweaks to fit. (Even after fitting my mockup the lower edge still came out too large but you can't really tell.)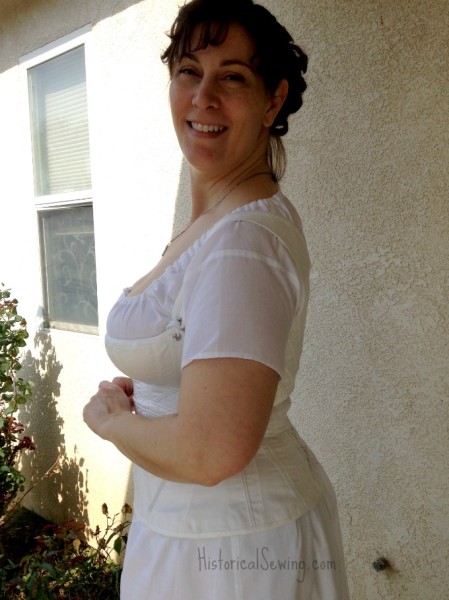 I'm a 36DDD with a narrow back and have always been hesitant on corsets that are only supported by cording. (Part of that "scary" part I had to deal with as I ventured into this project.) I will say, this pattern does excellent work on sizing, and if you spend time working out what size(s) you need to cut it does work out very well.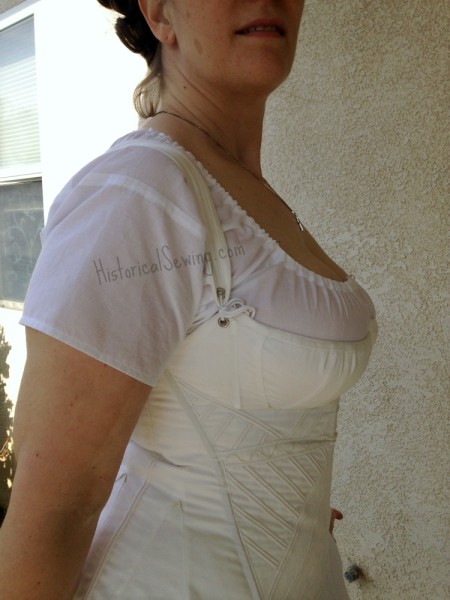 It doesn't lift my bust as far as the flesh will actually go, but I naturally sit low. This style corset (and the fashions that are worn on top) fits right at that underbust level. I've found this corset to support me very well with no "falling out" issues. It's merely accepting that my figure is SO not like those we see in the early 1800 fashion plates. (But none of us look like a fashion plate so we just need to concentrate on emphasizing the assets we do have.)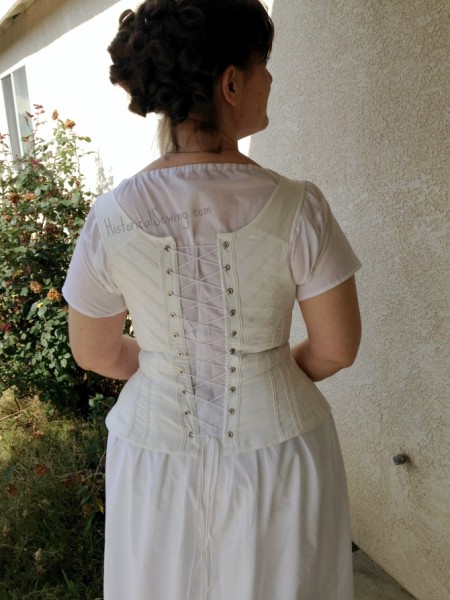 You can see here just how high that chemise sits on my back. Gah… This one's only for day wear!
As for the corset, I used metal grommets because I didn't want to take the time to make hand eyelets. There is a flat metal bone at the very center back edges to support the cinching. I'm gently cinched in but not like a tight Victorian firmness.
Those little divots you see near the waist… yeah, those are flesh rolls (probably about 20 pounds worth). The corset isn't too long. Because there's no metal boning there, the corset fabric simply follows my figure.  I also have a high right hip (due to a longer leg) so that's the reason for the larger folds on the right. And yes, I was too lazy to make separate corset halves.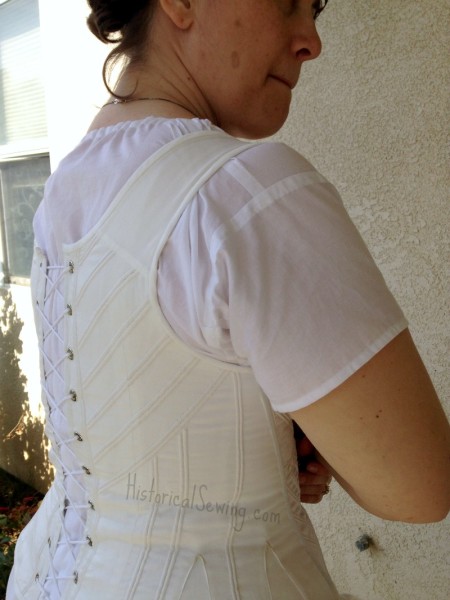 Probably my favorite part of this style of corset are the straps. (I'm a dork.) The straps are a secret key to fitting this corset and shaping the figure into the fashionable silhouette. They are very comfortable and don't fall off my (sloping) shoulders due to the starting placement near my center back and the firm tension as they are tied to the front corner of the corset.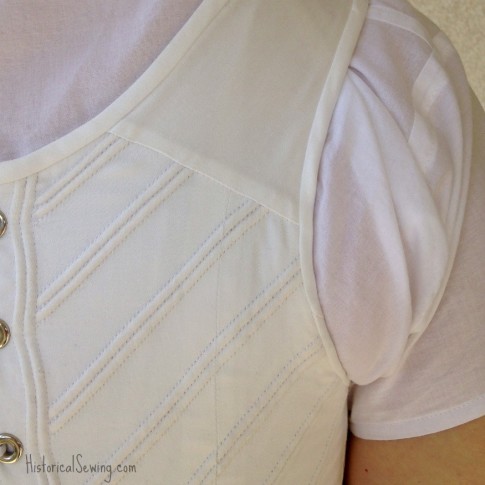 The top & bottom edges are bound with bias cut from the sateen material. Ahhh… all those rows of stitching and fine cords… that took me a bloody 13 hours to mark, sew and insert. ugh… But they look terrific! I can't imagine doing this all by hand!!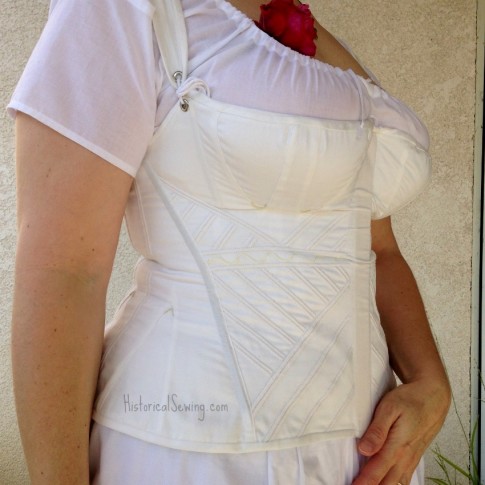 You'll notice I have a spiral bone running a bit diagonal along the side front  seam. The pattern suggested it and I wouldn't want to miss it. (Again, metal in a corset does wonders!) The cording design is straight from the pattern that JoAnn (designer at Laughing Moon) took from an antique corset in her personal collection. Period correct!
You can see the two hip gussets and the wide bust gussets here in their placement and a bit of flossing in pale yellow. I also tied the straps on because they were a tiny bit short to sew to the corset and still be comfortable.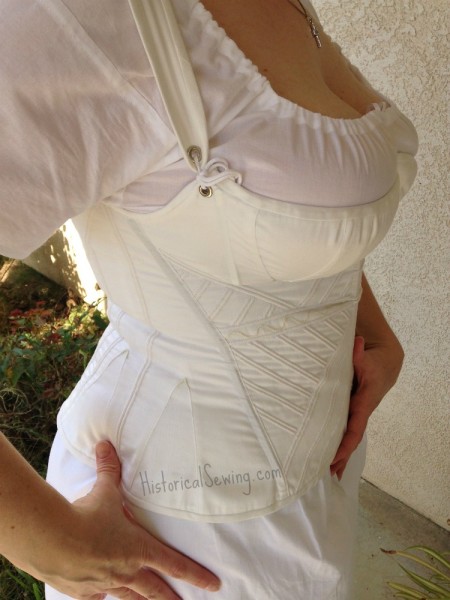 I cheated with my busk. I *did* follow the pattern recommendations, but I still cheated.
It's a paint stick. From the hardware store. And it's a tad too long (because my corset shrank 1/2″ in length from all the cording). My other Regency corsets have real hardwood busks that are beautiful. I used a paint stick. But it works! Cheap (aka free) and easy to replace in case I ever double over laughing so hard it snaps in half (which I hope never happens as that would HURT).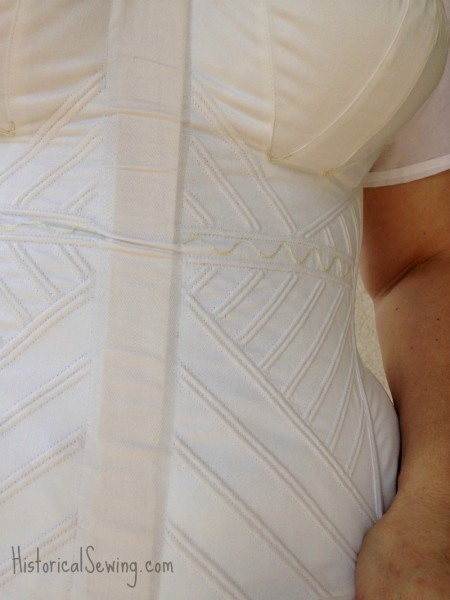 I love the above photo with all the details of where those bust gussets start at my figure and the radiating cording channels and my amateur embroidery and gusset flossing.
You'll also notice, I'm sure, the folding of the busk pocket.  – I can hear you now: But you said the busk (aka paint stick) was too long! How can the busk pocket be buckling like that??
Well… it's because the fabric "shrank" from sewing all the channels and then inserting the cording. The busk pocket doesn't have channels to keep it in place or to "shrink" it to match the sides. I'm sure this is period correct. And it doesn't affect the fit only the imperfect appearance (to which I say, bah! because nothing is perfect).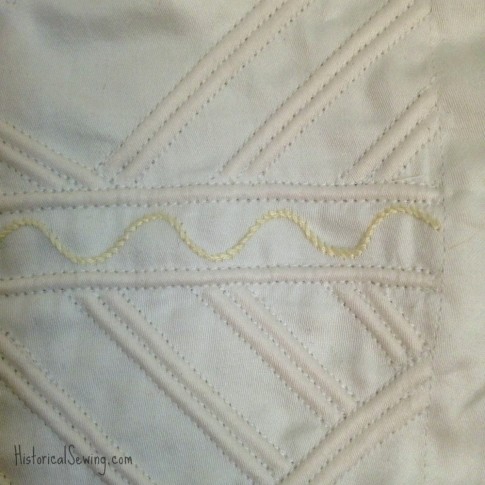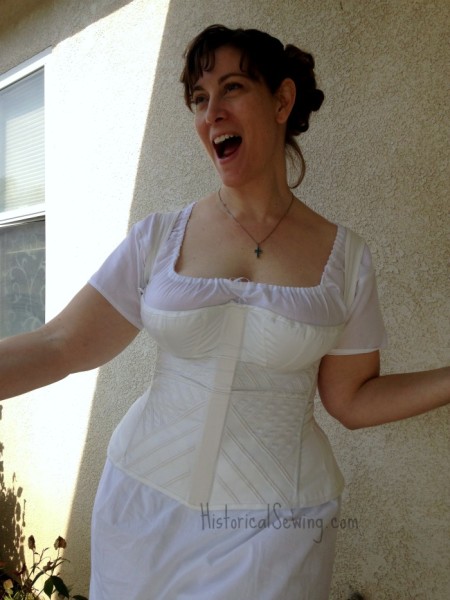 This is me singing praises that I finally finished this project!!
Have you made a corded corset? Did it turn out the way you expected? If you want to try your hand at it again (or for the first time) and punch fear in the face, my Regency Corset & Chemise online class is hosted by me personally once or twice a year. Amazing creativity happens in our classes.