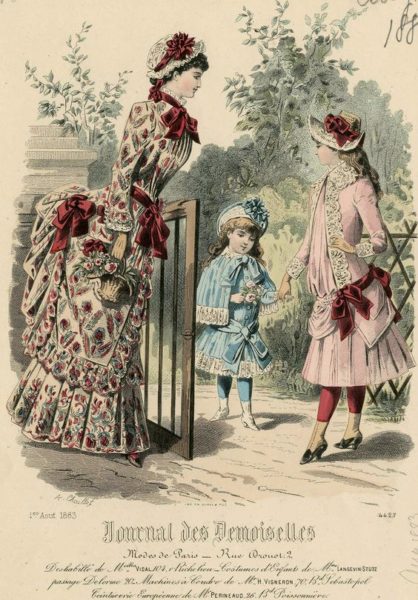 We have a lot of options for fabric selections when sewing up our Victorian ensembles. I personally like to use cotton and silk (taffeta) for most of mine.
Apparently, our ancestors had some varied choices, too…..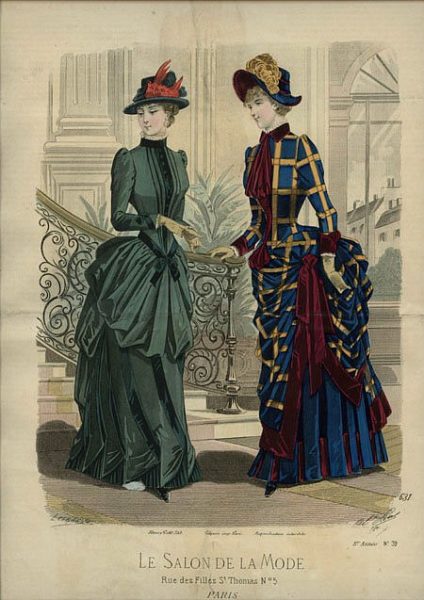 Like this plate above – 1883 Le Salon de La Mode – with a neat kind of print that looks like strips of masking tape…. but I'd like to see it with printed rulers. 😉
In researching fashion plates one can see the inclusion of large – excuse me, HUGE – prints on overskirts and bodices starting in the late 1870s.
However, 1883 seems to be "The Year of the Animal."
These things have recently come across my path that makes me wonder "What the heck were they thinking??"
The 1880s seems to have some fabulous prints but then…. wait for it… roosters, pigs, horses and who knows what other kind of farm animals printed on perfectly good fabric and made into a draped bustle dress.
Whoa.
Like, that's both cool and weird.
You can take those chicken curtains from grandma's kitchen and make it into your next spectacular walking dress. Yay for The Curtain Dress!! Scarlett would be proud.
But then, it's a bit freaky as who would think to take that lovely cow cotton print (you know, the one to make a barbeque apron for the hubby) and merge it with some lace and buttons for the full-on Victorian tea gown??
Most of these "unusual" dresses appear to be for walking or for some sort of sporting event – horse racing, by the seaside, at the park.
In my brief research I found that Victorians with their [Industrial] revolutionary ideas and promoting beauty and value, animals became quite the figures of honor.
In the book Women Poets in the Victorian Era: Cultural Practices and Nature Poetry, author Fabienne Moine states: "According to James Turner, the Victorian public chose to give animals a heart and mind, 'an image so appealing that it not only quelled the fears of man's bestial past but served as an emblem of the heart and an example to the human race'…. The Victorians were ready to welcome animals into their social sphere and women were in the vanguard of this process."
For more cultural research on horses in the Victorian Era, the new book, Victorian Fiction and the Cult of the Horse by Gina M. Dorre', might be of some interest.
Although, I couldn't really find much on roosters or chickens in popular culture and why women used them on their dresses. (If you know of such sources or stories behind this fad please share!)
And if you don't like horses or chickens you can always go with a stuffed cat on your hip. Oh, Fluffy!
What say you on this weird fashion trend of 1883 using prints of farm animals?