1813 Embroidered Voile Dress
Here's a look at my last Regency dress made for the Day in Regency England in April 2011. To get the beginning of the project please read HERE and HERE.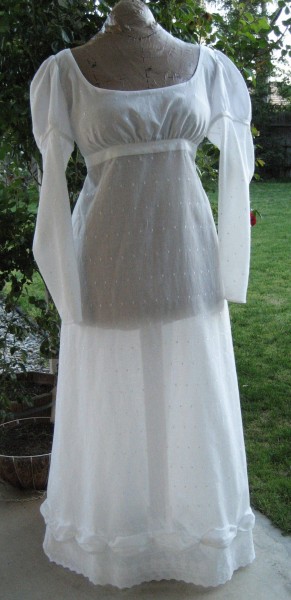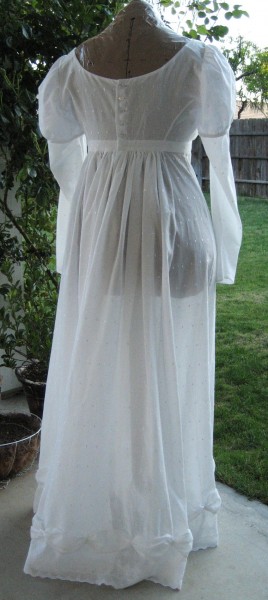 The fabric is 100% cotton embroidered voile which I snagged from the Shabby Chic curtains found at Target. I'm the self-proclaimed Cotton Girl and loved working with it, but it did have its issues. I used a size 60 machine needle and pulled the seams taut through the machine.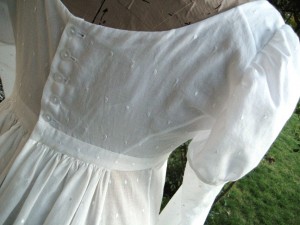 The skirt panels and bodice seam are made French style (self-enclosed seams in 2 steps). The back buttons in the back and closes with a skirt hook & bar at the narrow waistband.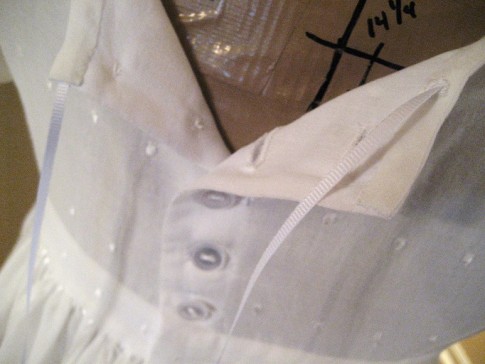 The neckline has a drawstring through the finishing bias that ties at the back. You can see here the hand eyelet on the top right. This is so when the bodice is closed the ties come together at the back without having to compete with the button area.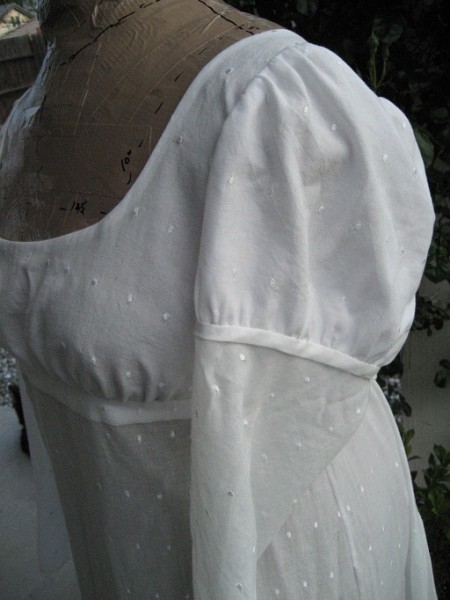 The sleeves are made of a short puff sleeve set into the bodice. The lower part of the sleeve is a separate false sleeve that is simply tacked to the bias binding on the puff sleeve hem. The lower sleeves are cut on the bias so that the embroidery is angling toward the body.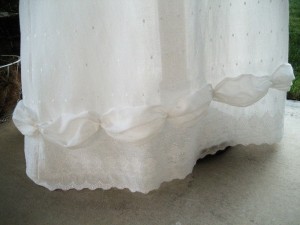 In my research, many dresses of this mid-Regency period and into the Romantic era had skirt trims of ruffles, puffs and floral placed a few inches above the hemline.  Using an example of a c.1815 dress from the Kyoto Fashion book, I decided to sew puffs above the elaborate embroidery.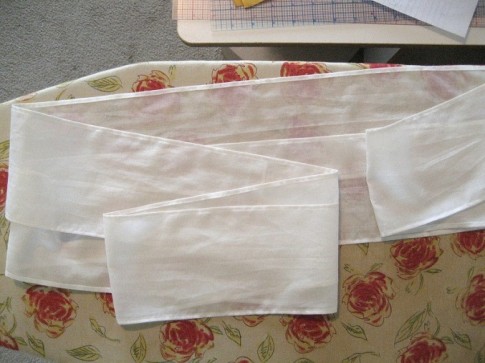 I pieced a couple strips of plain voile (cut from the very top of the curtain panels) and narrow hemmed both long edges. After playing with the size of each puff, I did some quick calculations based on the length of my hemmed strip and the width of the skirt hem. I was able to make exactly 21 puffs.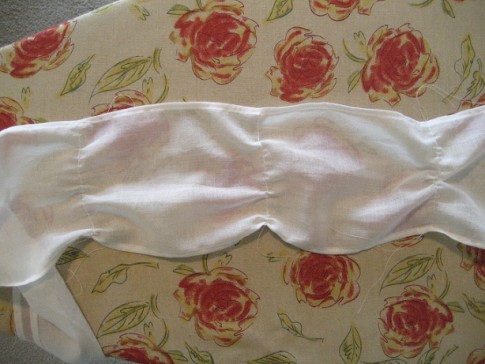 The strip was machine gathered at the marked size lines then pulled up and the threads tied underneath.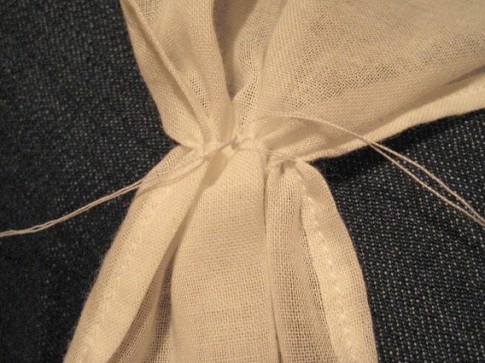 The strip was then pinned to the skirt. Each puff was then hand tacked in place at the gathering lines and at the very top area of each puff. Without tacking that top section the puffs  draped away from the skirt. I was worried they could be easily be ripped off if not sewn down. That, and it looks better.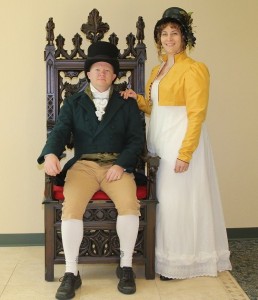 Overall I'm very happy with this new gown. I've decided I've made too many new white Regency dresses and am now pining for more color.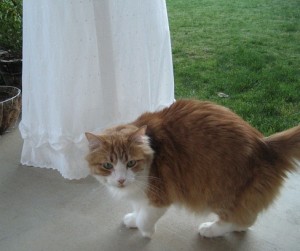 The happy accessory of the furry, loveable kitty doesn't count in adding color. This is Finley, by the way. My "little one" at 14 lbs helping me take pictures before he rolled all over the patio floor.