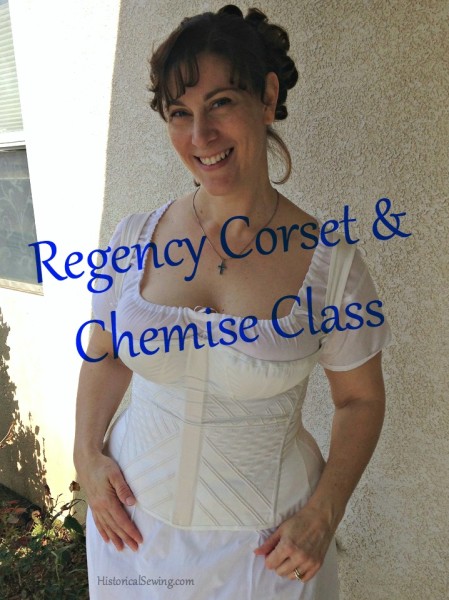 Regency Corset & Chemise Class 
You've been asking for this class and it's now here!
Now open for year-round enrollment!
You've dreamed about dancing with Mr. Darcy…. The local historical society is hosting a summer picnic…. The book club is delving into Jane Austen….
The time has come to DRESS in the time period you LOVE – the Regency Era! 
Whether you are new to the elegant period of the early 1800s or a long-time reveler, this online sewing class will feed your need to connect to the past through the clothing. It is designed specifically for you as a historical costumer. For those who want to build a wardrobe but need to begin with the all-important undergarments! 

We start sewing the chemise in Lesson 2 
 
Through 5 lessons we'll cover each step to making a basic Regency-era chemise and long-line, corded corset. Yes – we will go over every detail together! Lessons have 4 to 7 videos each along with an accompanying PDF handout. You get over 5 hours of video tutorials!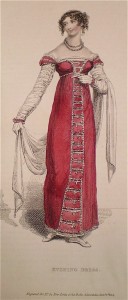 Accomplish the Smooth Regency Silhouette
This is an Intermediate to Advanced level sewing class. You should have some experience with sewing clothing – modern or historical – and be willing to advance your skill with advanced techniques including how to set in gussets, fitting a mockup to the figure, and binding long edges. We will follow the pattern closely but other options will be presented.
The priority is for you to understand corset construction techniques & create the basic undergarments to produce the sleek silhouette for this period of fashion. Because we all want to look fabulous in our Regency wear! Get the underwear finished then you'll be ready to build a wardrobe of various designs.
Come to class and focus on the specific topic of making a historically-accurate pieced chemise and fitted corset with gussets to challenge your dressmaking & fitting skills. Together we'll explore each area to look at when fitting this type of corset as well as the various sewing methods to make it come together easily. (Just be aware that sewing all the cording channels takes a lot of time!!)
"I want to say that [the Victorian Corset] class was fabulous- nice job Jennifer Rosbrugh! It was a challenge and a great learning experience- and I will definitely be making more corsets in the future." ~Diana Kocunik
Thrilling Lesson Plans Prepared for You:
Lesson 1: Discuss fabric selections, specific tools & notions, and taking detailed measurements
Lesson 2: Sew the chemise with gussets and flat felled seams
Lesson 3: Corset mockup & fitting; begin construction 
Lesson 4: Insert cording, set grommets/eyelets, sew seams 
Lesson 5: Finish corset with binding & flossing 
"I never would have done it without you, Jen!! Your videos were so helpful, as were the handouts." ~Jeri Bills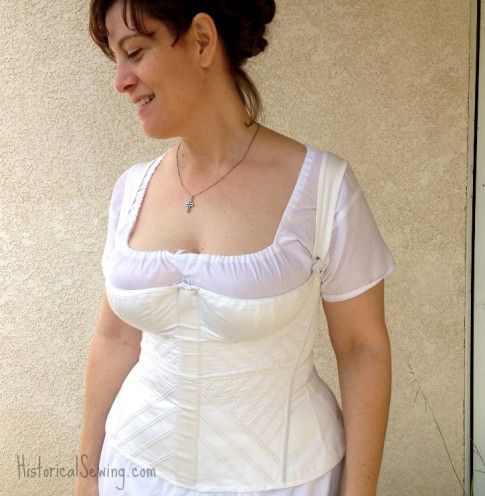 Although you'll find a variety of Regency undergarment patterns out there I wanted to use a tried and well-drafted pattern to make the project easy for you. I studied and debated for months on which pattern to use – trust me, it wasn't an easy decision! I was really torn between a couple of them!
So… for this class we'll be using the fantastic Laughing Moon #115 Regency & Romantic Era Corset pattern. (You can register for class and purchase the pattern at the same time.)
Sizes in pattern – Bust 30″ to 62″ with adjustments for cup measurements up to 16″ larger than underbust measurement.
Although, as with all our classes, you can choose to use another corset pattern. But be aware that the specific steps of each lesson will cover the class-specific Laughing Moon pattern. Although, I've found they translate well to other published patterns.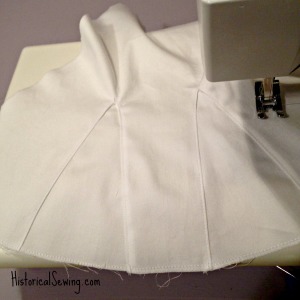 Valuable Skills & Techniques You'll Learn:
Fabrics to use for a Regency chemise and corset  

Tools used in corset making 

Inserting sleeve gussets 

Corset mockup tips 

Fitting tips for this slim corset style 

Dealing with large cup sizes

Inserting triangle gussets 

Cording a corset – the marking & inserting 

Binding a corset for finishing

Pattern sizing and adjustments

Finishing a corset with reinforcement flossing 
 "Jennifer: just watched lesson 2- & i MUST say thank you for such a concise video on doing plackets- i have a perceptual problem that causes me to do things backwards at times & need very precise step by step visual directions for small things like this. your vid was PERFECT! is much appreciated" ~RL Johnson
Online Workshop Group
One of the most exciting features of any sewing class is interaction with others – that's why we've created these workshops! Because they take place online and include students from all over the world, we have chosen to utilize a private Facebook group. This unique setting benefits everyone in the class by connecting us together in a conversational way.
The online group gives you the benefit of sharing with others, being able to post photos of where you're stuck, getting personal help from the instructor, and the natural encouragement & camaraderie that occur in sewing classes. We hope you'll join us!
"I learned so much in this class and was really pleased with the experience. It was, honestly, better than I expected and I have made some of the best looking garments of my sewing career. I thought that any little issues, all of which were incredibly minor, started to work themselves out over the course of the class. I cannot stress how important I felt the Facebook group was." ~Anonymous from exit survey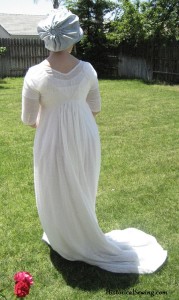 Intermediate to Advanced Level Class
If you have sewing experience but are new to historical garments, you may find this class a comfortable challenge. We'll be following the pattern closely, but you may feel a bit behind. 
If you are new to sewing, this is not the best class for you at this time. Perhaps starting with a basic Victorian chemise and drawers class would be better so you don't become frustrated with techniques that are beyond your current skills.
If you are advanced in your sewing skills, you are welcome! Maybe you want to try a new time period. Or simply want the class as accountability so your corset gets done. We're here to push you forward. 🙂
No matter your level, we all have methods we can share with each other. Bring yours along to the class for full participation. 
Online Class & Workshop:
Includes all 5 sewing lessons followed with no-expiration  & unlimited access, weekly access to instructor, connection with other Regency costumers, and two fun sewing projects!
Upon successful registration (within 24 hours), students will receive: 1) a download link and also an email from SkyPilot with a link to download the first PDF of class to access the Welcome page that contains a list of supplies needed, how to order the pattern (if you didn't do so when you registered) along with access to the complete first lesson, and 2) an email invitation to join the Facebook workshop group (email sent directly from FB). You can jump right in with questions there. The fun begins right away!
Be part of this exciting program of online sewing lessons! To be notified when new classes will be offered, please visit this page. I'll see you in a class soon!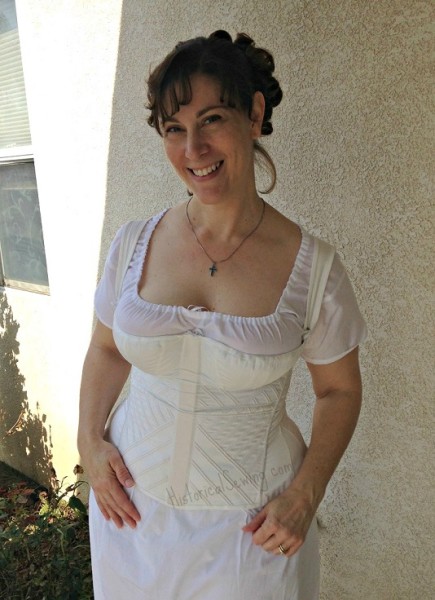 P.S. The class lessons are entirely online and self-paced with no specific day or time required to be online. You work at your own speed and schedule. Read the lessons and watch the videos when it's most convenient for you. Then pop into the Facebook group when you have a question or need help. All lessons remain available to you after the workshop ends.
For more info on our online workshops, please read this page. No refunds will be given for online workshops due to intellectual property and materials provided in class. Please see our full terms of service here.
Jennifer Rosbrugh, DBA HistoricalSewing.com, and Old Petticoat Shop, LLC, is an affiliate of Amazon.com.