(Note: Photo heavy post.)
Well, the biggest event of the year (for me) is over. Actually, I wasn't even planning to attend Costume College this year due to having a one year-old at home and being now out of state from the event.
Then at the very end of June, a friend kindly welcomed us out to take over her guest room and be able to spend the weekend with long-time and dear friends. So I sold a few of my old costume pieces and away we flew to Los Angeles.
Because I had not planned to attend until the last moment I did not have a membership to attend classes nor was I on the list of instructors to teach (as I have done since 2004).
It was a different kind of year because of this. That and, you know, having a toddler and husband in tow.
You may have read that 2016 was my first year to miss since 2000. I was so sad but had a VERY good reason.
Being back again this year but not in my full-capacity of teaching brought about new perspectives I had not experienced before.
So here's a summary (and lots of photos) of what happened at Costume College 2017 from a non-member attendee perspective.
My schedule was more open to volunteering. Although I didn't get much time in officially (due to constantly chatting in the halls and marketplace with others as well as taking care of my daughter), if you ever find yourself wanting to be a part of the event but can't afford the membership or full time allotment then volunteering is the way to go.
I wasn't exhausted. As in, no sleep for days leading up to the weekend and even during the event (ok, maybe I did stay up late to sew beforehand but I got sleep thru the weekend).
Having time to "relax" and chat with so many gets creative juices flowing even though you're not attending classes. Doing so prompts ideas and discussions and before you know it you're planning your next seven costume ensembles!
You learn in the hallways simply by talking with friends about their costumes. Then they pull out their project started in one of the classes and show you the technique. 🙂 (Thanks Rebecca!)
The gala was quite interesting for me. I wasn't exhausted (see above); I hadn't been running around all day in classrooms; and I wasn't in a corset – ha! But seriously, I found myself in a room full of amazing costumes and I was in a simple little black dress. What was weird, though, was that I felt "left out," meaning, I felt like someone who stepped into a busy event where everyone had been taking classes together and learning new things together and the camaraderie was present and I felt like an outsider. It was such a strange feeling. People were bonding all over the room and chatting about what they were wearing, and I was like: Hi. Sorry I crashed your party. (BTW I did have a ticket and didn't crash it.)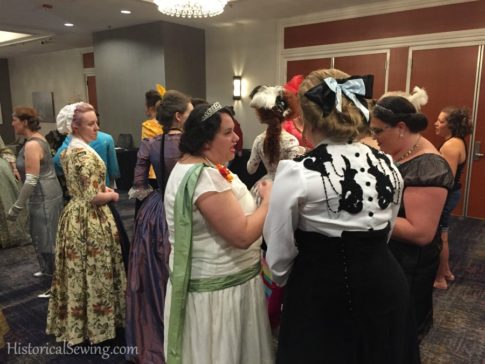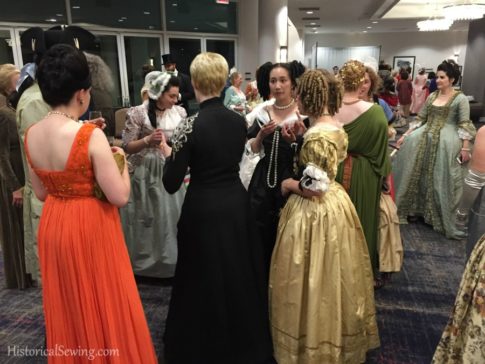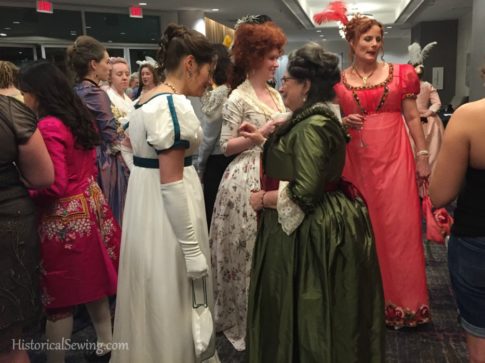 Sunday was wonderful to relax a bit more with friends who weren't running around crazy as before. People were zombies – full of ideas and empty of sleep. The day didn't feel as rushed, however.
And with all the talking I did with friends old and new in the hallways and marketplace I truly missed taking classes. But more so, I missed *teaching* them. I missed meeting my followers and learning together in a classroom. I missed passing on my love of sewing and costuming and seeing the "lightbulb" moments appear in bright eyes around the room. Costume College has a special place in my heart and life and I know I will be back teaching and learning with you all. 🙂
If you are thinking about attending, go! Don't worry about not knowing anyone (hey, you know me! 😉 ). Don't fret if you have no time to make anything new. Don't put yourself down when you think you "aren't good enough" to go.
Costume College was built on, and still has that foundation, of being an educational event. We don't have competitions like other events as we focus on learning.
I keep going because I love to teach and enjoy meeting up with old friends and making new ones. I go to learn new things – which I'm always doing even when I'm not attending classes. I hope you'll join us one of these years! See you then. 🙂