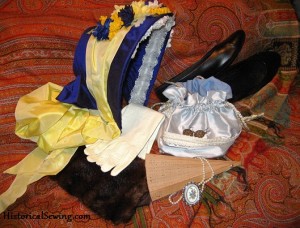 A fair number of historical costumers I've talked with have no problem when it comes to sewing a dress for an upcoming event. They can get the right pattern. And they've got the routine down of selecting fabrics.
Despite the fitting challenges, after some hard work they manage to produce a creation they love. Then… The Brick Wall.
Now that the dress is done, they get stuck with what to do with it. Do I wear a hat? What kind of hat? Shoes – black or white? Brooch or necklace? Short gloves? Is a shawl ok?…Perhaps you're this way.
Follow these quick tips when you get to that drastic moment, "I have no freaking idea what accessories to wear with this!!"
Tip #1: These suggestions are in general, meaning not all accessories can span time periods and still look "right." The best way to know what to add to your costume is to study what they did. Do your research.
The internet has helped us more than we can imagine in studying original sources. Even a quick 10 minute Google image search will reveal a general glance into what was done back then. Now go forth with imitating what you find.
Whatever your time period, study paintings and original accessories so you get a feel for general styling and colors. How is a Regency reticule different than a Victorian purse? Do we see more bonnets or hats on the ladies in the fashion plates?
Tip #2: ALWAYS be on the lookout for accessories. You never know when that Christmas ribbon will turn into a lovely 1840s bonnet tie, or those $3 Goodwill shoes go perfectly with your Edwardian gown.
In addition, observe other costumers who are accessorizing how you want your costume to look. ASK them what they did, what patterns they used, where they went shopping. (And if they snub you for asking, you don't need to draw ideas from them anyway.)
Tip #3: Use common sense. I know this seems rather prosaic, but it's true. I've seen costumers leave their brain behind when going out the door. It's not the biggest mistake they can make, but seriously… go-go boots under that hoopskirt you think no one will see, will be seen. Trust me.
Shoes
Speaking of boots… what do you think you'd wear with that ball gown? Obviously the 6″ clear heel pumps are out…. What to do?
When in doubt, simple black  or ecru leather (faux or real) flats span the ages and will go with many of your costumes. I have a pair of them from Payless Shoes that have time traveled from the Regency to the 1870s and back again to the 1830s.
Choose small heels – under 2″. Keep the heel size small – no chunky "granny heels" or stripper stilettos here. A basic pump covers many day and evening costumes. A rosette shoe clip can spice it up for later Victorian years.
Ankle boots are great for daywear throughout the 1800s. Look for cast off sales from the winter selections and pick basic brown or black leather.
Avoid open toed shoes like heck. Keep those for your 1930s dresses.
Don't be overwhelmed by the gorgeous originals you see with straps and cut-outs and embroidered beading. Those are fabulous which you can duplicate by covering a basic modern pump or flat. But when in doubt, go for classic styles.
Hats & Headwear
If you are wearing any outfit from the 19th Century, you need to have something on your head, especially when in public. Research photographs and fashion plates to get an idea of the styles especially for your age group (really important!).
Day dress or event: a hat or bonnet. Buy ready-made, make one yourself or re-make a store-bought straw. (I know many costumers who've successfully taken those cheap decorative straw hats from craft stores and wet them and mold them into a period shape.)
Bonnets (a crown portion that covers the back of the head with a brim that frames the face) were popular from the Regency Era (1795-1820) clear through to the early 1880s. Trim with ribbons and silk/fabric flowers.
Do not, under any circumstance, wear a bonnet with an evening or ball dress. Please. Thank you! Use common sense here! Would you wear a hat with a modern cocktail dress for an evening out with your friends? Bonnets & hats protect the head from the sun. Wear them only when the sun is out.
For evening wear, a voile or organdy lace cap works for older ladies.
Flowers or some sort of headdress with ribbon should be worn at night. Fancy combs and mantillas are great for Late Victorian (1890s).
Shun obviously plastic flowers, stamens and stems. You can find many terrific florals at big box craft stores like Hobby Lobby and Michael's that work for headwear. Stick to soft fabrics (even though the flowers aren't made of silk any more) and colors found in nature.
Jewelry to Adorn
Do you have a character you play? Would they have money for jewelry? Did they inherit it?
When in doubt, wear little jewelry. But small hanging earrings and delicate brooch can go far.
Earrings are only on wires in the 19th C. If you have studs or hanging earrings with a stud clasp, break it off and add wires with jump ring findings.
Victorians loved their jewelry. A brooch is seen quite often at the center bust line or collar.
Be attentive to avoid ghastly plastic-looking costume pieces. A mid-20th Century bakelite brooch is not Victorian. Be careful in your use of vintage pieces.
Stay with natural elements – glass, pearls, jewels (real or paste ), gold metal.
Gloves
Of course, wear leather ones if your budget allows for it.  Historical colors include black, white, ecru/cream, dull yellow, red and navy.
If you want to be fully dressed or are going "visiting," put your gloves on. Otherwise, leave them off. You can find many photographs of women wearing no gloves.
Full hand gloves are found throughout history. Mitts, those fingerless or half-finger gloves, were widely seen in the late 18th C. and were quite popular in the 1830s. They fell out of favor by mid-century and you hardly even see them in the Bustle and Late Victorian decades.
Although they are immensely popular, those run-of-the-mill crochet gloves are a bit cliché and modern for a historical look. Try silk or cotton net gloves & mitts instead. Or look for a crochet glove with very fine thread.
A Bag to Carry
It always seems that we forget to plan where we will carry our modern items like our cell phone and keys. I highly recommend putting a pocket in your skirts to start with. Keeps your hands free and you won't spend time putting your bag down when someone want to take your picture.
A small bag, known as a reticule, is perfect for nearly the entire 19th Century. Keep the size small – no more than 9″ tall or so.
Avoid matchy-matchy bags. It may be fun to use your dress fabric, and you can do so. Although, for a historical look, go with another practical, but complementary, fabric.
Reticules and purses made from velvet/velveteen, cotton or silk crochet, and silk fabrics are lovely. Use embroidery, ribbons or braid trim to add pizzazz.
Victorians used metal clasps to close their bags. Find them online to make your own.
Sturdy basket purses (even those from the mid-20th C.) will translate well for your costumes (but pull off any plastic flowers).
Sometimes you just have to try out a particular accessory and see if it works. Remember every costumer stumbles in picking accessories – and remembering to wear them!
One last tip: dress yourself on paper before your event. List *everything* starting with your chemise and drawers. Write out each piece as you go through how you will get dressed. Finish with your hair, hat, hat pin and other accessories like a belt and reticule.
Where do you get caught up in accessorizing your costumes?