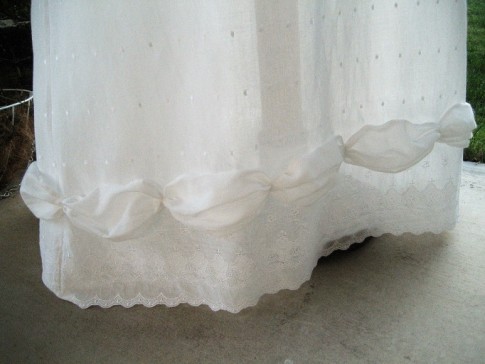 As a response to the February 2011 article on Regency fabrics, my friend Gina posted on the Facebook page that she didn't see her curtains mentioned as possible raw material. Ha!
Well, here's where that came from. (And no, I didn't actually steal her curtains for my project.)
Back in January, HCA met for our annual calender meeting to discuss the various Civil War, Regency, bustle, mystery dinners and such events. As we broke for lunch, I used Gina's powder room. I was admiring the decor of the room and especially the long sheer curtains. Then I realized that it was PERFECT fabric for a Regency gown. Ooh!
Embroidered spotted voile with fancy hem….
"So, Gina. I may have to steal your curtains for my next project."
"Um.. Ok."
"Yeah. They're perfect for a new dress I can make for the Jane Fest in April."
In a whisper: "You know, I got those at Target. Their Shabby Chic collection."
"Really?" …So I went the very next week to pick up my own set.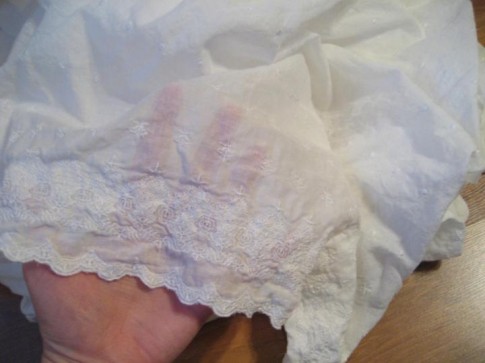 I threw them in the wash and they must have shrunk quite a bit as each panel is now only two yards long. I'm currently ripping out the top rod casing and the side hems for maximum yardage.
I want to do a ruched/puff trim on the dress hem.
a' la Circa 1811: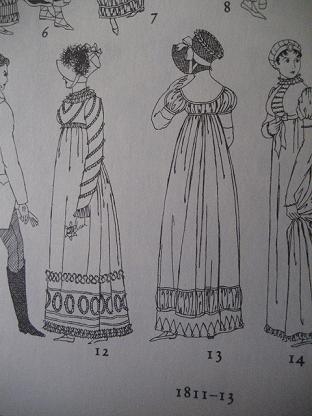 Above photo is pg. 70 in Costume Through the Ages.
If the panels don't yield enough length I may have to go back for one more panel. Then I'll have more than enough spotted voile for a fichu, undersleeves, chemisette, etc…
Update: you can see the finished dress in this post. 🙂