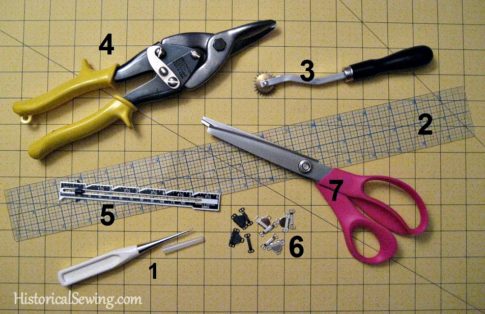 Consider your sewing area for a moment. What tools or supplies do you use the most? Are some of them unique or specialized? Generic? Perhaps you create with a few of the most basic tools.
Since I've been sewing for over 30 years, I occasionally get asked what sewing implements are required for my work. I look around my sewing room and wonder:
Just what are the tools that I could never sew without?  The best ones that make my creative life easier….
It's the whole "If you were stranded on a deserted island" question. What would you want for your secret sewing hide-a-way? Pretend you have access to a machine (if you want it), both hand and machine needles, and thread. And of course an unlimited supply of fabric and trim. (Oh that would be sewing heaven!)
Well, what if you could only have a select few pieces of sewing equipment to help you in your projects? (Hard to narrow it down isn't it?)
In the world of historical costuming, the sewing basket is accompanied by the toolbox. And I do mean "toolbox." For some items are taken from the carpenter's shop or hardware store.
Certain instruments are invaluable in the costume construction process.  Here are my favorite hardware suggestions to make your own sewing box complete.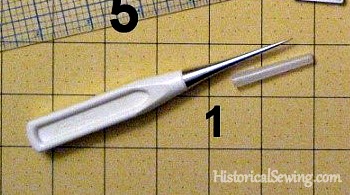 1. AWL – Ok – so this isn't exactly a modern tool as awls have existed since leather. But this sharp, cousin-to-the-icepick tool is great for helping guide layers of fabric through your machine.
It also is essential for inserting corset busks and making hand-bound eyelets. I love the Clover® awl as it is tapered – perfect for making larger eyelets or piercing the fabric just enough to get the stud through.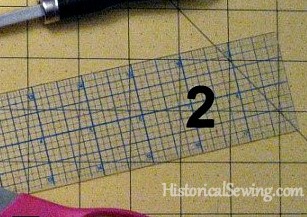 2. 18" CLEAR RULER – Oh how did I ever accomplish any sewing without this one? I have two – one with blue writing and one with pink. This helps for different colored fabrics. Use for pattern drafting and fabric marking.
The 18" ruler is one tool you cannot live without! In a pinch you can even use it with a rotary cutter (although the plastic is not as thick as rotary cutter rulers, so be careful not to nick the edge or it'll mess up your straight edge later when doing pattern alterations).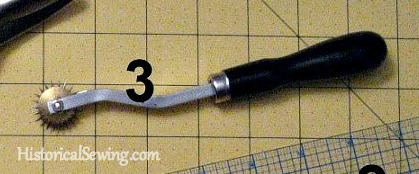 3. NEEDLEPOINT TRACING WHEEL – Speaking of pattern alterations, I CANNOT live without a needlepoint tracing wheel. This handy tool can cut your pattern time drastically as you quickly transfer your muslin markings to the pattern paper in one step.
When it was introduced to me in fashion school (FIDM) as a school supply, I was enamored with the world that opened for me in my fitting and patterning time. Read more in my tutorial on where and how to use this invaluable sewing tool.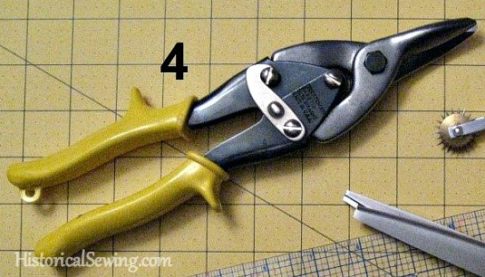 4. TIN SNIPS or BOLT CUTTERS – The only hand tools that can cut through hoop wire and boning accurately. A good pair should run you between $12 and $20 at a local hardware store. DO NOT EVEN be tempted with settling for the quick ten dollar pair as the blades just won't work.
You can also find specific bone cutters at corset supply vendors for a higher cost. This is truly hardware for the sewing room! Make sure to use good leverage (standing at a low table or kneeling on the floor). And remember to wear eye protection!

5. SEAM GAUGE – Historical clothes use all sizes of seam and hem allowances. Get two or three of these little rulers with the slide bar in the center and keep near your machine, at your ironing board, and in your hand sewing kit for quick reference.
I use them for all sorts of quick measurements. Besides for general sewing, they are great when making ribbon flowers and trim for a uniform appearance. See my post for more handy uses of the seam gauge.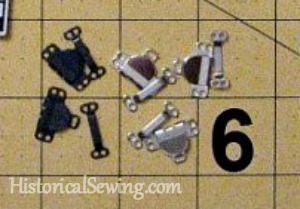 6. SKIRT HOOK & BAR SETS – Not so much a tool but notion supply. You will use these sets on everything – waistbands, bodice closures, attaching bodices to skirts and trim to garments.
They hold up to 10 layers of fabric much better than regular hooks and eyes. Keep them well stocked in both the silver and black. These little items are on nearly all my historical clothes – even the waistband of my Regency gowns.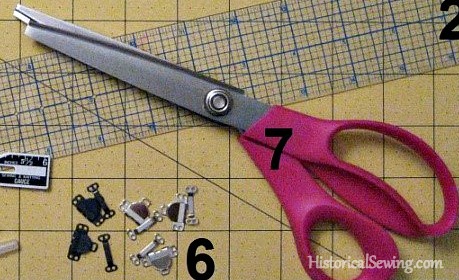 7. PINKING SHEARS or PINKING ROTARY CUTTER BLADE – I don't use these all the time, but when applying yards of ruffled trims on my bustle gowns, mid-century pagoda sleeves or 18th Century costumes, I pink the edges (when cutting out) instead of hemming. This saves tons of time and is period correct.
You can also use these for a quick seam finish. Keep them sharp or they will tear your sheer fabrics and silks to pieces –no kidding! A good scissor sharpener will keep the blades new for you.
In addition, inexpensive fishing tackle boxes work well for storing your hardware and sewing notions.  The divided trays hold all sorts of tools: pencils, boning, rotary blades, button makers, crochet hooks, needle packs and more.
So take stock of your sewing gear.  Like any professional, the right tools will enhance your skills.
And if you really could only take 10 (sewing) items with you on that deserted island, what other three would you have in your bag? Let us know by posting a comment.