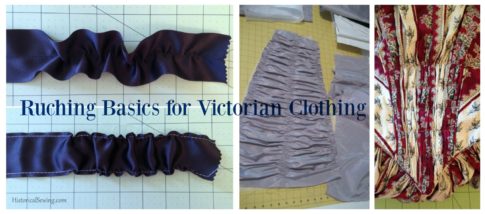 Ruched panels – in all their glorious, gathered loveliness – seem to pop up frequently throughout the Victorian Era (1837-1900). You'll find ruched bodice panels, puffings as skirt trims, and gathered accents in ribbons for all sorts of marvelous decorations.
The process of ruching isn't hard. But in some ways it looks so complicated!
Ruching, or to make a ruche, is simply gathering up sections of fabric or ribbon in repeated rows. As it relates to Victorian clothing, it is then mounted to some sort of foundation, either a shaped base or a garment itself.
I've put together a new video tutorial (a long, mini-class if you will) for you so you can see the basic techniques that go into this fantastic embellishment and design element. Then we'll look at a few sample garments where the ruching technique was used.
Tips to Help with Your Ruching:
Machine or hand gather with a long stitch length.
Use thread color to match your fabric or ribbon for your gathering stitches as they will not be removed after mounting to the project.
Keep rows of ruching stitches parallel and even. The stitches themselves don't need to be exact in length or the pleats/gathers or the ruche will border on looking like cartridge pleats.
Pull up the gathering threads evenly and at the same time if your gathering rows are fairly close together.
Push rows of gathering together to create a more 3-D puff look.
Play with multiple rows of gathering and how tight or lose you pull up each row. Create circles or waves or serpentine trim with all the variances of how you pull up the threads.
Read more about my 1873 ruched skirt on this post.
Recommended reading for more on fabulous ruching techniques and effects:
Embellishments by Astrida Schaeffer
The Art of Manipulating Fabric by Colette Wolff
Have you done much ruching on trims or garments? Was your technique successful? What was your favorite effect of ruching?