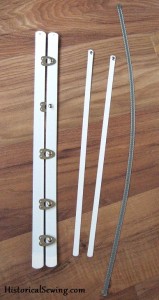 This list is in no way exhaustive, simply vendors we've dealt with in the past, have friends who have done business with them and had a positive experience, or sites we find interesting.
Remember caveat emptor with any online merchant.
Companies offering various corset making supplies including fabrics, busks & boning, tools and other notions. Make sure to visit the Fabric & Trim page for fashion fabric and lace trim for your corset.
Abraham's Lady – boning, busk, twill tape, lacing, specializing in Civil War era
Amazon Dry Goods – boning & busks
Aussie Corset Supplies (in Australia of course) – full service corset supply shop – second link here if first doesn't work
Burnley & Trowbridge Co. – 1/4″ boning
Bra Makers Supply (in Canada) – general supplies
CorsetMaking.com – wide range of supplies for your corset sewing; fast shipping
Dharma Trading Co. – white & natural silks and cottons (denim, duck, canvas); THE source for fabric dyes
Dragontown Corset Supply – general supplies
Farthingales (in Canada) – all sorts of supplies for corset making (tell Linda you found her here!)
The Fitting Room – general corset supplies
JAS Townsend & Son – 1/4″ boning, twill tape
Lacis (click on "Costume") – full stock of corset supplies; punch sets, grommets/eyelets, busks, other supplies
Nehelenia Patterns (in Germany) – boning, busks, nice coutil selection
Ortensia Sewing Supplies (in Australia) – general corset supplies
Richard the Thread (in Los Angeles) – large corset supply section
Sew Curvy (in England) – full service corset supply site
Sewing Chest (in England) – variety of corset supplies
Tutu.com – another source for coutil
Vena Cava Design (in England) – wide range of corset supplies
Vogue Fabrics Store (in Chicago) – online fabric store with extensive corset supply section
Do You Have a Favorite Corset Supply Website That You'd Love to Share?
Send us a message using the contact form below and we'll check it out. If it passes our "top-secret test," we'll be happy to post it here for the world to see. Remember to send us your personal review as well as the site address/URL so we know exactly where to look.