Now that's an excellent question when you're first starting to design a new costume. And how you answer will put you on a particular path for the look you want.
A few years ago I was talking about design with my long-time costuming friend, Lana (whom I consider a costuming mentor among many others). I was having trouble deciding how flamboyant to make a particular gown being that I'm not a flashy-type personality.
She said it all comes down to how you want people to see you:
Do they see the dress or do they see you?
"What's the purpose of the dress? Why are you making it?"
I had to answer, that while I love being admired while wearing my hard work (don't we all!), I really wanted to look beautiful. I wanted to create a vision of delight and awesomeness.
Ok. But what does that tell me? Seems that I really want the dress to be the showpiece… but I still want people to notice ME. I want people's attention on the gown (which is where I've put in all my never-ending hours), so logically this gown should be made to wear me.
Here the dress overpowers the wearer. People see only see the dress. I may have hair and accessories that are not right but it doesn't matter. The focus is all about the clothes and I'm lost in the middle of them. So is that what I wanted?
Remember when Bjork wore that swan dress to the Oscars? How could one forget?
That "dress" was totally wearing her. SHE didn't even stand out. People didn't take notice of her smooth black hair or white skin. Those "feathers" and that scary swan head blocked out her natural beauty and even shielded her raw talent….
Be mindful when planning an incredible, work-of-art gown. People's focus will, of course, be on your dress, but they will probably never remember your name and that you have green eyes.
This is what it means to have the dress wear you.
And that's ok. Those flashy costumes are so much fun to make even if they don't reflect your personality (and even flatter your figure for that matter). Those particular costumes are what keep us interested in playing dress up.
But now let's look at it from another viewpoint….
Have you ever been at an event and suddenly a group of the most gorgeously costumed attendees arrive in a cloud of splendor and grace? The room stops and stares. What is it about them that turns everyone into a now underdressed baboon?
Well, to start with, they are wearing their dresses. They are the perfect vision from the period appropriate hair curls down to the… well, everything! You notice the hair, and the dress and their smile brings you in. The whole picture is complete.
Then you peer in to see the details… to find a flaw. Oh! The trim is lacking from that skirt! But even when you notice that fact, the entire picture drowns out this minor detail.
This is what it means to wear your dress.
A lot of elements go into making a costume appear this way. You can include displaying the correct silhouette, fabrics within reasonable appropriateness, and, of course, a good fit.
But also important to remember is to take into account YOU when creating a historical design. If you wear cool colors better, be wary of making a bright orange dress – even if that's just what it was in 1868. Tamper it down to a light tangerine and add ivory near your face.
Not a daring girl? Keep that low neckline raised an inch or two so you feel comfortable in the bodice.
If there's no way you'd expose your skinny arms in a modern tank top, then by all means avoid it when re-creating period clothing. Doing this uncomfortable thing masks your individual self.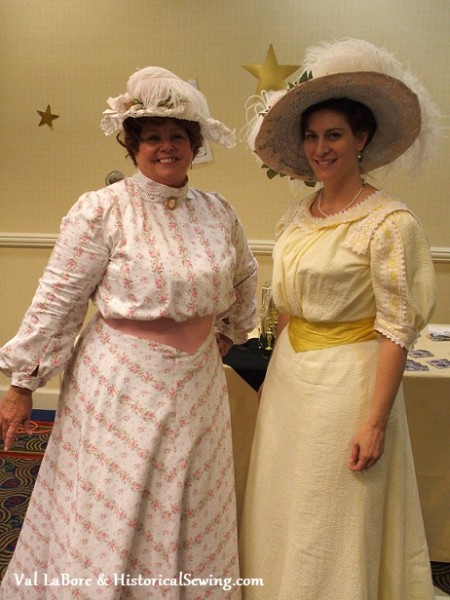 For true costume excellence, the design must reflect who you are and take heed of your figure.
I mean, that's why we make historical reproductions, right? To dress up as they did. But let's not dress up *exactly* as they did. Let's give proper attention to our unique bodies and simply think of how they would have dressed someone with our stature. No doubt the wearer would shine through the clothes. The dress would only enhance the woman who wears it.
There is absolutely nothing wrong with wearing an outrageous dress that is just for show. But if you crave a deeper appreciation, ponder on what hangs in your 21st Century closet and translate it to a 19th Century wardrobe.
Sew costumes you can be proud of, that you are happy to wear. If you feel confident in your work, YOU will be wearing that dress. And that's what makes a truly fantastic historical costume.
Have you made any period costumes that you feel lost in? Are you one to make more of those works-of-art or would you rather sew something where people pay attention to YOU? Please share your stories!