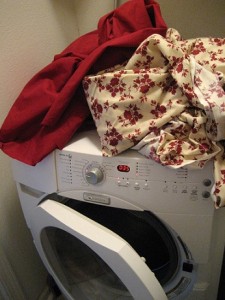 Whenever I make something with cotton I always run it through my washing machine to pre-treat. I do this even if I plan to rarely clean the costume or take it to the dry cleaners. And most of the time I will throw the newly purchased fabric into the washer as soon as I get home from the store.
But what happens when I come home with 12 yards of blue floral calico? How in the world does that get washed without becoming a ugly tangled mess?
Here are 6 tips I use every time I put fabric into a washing machine. They don't eliminate all the headaches in dealing with yards & yards of fabric, but they help keep my frustration level down.
Use these tips when washing cottons and linens.
1. Serge or zigzag the raw edges first. There always seems to be that mess of tangled threads that come off the end of the fabric and wrap themselves around everything in that washer load. Help prevent this textile web by finishing the raw edges before you throw it in the washer. You can also pink the edges but a serged or zigzag finish will be best.
2. Unfold the entire length of fabric and place gently into the machine. Don't cram it all in there – keep it soft and puffy. Of course it'll get squished as the water comes in but only concern yourself with how it goes in.
3. Don't overload the washer! – even if you have 4 fabrics to wash. Keep enough room in the machine for the fabric to swim.
4. If drying the fabric in the clothes dryer: as you take it out of the washer, unfold and fluff it again before putting it into the dryer. You want the piece to be as untwisted and smooth as you can get it.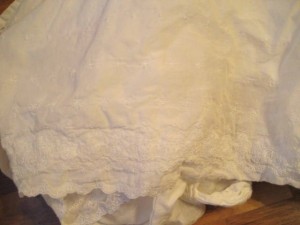 5. Dry on low – yes – and every 10 or so minutes go in and untwist the fabric. This will allow the fabric to dry faster and you won't get those horrible creases that are so hard to press out.
6. One more trick would be to take the fabric out of the dryer just before it's completely dry and press with a hot steam iron. The dampness still in the fabric makes it so much easier on the arm when trying to press the fabric paper smooth.
Do you have other tricks you use when machine washing your fabric? Share them below!