Yesterday my husband and I made our annual trip to FIDM to see the Art of Motion Picture Costume Design exhibit in their museum. And, as always, we were not disappointed. (No photography is allowed in the museum so no pretty photos to gaze at the costumes.)
It's so much fun to see the movie costumes up close and discover the details they took in bringing the characters' clothing and personalities to life (i.e. tons of hooks, double piping, rough textiles). It's also wonderful to catch hidden shortcuts they may have used like unfinished hems, hidden zippers and sloppy topstitching. But it's all how it looks on screen, right?
Although I have not seen The Artist, there was a raincoat made from a dull spring polished cotton… interesting. I wonder what how it looks translated in the black & white film.
But what took my breath away was a small room exhibit with a dozen or so original antique garments from the 19th Century. 😀 I had to clean up the drool off the floor a few times. Ha!
The FIDM Museum is seeking public donations to acquire the Helen Larson Collection with over 1100! articles. They are really pushing into the international sphere of museums here. On display was an amazing black silk faille and crepe dress worn by Queen Victoria in 1897. Ooh! But what was so stunning is not the size (we all know she was a large woman by the 1890s) but the height of the dress.
The dress on the mannequin was on the 12″ raised platform. The shoulders of the dress were horizontally in line with MY shoulders standing on the floor. I'm 5'4″. The skirt center front length couldn't have been more than 36″! The bodice was very large in width but the height just blew me away. It's hard to imagine she was ever that short.
Among the other delights was a SPECTACULAR early 1900s striped skirt with bodice. The stripes were alternating cream silk satin and a floral embroidered stripe. Pleated silk organza godets popped out from the lower seams of the skirt panels. Cream netting lace was gathered all down the sleeves. So gorgeous!
(Whenever you go see original garments with perfect figures of the era, you undoubtedly hear other visitors wrongly talk about the corseting. Like the older ladies that were viewing this striped dress said "those women back then tightened themselves in and then couldn't breathe. That's why they carried smelling salts."
I couldn't take it so I politely mentioned that women were used to corsets, had been wearing them their whole lives, and if fitted correctly, the corset is comfortable for wearing all day and going dancing in the evening. Today we're used to loose fitting clothes. One lady said, with a laugh, she'll keep her baggy blouse so she could breathe and have room for all her fatty rolls. (Yes, she said that.))…
After a delightful repast at Panini Café (be sure to try their cous cous with a turkey panini), we headed a few blocks east to the ever-crazy fabric/garment district.
I love all the options you can find in Downtown LA. There are also some terrific deals to be had. (Although in recent years it has seemed that the store employees don't bargain as much as they used to. Or maybe that's just for the Saturday crowd. I've heard they wheel & deal more during the early part of the week when more industry folks go shopping. Also, buying in bulk will save on the yardage price too.)
I didn't take many pictures as it's not really a place where you want to whip out your camera. I took the photo above to show you how some stores hang their hoopskirts just like you see in old 1860s photographs. Time doesn't change everything.
Here you can see the gorgeous silk taffetas at Home Fabrics on the east side of Wall St. They don't negotiate but you can find most any color. The striped taffetas are to die for.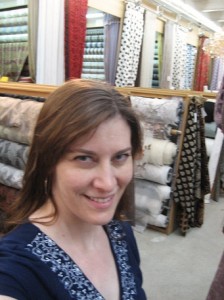 We ran around searching for items on my specific shopping list. I highly recommend you go with a list as the place is crazy and you can get lost and distracted REALLY easily.
I was looking for a yellow silk taffeta and got that at Home Fabrics. Then I picked up 8.5 yards of white China silk for lining my new 1905 Lemon Chiffon Dress which I'm making from a 1/8″ yellow/white striped cotton seersucker from JoAnn's.
Here are my goodies from the day:
The China silk is on the far left, then white silk taffeta for my Edwardian hat, the yellow taffeta and the striped seersucker. The wide lace at top will be for my new purple silk Edwardian corset made with my Sew Along of the Truly Victorian pattern. The flat lace and edging lace in the center will be trim for the bodice. 3″ nylon horsehair braid will be sewn into the hem. The ruffle on the bottom made with three trims was a bargain at $3/yd so I picked up 8 yards for the lower edge of an Edwardian petticoat.
The China Silk and white taffeta were picked up at Fabrics & Fabrics on the north side of 9th Street. The laces at some small shop on Wall St. on the opposite side from Home Fabrics. The horsehair came from Michael Levine's which is always a must when going to Downtown LA. It's kind of like a JoAnn's but with the focus on fabrics and unique trims. Prices are set and it's ALWAYS busy. They even carry Folkwear and Ageless patterns along with the Big 4.
It is nice to have such buying opportunities within a two hour drive. I mean, buying fabrics in person is SOOO much better than online. But I will say, I'm definitely a small town, big house in the suburbs type of girl. Give me a large 1870s Italianate and I'm happy.
If you are ever in Los Angeles, you have to make a day (or few hours) to visit this mecca. Be sure to hang onto your wallets, bargain if you can, take a list and be prepared to hear a dozen different languages.