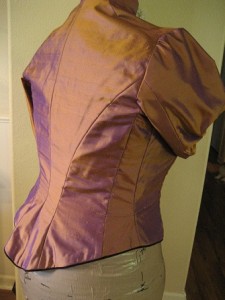 A current idea floating around to aid in getting closures lined up properly is to do them first. In other words, you finish the center front or center back fastenings first, then in your bodice construction you leave the side seams open until the very end. This allows you to fit at the side seams while the opening is properly fastened.
Let me tell you how I do it.
When I'm fitting my bodice, I draw in my center lines and pin them closed. If my opening is at center back I'll cut my mockup on the fold and pin the center front seam closed. (This is so I can fit myself.) Then I adjust my princess and side seams.
I don't usually do full final fittings unless they're very minor tweaks. I do all my fitting before I even start cutting and sewing my fashion fabric.
So I fit, then cut out my fashion fabric. On my center front or center back closure, that raw edge usually gets finished very early on in the project. A lot of times I'll sew my, say, center front underlining fabric to my fashion fabric. Then turn the underlining to the inside and continue to flatline so that raw edge is already finished.
Near the end of construction, I go ahead and put in buttons, buttonholes, hooks and thread loops or eyes, eyelets, hook & eye tape, boning, etc. Sometimes, though, I'll sew in a center bone on the underlining before sewing that center seam so I don't have stitching on the outside. Very rarely do I apply fastenings to my finished center before the rest of the bodice is sewn.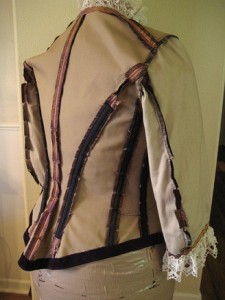 There's no reason to finish the closure early on because it's already lined up from my fitting. It all starts with the fitting step. Once you have that, there's no need to finish your closures first so that you can fit the side seams. No, that should be done in your mockup stage and not with fashion fabric. Although you can tweak your side seams in a final fitting, that should have no sway on whether your center closures line up properly.
Here's a trick:
After your bodice is sewn, of course, place the finished center front edges together. Not overlapping as they are, but with the underlining sides together as if you're folding the bodice in half – right side seam laying on top of the left side seam to where you're looking at one entire half of the bodice, center front on the right, center back on the left.
Do this after buttonholes are made or hooks or hook tape side is sewn to the bodice. Fold the bodice as above and place pins through the buttonholes or at the top of the hooks to mark the placement on the other side of the bodice. This gets the other half of your fastening aligned with the first side. Sew on buttons or eyes at your pins and Voila! You have a properly aligned center closure.
Are you one to sew up everything and leave the side seams for last? Or do you  work on the pattern/mockup first so you don't worry about final tweaks at the very end?