Hidden pockets. Wide pockets. Tiny pockets. Welt pockets. Watch pockets. Patch pockets. Pockets with flaps. Pockets in seams. Decorative pockets and functional pockets. Inside pockets. Breast pockets. Back pockets.
It truly is amazing the variety and locations of pockets in 19th Century clothing!
For easy reference, let's look at where our ancestors carried personal items in pockets sewn into their garments. Then you can easily add them to your own projects. (Perhaps you'll remember to actually put them in instead of forgetting like I always seem to do. Doh!)
Regency 1800-1820

:
Before the Regency era, personal items were held in pocket bags that were tied underneath the petticoats (skirts) and accessed through slits in the sides. As the dresses in the early 1800s slimmed down, these pockets were no longer hidden. So women carried reticules to hold their personal necessities.
And what woman wouldn't want a lovely new accessory to show off! The Regency is FILLED with lovely reticules. This is the period solution to carrying your modern cell phone and keys when attending a Jane Austen picnic or ball.
Rarely would you find an attached pocket sewn into a Regency skirt seam. However, examples from existing garments of the era show slits in skirts for access to loose pockets tied around the waist.
Romantic Era 1820-1840

:
I love this time period! Funky hair, big sleeves, and wide skirts – full enough to disguise the largest of pockets! (I'm sure you could even get away with storing your 10″ iPad in these skirts!)
As women's skirts became fuller, reticules were still used but hand pockets were added into the side seams of skirts. Openings in the skirt panel, usually on the right side-back area and either in a seam or slit opened and narrow hemmed, allowed for pocket bags to be sewn along the opening or given access to pockets tied around the waist underneath the skirt.
Also, a new addition of a watch pocket is seen on surviving articles later in this period. They are placed at the waistband/skirt seam with access from the outside between the two. Such a brilliant solution so you will always have the time at hand!
Early Victorian/Crinoline Era/Civil War 1840-1870

:
The side pockets, being well hidden in the now extremely full skirts, either on the side or towards the back, became quite large.
The tiny watch pocket was becoming more popular. It was only a couple inches wide and deep and added to the inside of the skirt at the waist. It was set slightly off-center too. I've only put in one of these along the off-center opening on my early 1860s dress but it sure is handy!
Pocket Trick:  For skirt pockets in your 1860s Civil War clothing, pull from the 18th Century!
Leave an opening along a side or side back skirt seam at hip level, and narrow hem the seam allowances.
Cut and sew a 18th C. pocket bag complete with the finished opening (but do not set on a waist tape).
Align the finished pocket slit underneath the finished opening in the skirt seam and sew together.
Baste top of pocket to the pleated waist edge of the skirt, and finish the skirt waistband.
The top of the pocket should be long enough to reach all the way up to the waistline of the skirt. Allow for this when drafting or selecting your pocket pattern. Also be mindful that the length of the pocket slit should be the same length as the skirt seam opening and placed accordingly.
Bustle Era 1870-1889

:
Ahh… my favorite era to completely forget putting pockets in the skirt.
Now that the War was over and sewing machines helped finish dresses in half the time, trims exploded onto gowns – including the popular pocket. Now pockets were seen!
Functional patch pockets and flapped pockets were mounted flat onto skirt panels. You could find them at the side or side back area and also on the lower part of a long basque bodice. Trim was also added to simulate pockets here too. (But we're only talking about a holding place for your keys and lipstick.
Large hidden pockets were still applied to skirt seams until the late '70s Natural Form. This c.1880 dress has a hidden watch pocket along the front princess seam.
In the fitted 1880s dresses with their very slim front, a large pocket with lumpy articles (like keys and a fan) would show through this fitted form. The solution – women simply moved their skirt pockets further to the back – some even into the center back seam. Wouldn't that would be nice to sit on!
Late Victorian 1890-1900

: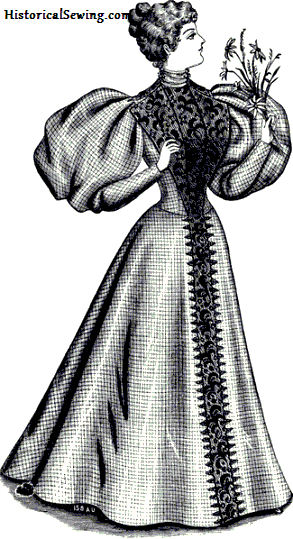 The epitome of Victoriana! 1890s skirt styles were smoothed around multiple petticoats and, depending on the weight of your fabric, skirt side pockets were still found at the side back area and mostly on the right hand side.
Watch pockets at the waistband were still used; however, many existing bodices indicate tiny watch pockets sewn inside the bodice at the center front opening right at bust apex level. These small patches also show up on the outside of the bodices at bust level. (What a strange place but they did it!)
Of course, even though you see pockets sewn into clothing throughout most of the century, reticules, bags and purses were carried quite often.
Though, instead of juggling a reticule with a parasol, fan, dance card, camera and champagne glass, simply put a large pocket into your skirt side seam and stash away those modern items. It's a nice modern solution that's period correct as well!
Where are your functional pockets located in your period clothing? Do you remember to add them when you're making the costume?