Do you like red? Have you made any costumes in red? Great! If you have, you have inspired me to take on my own red costume project.
I don't naturally gravitate towards reds. Blues, purples and pinks float my boat. So I'm taking the challenge to put some sort of red costume into my historical wardrobe.
Many of you on Facebook gave me the suggestion of the red dress Tatyana wears in Onegin. It is a beautiful gown but my budget right now can't quite fit the silk taffeta I'd want for that design. This will go on the project list….
Others of you mentioned a bustle gown. I LOVE bustles. Especially 1870s. But one friend asked what I have the least of in my closet and I said "1880s" so she suggested I go with that. Great!
(You can see here the process that occurs sometimes on deciding what costume to make next.)
Then came the fabric search. I want this project to be "quick." Or at least I told myself that…
Easy costume: basic underskirt and apron overskirt both using Truly Victorian patterns I've made before. And a bodice – cut from the fitted one I made last May as the Bubble Gum Dress.
So now I needed a cotton, perhaps a solid red then one with a red print. (Do you know how HARD it is to force yourself to pick a fabric color that you don't naturally like?)
After a few trips to various stores, I found a red floral that I actually really like. Isn't it lovely?
Humm… what to do with it now? There were only 4 yards of the solid red so that's enough for the foundation skirt. The floral could be the bodice and apron overskirt or even a polonaise. (Wouldn't that be cute!)
But alas… I want this to be something that doesn't take too much time (which a polonaise with no waist seam would be).  Yeah, right. Like I could stick with this quick-to-finish idea.
No, I cannot just choose "easy." There has to be some sort of challenge in the project. Something that I haven't done before.  Are you the same way when starting a new costume?
So off I go, exploring my Harper's Bazar Dover book, Kyoto Fashion tome, and the Metropolitan Fashions of the 1880s for ideas. I narrowed down my search filters to looking for day dresses that sport a floral print fabric. And they showed themselves to me. Lots of them. As I don't do a lot of 1880s, I forget that prints were so fashionable at the time.
So page after page, I flipped. Post-it notes surrounded the book edges with signs that said "nice one," "great overskirt," or "pick me." Well, not really but that's what they should have said so I could narrow them all down to something exciting to tackle.
That's when I took a closer look at this page.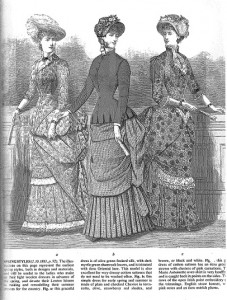 See that one? …The one on the left? Yeah. That's it.
The solid red will be the skirt ruffle and half apron mounted onto a cream twill skirt base. The floral will be for the bodice and weird draped asymmetrical overskirt. The red will also be made into flat piping for the cuff accents and collar edge as well as finishing the bottom of the bodice. I'll cover buttons in the solid red as well.
Perfect! I love it!
Although, now I'm back to that: "Ok, it's not THAT easy with that draped overskirt." (What is up with that smooth top pouf surrounding her hips??) …It's definitely the overskirt design that will challenge me a bit.
Plus, I get to work with cotton. 🙂 I'm a happy girl.
Now only for a name….