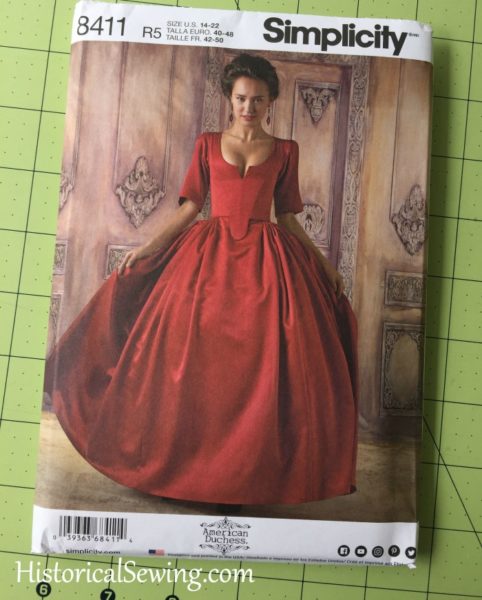 Last month there was all of this kerfuffle going on about the new Simplicity pattern released, designed by American Duchess, and inspiration taken from "The Red Dress" seen in Outlander, Season 2 designed by Terry Dresbach.
I thought I'd share my rambling ideas on this [apparently] controversial sewing pattern.
Simplicity Pattern Company asked Lauren Stowell, owner of American Duchess, to design a costume sewing pattern for the particular dress.
We must remember that in 2016 Lauren had designed two other patterns in the Outlander vein for 18th century costuming (Simplicity 8162 Undergarments and Stays and Simplicity 8161 Dress, Bodice and Petticoat).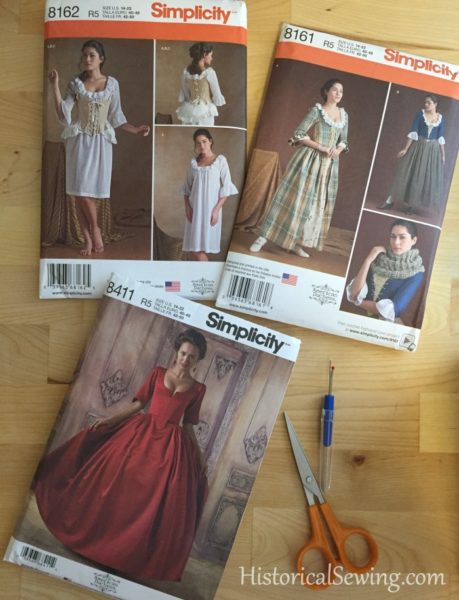 And then they asked her to make another pattern based on The Red Dress.
My question is: Why all the hoopla now? Why this dress? Is it because it's red?
Or is it simply because the fabulous costumes are drawing people into sewing because of the popularity of the Outlander series going on right now?
Quite honestly, I don't understand why the costume designer flipped out about this sewing pattern… one that was merely inspired by but not taken directly from her original dress on the show.
I'm curious: Why didn't she flip out about the show-inspired undergarment pattern? Or the day dress pattern?
The day dress pattern is clearly taken from inspiration from the Outlander series. Inspired by. These sewing patterns are not designed as exact replicas of TV show designs. (You'd need the original pattern the show costume was made from in that case.)
Instead, Lauren has based them more on 18th century garment cut and styling but with the flavor of Outlander thrown in.
Everyone who has seen Outlander can look at the patterns and conclude they were inspired by the show costumes. Lauren has been very open with her inspiration especially on this red dress. But she has also shown original 18th century examples (in the above blog posts) of where she took her inspiration from to make it more realistic, based more on historical garments.
But again – Why such a big blow up over this particular pattern from Simplicity?
When we look back 20 years ago with the blockbuster Titanic, Simplicity released costume patterns where you could *clearly* see they were inspired directly from the designs Deborah Scott had created for the movie.
Historically, releasing sewing patterns (and fashion items for that matter) based on popular films is a common thing.
Jump forward a few years from 1997 and we've got Star Wars and The Matrix as inspirations. We see Lord of the Rings inspired patterns produced with lots of capes and kirtle gowns.
I didn't catch wind of the costume designers of those films blowing a fit that their designs were showing up as sewing patterns. (At least not so publicly.)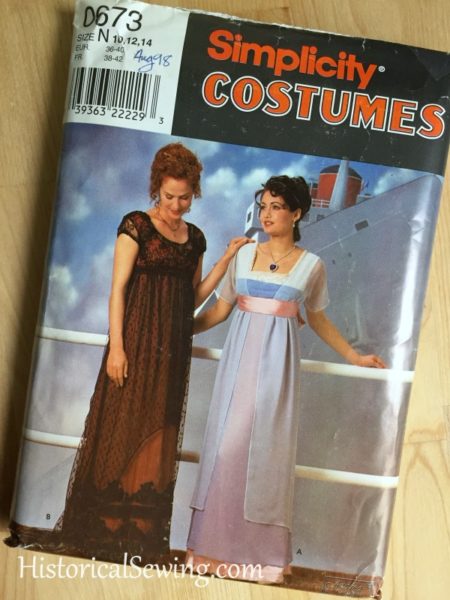 Fashion, because it's clothing, is not copyrightable. Apparently, there is some momentum, at least in the USA, in trying to get the actual designs from TV shows and movies to get copyrighted. Or at least get their name printed on advertising and labels of these inspired fashions.
Yet, that's not going to stop this multi-billion dollar wheel of fashion from spinning. I'm sorry, no. No, it's not going to happen.
[Read more in this conversation on Terry Dresbach's Twitter.]
Because you're going to see companies in China (among other places) viewing a TV show and doing their own sketches, producing their own patterns, and then creating their own costume pieces to sell.
Anyone search Etsy lately?? Yeah….
There's nothing stopping folks from looking at a design and re-creating it.
All of us who do historical costuming – that's what we're doing!
We're basing our designs on what we see historically… in antique garments that are available and we're reproducing them… putting our own little spin on them. Using fashion plates for inspiration. Photographs we try to copy.
Like the recent "Dress Like Your Grandma" challenge where people used a vintage photo – something from the 20th century – to re-create it. A garment your grandmother or great-grandmother wore and you're copying what you see in the photograph.
I just don't understand why THIS latest Simplicity sewing pattern has caused SO much conflict and bitterness from the costume designer. So much so that she had a rant on Twitter and threatened to take her blog down (which is still down as of today).
It projects very unprofessional behavior.
I would think, if you have a design or are designing for a show and another designer gets with one of the big commercial pattern publishers like Simplicity or McCalls/Butterick and they produce a sewing pattern inspired by your work then you have all of these new people who want to dress like their favorite character from *your* popular TV show or favorite movie.
They get an opportunity to dress up as that character. They get a sewing pattern that allows them to do that.
It inspires that person to be creative, but it also inspires their friends who see what they're doing to want to get creative too. It makes this whole industry go around!
It gets new people saying: "Oh wow. That's a great costume! What's that from? Where did you get it? What's your inspiration?"
"Oh, I'm watching [in this case] Outlander."
More people start watching the show which means more money for the producers and for advertising and everything that goes along with that.
The producers see that there's this growing popularity so they say: "Hey! Let's do another season." And they hire everybody back – the crew, the production people, and the costume designer. Gee! Their jobs are continuing at that point.
This gets more people being creative and inspiring more people to sew. What a grand thing!
I don't understand the lashing out of why this is such a bad thing. Why be bitter about it? That people from other companies got together to produce a sewing pattern of a 18th century design that's been influenced (only) from a TV show – what's wrong with this?
How is that bad??
It's not, in my opinion.
I can understand that a costume design should be copyrighted from the designer's personal point of view.
But this "red dress" pattern is not the same design. The lines are different and the pattern based more on historical references. The width of the skirt is completely not the same.
There's some disconnect I see with the designer. To be honest, I don't know much about her or her designs. I have watched Outlander. But I don't know her history and what's involved on her end.
[Sidenote: in my editing and research of this post I found this tweet (screenshot below) from Ms. Dresbach. Something doesn't jive here when she's complaining of a sewing pattern for cosplayers yet encouraging them to copy her designs………..]

I still can't fathom the attack that happened in mid-April 2017 about this newly published pattern. (And rants not just from the costume designer.) And why is it NOW?
Why didn't it happen when Lord of the Rings-inspired sewing patterns came out? Not only by Simplicity but McCalls and Butterick too. What about with other famous movies as well? Why this particular pattern?
It's a bit disturbing. I can comprehend the designer (and others) wanting change. I can appreciate the change they want and to have their designs copyrighted.
If you draw a sketch, that sketch is copyrighted. Fashion and clothing is not copyrighted, though.
With this "red dress" pattern, Lauren based it more on 18th century fashion. She did her research. And the pattern was merely inspired by the famous Outlander costume. (According to her, Simplicity chose the color red for the pattern envelope garment. It has since been changed on their website.)
I'm sorry to see my friend Lauren and her company, American Duchess, along with Simplicity, get wrapped up in all of this. It saddens me as one who sews and loves to re-create historical garments and designs.
Let it go, I say. Move on. Generate new stuff.
If you are a designer, don't start comparing yourself (which is what I see Ms. Dresbach doing with Lauren and Simplicity).
Comparison is the thief of joy and creativity.
You start comparing; you start complaining that other people are ripping you off. So what. Protect what's rightfully yours but don't let it consume your life.
Keep going and doing what you're doing. Keep designing. Keep creating.
Because, you know, if it all burned down you're only left with your knowledge, your skill. Use what you have today and keep moving forward. Don't worry about what's going on. Don't try to drag it out. It doesn't make for a good impression of yourself and squashes others at pursuing their creativity. And that makes for a very dark and depressing world.