Sewing With Sheer Fabrics
♥ 
Sewing with Sheer Fabrics: Tips & Tricks
Delicate fabrics are challenging to sew.
But knowing proper techniques will make working with them a delight.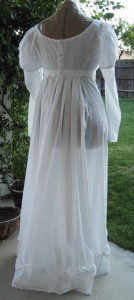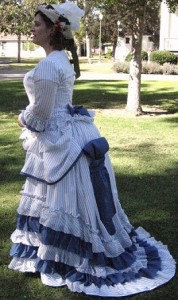 There's nothing like a lighter-than-air dress. It's like floating on a summer breeze. The antique dresses that make us Ooh and Ahh are those made of sheer textiles.
Whether you're dreaming of a Civil War sheer dress or Bustle picnic gown, clothing made from sheer fabrics inspire us.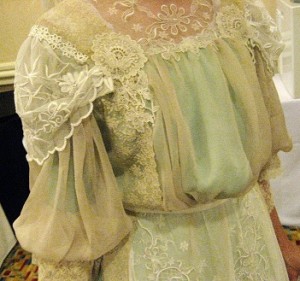 But like all good things, sewing with sheers can be a challenge. You search high & low for those techniques that will make your project go smoothly.

This handbook will be that guide BEFORE the breakdown happens.
You'll learn how to pre-treat your fabric including ironing & pressing and the proper way to cut your dress pieces from thin materials. You'll also discover tricks for easier sewing with sheers, types of hems for 19th C. garments and working with your machine for smooth stitches.
Learn sheer fabric options for use in summer dresses, late Victorian shirtwaists, undersleeves, chemisettes and the wildly popular Edwardian & Titanic draped gowns.
Add this foundational guide to your sewing library now! Be confident as you handle these luxurious goods.
Handbook covers:
The variety of modern sheer fabrics to look for & use

Pre-treating delicate fabrics

Tips on cutting sheer textiles (and what to do if you have to rip out a seam)
Tricks to producing fine seams
The best techniques for hems of all widths
Learn the secret method to preventing thin fabrics from being stuffed down into the needleplate
Tips for making piping from sheer fabrics
And much more!
Add this foundational guide to your sewing library now!
DETAILS:  Digital Workbook in PDF format for easy reading.
COST:

$ 18.00
Special Offer $ 9.97
All Historical Sewing digital products are covered with a 60-Day 100% Satisfaction Guarantee. If you are not completely satisfied and find no use for the product, simply send us a quick email and we will happily refund your purchase price, no questions asked.