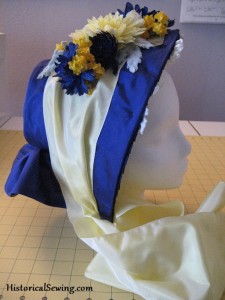 This list is in no way exhaustive, simply vendors we've dealt with in the past, have friends who have done business with them and had a positive experience, or sites we find interesting.
Remember caveat emptor with any online merchant.
Companies offering various hat, bonnet & headwear making supplies as well as wig & hairpiece vendors.
Abraham's Lady – patterns & wire, specializing in Civil War era
Burnley & Trowbridge Co. – 18th and early 19th C. supplies
California Millinery – basic website but they carry a wide variety of supplies
Denise Nadine Design – hat & bonnet buckram frames and kits – great shapes!
The Dressmaker's Shop – buckram & crinoline
Farthingales (in Canada) – all sorts of supplies for corset and hoopskirt/bustle making
Hats by Leko – all the hat supplies you need; pre-made forms & straw blanks too
The Historical Hairdresser – wigs and costumes (Tell Tracy you found her here!)
JAS Townsend & Son – basic straw hats to trim out
Judith M Millinery Supply House – general millinery supplies
Lacis – pre-made buckram forms and other supplies
Lamplight Feather – feathers & birds for your hats
Lynn McMasters – wide range of hat & bonnet patterns
Miller's Millinery – patterns & kits
Mother Plucker Feather Co. – feathers & flowers
Online Fabrics Store – buckram
Richard the Thread – good range of millinery supplies
Sarah's Hat Boxes – a variety of USA made hat boxes for when your project is finished
Southern Importers – pre-made buckram hat frames
Theatre House – costume shop with buckram frames to cover
Timely Tresses – hat & bonnet patterns, frames, millinery supplies
Do You Have a Favorite Millinery Supply Website That You'd Love to Share?
Send us a message using the contact form below and we'll check it out. If it passes our "top-secret test," we'll be happy to post it here for the world to see. Remember to send us your personal review as well as the site address/URL so we know exactly where to look.