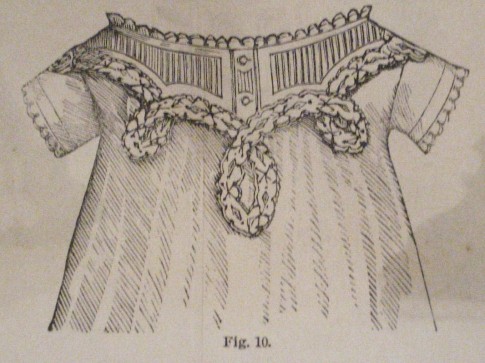 Don't think for a minute that Victorian undies are frumpy. I'm talking about late Victorian chemises here. They're not some long, plain gown with no trim, a conservative cut and b-o-r-i-n-g.
No. 'Cause my husband will tell you that you put a girl into a chemise, drawers and a well-fitting corset and, man, she becomes the sexy woman and playful girl. Who says a teeny bra with fur is the only way to highlight your assets?
I hope your frillies make you feel confident. They should because that's where your time travel begins – when you first throw that chemise over your head. Welcome to the past.
Do you want to make and wear fabulous looking 19th Century clothing? Then begin with what touches the skin.
If you're sewing a new ensemble from an era you've done before, there usually isn't a need for a new chemise unless the look of your dress garments will be affected. In other words, a sleeveless chemise is necessary under a ball gown but is still ok under a day dress.
But maybe you just want some new underwear.  Who doesn't? Sometimes all you want to do is make a closet full of Victorian frillies. A chemise, being the most basic of undergarments, is a good place to unleash your talent and girly-ness.
Even if you don't care about your historical underwear, you'll still need to put in some effort on the chemise – 3 to 5 hours should do it.
For the majority of your historical wardrobe, you can get by with a basic chemise – simple front and back, both cut on the fold at center and finished with or without sleeves.
When traveling to a new time period, you want to keep that silhouette in mind so you can sew a chemise that will protect your corset and bodice as well as hide under the garment edges (neckline and sleeves).
Now, just because this isn't something from your relative's closet, doesn't mean you should make it out of 21st century fabrics. (Historical costumes never look right in modern (read, synthetic) materials.)
Although, for a comfortable chemise undergarment, try linen. Even for Victorian wear.
I'm serious! If you've never worn delicate linen undergarments under a heavy Civil War dress, you are missing the comfort! The cheat here is to use a pattern reflective of the mid-to-late 1800s and trim it as such too.
Use handkerchief linen
Cut chemise with a yoke and short, straight sleeves (both only if desired)
Use French or flat-felled seams
Use cotton lace and flat trims for the yoke, neckline and sleeves
Embroider the yoke/neckline and sleeve hems
There! Doesn't that sound lovely and cool!
Not to leave you hanging, here are 3 pattern options to make your 19th Century sexy underwear.
Truly Victorian:  #102 Chemise & Drawers
Laughing Moon:  #100 Ladies Victorian Underwear
Past Patterns:  #707 1850-70 Two Chemises
What do you think of this vital garment in your time-traveling trunk?