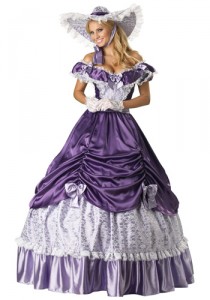 When something is described as "costume-y" what do you think of? Do you try to avoid this dreaded term being applied to your own projects?
Everyone has their own idea of what makes a garment or outfit look costume-y. Is it the fit? Or the fabrics used? Or a crappy sewing job? What about simply the attitude of the wearer, like how they present themselves in the costume?
Something that is pronounced "costume-y" is usually done in a negative light. It's beneath those who are viewing it. But why? Are these costumes really that bad? And just what constitutes a costume-y costume? 🙂
Here are some elements one might apply to a costume that could be considered "costume-y."
Poor fit

. You can have the most gorgeous fabric and use the finest sewing techniques, but if a bodice (or whatever part of the garment) is ill-fitting it destroys the entire look. Perhaps that dress is on a newbie costumer who has been sewing for years. Should it still be called costume-y? The fit of Regency & Victorian garments is well defined by the silhouette. Slip off even a little and it could fall into the dreaded pit.
Cheap materials

. I think this along with poor fit are the two highest points that define a costume-y costume. Polyester satin just doesn't look right for a Civil War ball gown.
Using modern colors

. The Victorians loved their aniline dyes! Check out some museum collections and the colors just POP before your eyes – true red, kelly green, sapphire blue. But using a dusty rose, popular in the 1980s, might make that gown scream "costume." Same is true of using modern print designs. In my research THEY did not use large floral chintz for dresses. That was reserved for window treatments.
A costume that doesn't look like ordinary clothing of the period

. You know, a Gone With The Wind costume (chuckle). Especially in living history circles, one might judge another's outfit as costume-y if the shoulder seams are set high with a modern placement. So if the seam placement on a costume is out of alignment with what we see in antique clothing, does that make it costume-y? Even if the fit is perfect?
Something to dress up in for Halloween

. This seems almost an obvious excuse to call something costume-y. It's seen as not a real work of historical costuming. A costume-y costume is relegated to only being worn once a year in October and is not allowed to show itself in other months.
If an outfit is destined to only being worn for Halloween, which in general, is a time to show off, perhaps that costume-y thing should be described as clothing for the stage. That it doesn't really represent a historical period of time.
Perhaps instead of a dress being viewed so low, it should simply be called "theatrical." People understand "theatrical." It's exaggerated, dramatic. It's not meant to be taken seriously. It gives clues to characters and references to places in time and location.
But costuming from the past is relative to the people you hang out with and the authenticity standards of the group or persons you are representing.
That dusty rose calico may be fine for a Jane Austen picnic because your group of friends only cares about dressing up to have fun. Whereas, museum docents would purposely avoid synthetic fabrics to present a truer appearance for a point of history based on the research available.
This comes back to poor fit. People throughout history have worn ill-fitting clothing. It's nothing new. The 19th Century silhouette was so fitted to the figure and displayed in colorful fashion plates and touched-up photographs that we forget not everyone had "perfect" clothes.
It begs the question; back in the 1800s did they have a "costume-y" term for others' badly-fitted, "theatrical" clothing? If someone today wears a too-loose shirt, we don't call it costume-y. It's just a person's clothes.
And does a perfect-in-every-way-except-the-fit costume still scream "costume-y" when it's so close to historical principles?
Perhaps "costume-y" in our definition is an arrangement of old-fashioned clothing that, to our modern eye, doesn't look like it came from the period represented. Maybe we want it that way – something with a vintage touch. Maybe we don't mind our costumes giving a historical appearance but with some modern elements like rayon trim on silk-like taffeta. Would they then still be considered costume-y? It rests on the eye of the beholder.
If our individual, modern eye is the judge perhaps all our work gives a costume-y appearance, at least to someone.
"Theatrical" just might be a better definition then as we who do historical costuming go on stage a few times a year to prance and parade in our finest work looking similar to those in our party. We're all on a stage when we're dressed up in past fashions.
What do you think?