A Regency dress should be simple to finish. Two or three skirt seams, a bodice seam, set onto a waistband, set in sleeves, neckline bias and back closure and Done!
Yeah, right.
Although it IS easy, that "simple" dress has been on my sewing table for two months now. TWO! I guess when you're in mid-January, April 9thlooks a long-ways away….
Last weekend, having a relatively open couple of days, I forced myself into my sewing room to finish the darn dress. It's lovely fabric, will look terrific with the gold spencer over it (still to be done) and is needed in three weeks.
So how did I pull up my bootstraps and git 'er done?
Just that. I literally forced myself to pick up the half sewn skirt and start pinning the next seam. I told myself: no Facebook or reading other blogs until it's finished (or at least until a late lunch break).
And you know what? Once I got started, it was easier to keep pinning the next seam. I was able to trim seams, press, gather those sleeves and even hand finish lots of areas. It became fun again.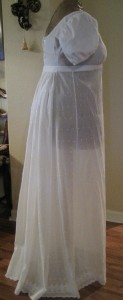 I was tired of the project sitting there. I was tired of procrastinating (which is SO me). I wanted the dress DONE.
Wearing a new creation to an event is such a boost to have people admire you, and you get to share your process of making it. It's such a thrill to show others that they can make something like that too.
As I sewed, I dreamed of the finished dress. Do you picture yourself in your completed costume? The end product that's been brought from your mind into reality?…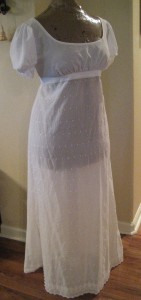 Honestly, I was also pushed to get the dress done because I really wanted to make that gold silk spencer with red piping. I managed to get it cut out and the piping made!
But knowing that I have a full-blown 1873 bustle costume waiting in line to get started, I knew that I'd better kick it into gear. Knock out that "easy project" of the voile Regency dress so I can attack my real challenge.
I think just the simple action of taking action motivated me to plow through the steps until they were completed. I had made the decision in my mind then followed through with it. So many don't follow through.
Be the one that finds the motivation within yourself to get your costume project finished (or even started!). Find the reason why you WANT to make that new Civil War wrapper, or that Downton Abbey tea gown.
Is it because you want the sense of accomplishment? Do you want to be highly admired? Is it to share history with others? Is it to try something new? Or do you just want to prove to yourself that it can be done?
Think about WHY you sew reproduction clothing then post a comment to share your Why. And let us know how you're doing with getting things DONE!