Victorian Bustle Day Dress Class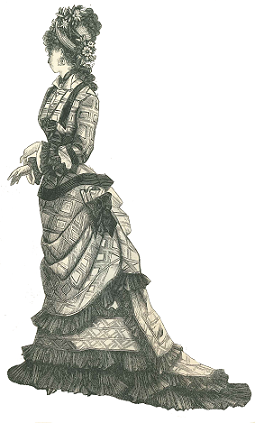 Next class: April 2, 2013 
Registration is now closed as the class is full.
Thank you for your interest!
Love the Bustle Era but don't know where to begin to make a dress? Confused on how you build a bustle costume? Need a push to get that new 1880s project finished?
Then this is the class for you! It is only for those truly serious about learning how to sew an 1870s or 1880s day dress.

NEXT CLASS BEGINS LATE SUMMER 2013
 
Through a 6-week series of lessons, we'll cover all the bases needed for a complete bustle dress. Each lesson has a minimum of 3 videos (and many lessons have 4 or more) along with an accompanying PDF handout. You get over 4 hours of video tutorials!
This is an intermediate level class. You should understand basic sewing techniques including how to set in a sleeve. Advanced processes such as fitting tips and methods will be touched on, but for the most part we'll stick to the patterns.
The priority is for you to understand how a bustle dress goes together and what goes into making it. Understand the basics then you'll be able to explore more advanced designs.
This class will focus on the specific topic of making a bustle dress project so we can saturate the knowledge and improve our skills. We'll explore the various parts of a bustle gown including the foundation skirt, overskirt and bodice.
"Jennifer, I agree with my classmates as well. This class and your great instruction has helped me so much. The pattern I purchased for the class has opened up a whole world of possibilities for future bustle dress that I want to create. Thank you and I look forward to more classes with you." ~Tina Holt
Take a Look at the Exciting Lesson Plans:
Lesson 1: Discuss design ideas, fabric selections and taking measurements
Lesson 2: Sewing the foundation/underskirt
Lesson 3: Sewing the overskirt
Lesson 4: Bodice mockup & fitting
Lesson 5: Bodice pattern alterations & construction
Lesson 6: Finishing the bodice
Although an 1870s or 80s bustle dress can be quite complicated, it really starts with basic shapes that are then tortured & trimmed into the design you want. For this project, we'll be using the ever popular Truly Victorian patterns. (Specific patterns will be listed to those who register for the class.)
You get to choose which bustle era you want to make: Early Bustle 1870s, Natural Form Era, or Late Bustle 1880s. It's your choice! 
Valuable Skills & Techniques You'll Learn:
Fabrics to use in bustle dresses including underlinings

When & how to flatline

Setting in a skirt placket

Pleating the skirts to a waistband

Hem finishing techniques

Attaching ties to skirts to give them proper bustle pouf

Bodice fitting tips

Constructing a bodice in the correct order

Pattern sizing and adjustments

Finishing a bodice with period techniques

Trimming the skirts and bodice for a cohesive look
No need to delay that dress project you've been dreaming of – sign up now!
Class Fee: $60.00
Includes over 6 full weeks of lessons, over 4 hours of video tutorials & training, access to instructor, connection with other Victorian costumers, and a fun sewing project!
Upon successful registration (within 24 hours), students will receive instructions for how to join the Facebook group, list of supplies needed, and how to order patterns.  The fun begins right away!
Be part of this exciting program of online sewing lessons! Register now for the April class for this super fun class of making a Victorian Bustle Day Dress. I'll see you soon!
P.S. So many of you here in our joyful community have expressed a desire to make a bustle dress. This class will be popular so we'll need to limit the amount of registered students. Don't miss your spot!