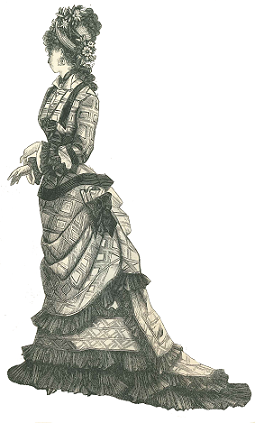 Victorian Bustle Day Dress Class 
Now available as an On-Demand Class!!
Work on your own schedule to create a beautiful dress from the 1870s or 1880s!
LOVE the Bustle Era but don't know where to begin to make a dress? Confused on how you build a bustle costume? Need a push to get that new 1880s project finished?
My friends, then welcome to this class designed specifically for you! It is only for those truly serious about learning how to sew an 1870s or 1880s day dress.

Class starts today!
 
Through 6 lessons we'll cover all the bases needed for a complete bustle dress. Each lesson has a minimum of 3 videos (and many lessons have 4 or more) along with a packed accompanying PDF handout! You get over 4.5 hours of video tutorials!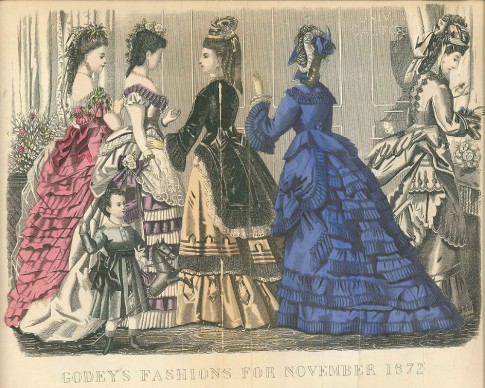 This is an intermediate level sewing class. You should understand basic sewing techniques including how to set in a sleeve, buttonholes, and basic hand stitches. Advanced processes such as fitting tips and methods will be touched on, but for the most part we'll stick to the patterns.
The priority is for you to understand how a bustle dress goes together and what goes into making these beautiful gowns. Understand the basics then you'll be able to explore more advanced designs.
This class will focus on the specific topic of making a bustle dress project so we can saturate the knowledge and improve our skills. We'll explore the various parts of a bustle gown including the foundation skirt, overskirt and bodice.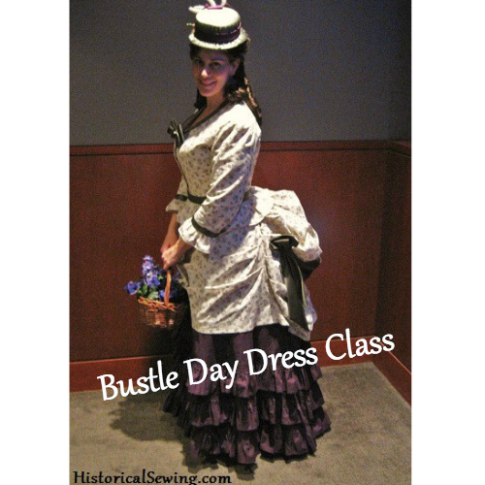 "Jennifer, I agree with my classmates as well. This class and your great instruction has helped me so much. The pattern I purchased for the class has opened up a whole world of possibilities for future bustle dress that I want to create. Thank you and I look forward to more classes with you." ~Tina Holt
"Jennifer, this was a great experience! I learned a lot about period correct methods that simply can't be found in contemporary sewing instruction. And I learned the methods make the look! Thanks again for your concise lessons!" ~Donna Knower
Exciting Lesson Plans Prepared for You:
Lesson 1: Discuss design ideas, fabric selections and taking measurements
Lesson 2: Sewing the foundation/underskirt
Lesson 3: Sewing the overskirt
Lesson 4: Bodice mockup & fitting
Lesson 5: Bodice pattern alterations & construction
Lesson 6: Finishing the bodice
NOTE: We will be making, in order, the foundation skirt, overskirt and bodice in this class. Undergarments, including corset and bustle support, are NOT covered. Please visit the Victorian Undergarments Online Class for those items.
"I never would have done it without you, Jen!! Your videos were so helpful, as were the handouts. We had enough time to finish the project, (but not too much to forget about it!) I love my dress I am so proud of myself for finishing it!." ~Jeri Bills 
"Thanks so much for an awesome class… and also for making it continuously INSPIRING. I loved it. I am so pleased with how much I learnt, and I know I will always have these skills now." ~Karen Lorraine 
 
Although an 1870s or 80s bustle dress can be quite complicated, it really starts with basic shapes that are then tortured (ha!) & trimmed into the design you want. For this project, we'll be using the ever popular Truly Victorian patterns. (Specific patterns will be listed to those who register for the class.)
You get to choose which bustle era you want to make: Early Bustle 1870s, Natural Form Era, or Late Bustle 1880s. It's your choice! 
As with all of our classes, you may choose to use other patterns but be aware that the specific steps of each lesson will cover the class-specific Truly Victorian patterns.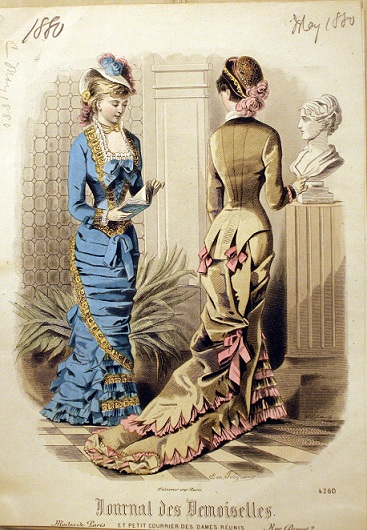 Valuable Skills & Techniques You'll Learn:
Fabrics to use in bustle dresses including underlinings

When & how to flatline

Setting in a skirt placket

Pleating the skirts to a waistband

Hem finishing techniques

Attaching ties to skirts to give them proper bustle pouf

Bodice fitting tips

Constructing a bodice in the correct order

Pattern sizing and adjustments

Finishing a bodice with period techniques

Trimming the skirts and bodice for a cohesive look
 "I have basically participated in all of Jennifer Rosbrugh's online classes. I just love how clear and concise and easy to follow her instructions are. No matter what, I always learn something new." ~Susanne Hughes
 "Jennifer, thank you so much for running this class. I learned a lot about fitting and really enjoyed the class. I know I will be referring to the lessons again." ~Cathy Leeson
 "Thank you so much! I've learned a lot and am much more confident in my skills now. It's a wonderful class especially for international students." ~Tanya Itkin
Please Note:
During class lessons you'll hear mention of a private Facebook group. As this is now an on-demand class there is NO FACEBOOK GROUP for this online class.
"I learned so much in this class and was really pleased with the experience. It was, honestly, better than I expected and I have made some of the best looking garments of my sewing career. I thought that any little issues, all of which were incredibly minor, started to work themselves out over the course of the class." ~Anonymous from exit survey
Intermediate Level Class
If you have sewing experience but are new to historical garments, you will feel comfortable here. We'll be following the patterns closely so you should be able to keep up with the class just fine.
If you are new to sewing, this may not be the best class for you at this time. You do need to know how to set in a sleeve. Perhaps starting with a basic chemise and drawers class would be better so you don't become frustrated with techniques that are beyond your current skills.
If you are advanced in your sewing skills, you are welcome! Maybe you simply need the class as accountability for your time so your dress gets done. Use the homework assignments to push you forward. 🙂
Class begins when you're ready. All six lessons are available to you upon successful registration and do not expire.
Be sure to download & print the handouts too for future projects!
On-Demand Class: $77.00  
On-Demand class includes 6 full sewing lessons with 4.5 hours of video instruction and complete PDF handouts with homework assignments, and a super fun sewing project!
Upon successful registration students will receive a download link at checkout, and also an email from SkyPilot with the link, to download the first PDF of class to access the Welcome page that contains a list of supplies needed, how to order the patterns, along with access to the class lesson pages. The fun begins right away!
Thank you for the opportunity to sew with you!!
P.S. The class lessons are entirely online and self-paced with no specific day or time required to be online. You work at your own speed and schedule. Read the lessons and watch the videos when it's most convenient for you.
Attention EU students: our classes & workshops fall under the new 1/1/2015 digital VAT regulations. All online classes and workshops will have your EU country's VAT tax rate added at checkout. Class prices shown do not include VAT.
For more info on our online classes, please read this page. Please see our full terms of service here.
Jennifer Rosbrugh and Old Petticoat Shop, LLC are affiliates of Amazon.com and Truly Victorian.