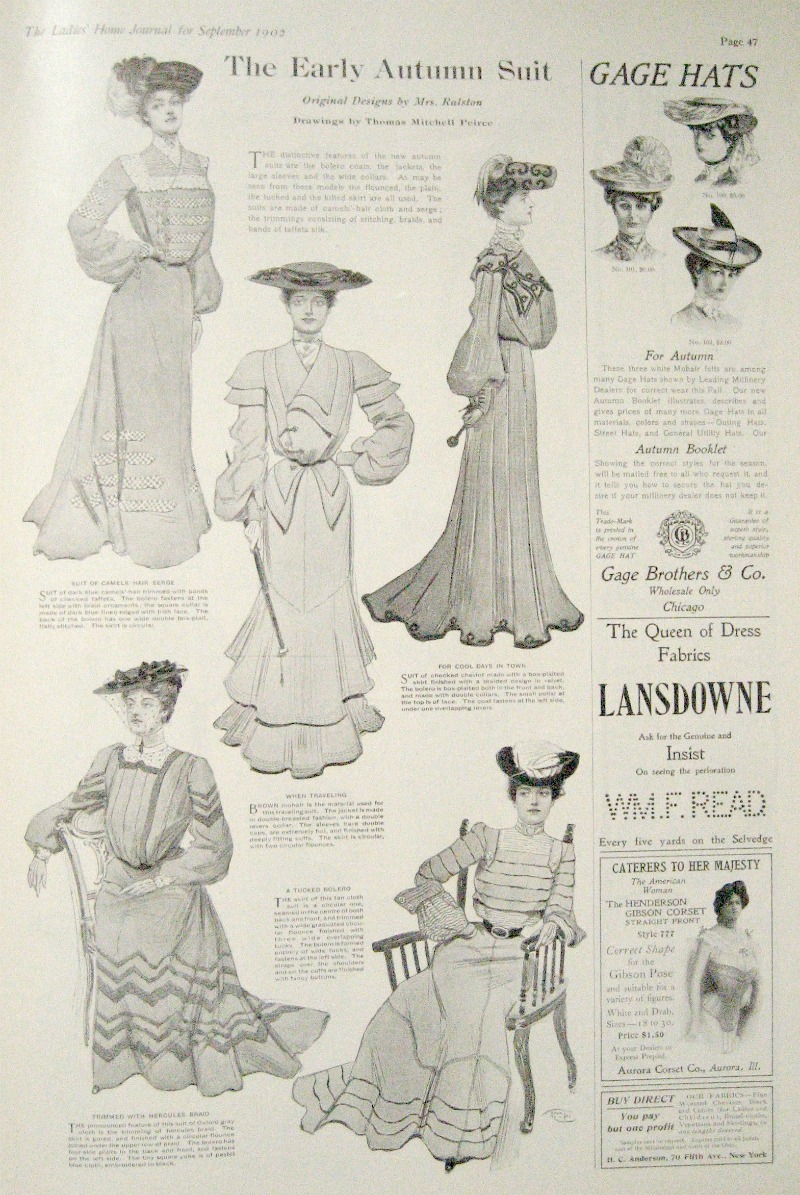 The Early Autumn Suit from September 1902 in The Ladies Home Journal.
The distinctive features of the new autumn suits are the bolero coats, the jackets, the large sleeves and the wide collars. As may be seen from these models the flounced, the plain, the tucked and the kilted skirt are all used. The suits are made from camels' hair cloth and serge, the trimmings consisting of stitching, braids, and bands of taffeta silk.
Descriptions for these yummy suits below.
Top row:
Suit of Camels' Hair Serge – Suit of dark blue camels' hair trimmed with bands of checked taffeta. The bolero fastens at the left side with braid ornaments. The square collar is made of dark blue linen edged with Irish lace. The back of the bolero has one wide double box-plait, flatly attached. The skirt is circular.
When Traveling – Brown mohair is the material used for this traveling suit. The jacket is made in double-breasted fashion, with a double revers collar. The sleeves have double caps, are extremely full, and finished with deeply fitting cuffs. The skirt is circular, with two circular flounces.
For Cool Days in Town – Suit of checked cheviot made with a box-plaited skirt finished with a braided design in velvet. The bolero is box-plaited both in the front and back, and made with double collars. The small collar at the top is of lace. The coat fastens at the left side, under one overlapping revers.
Bottom row:
Trimmed with Hercules Braid – The pronounced feature of this suit of Oxford gray cloth is the trimming of hercules braid. The skirt is gored, and finished with a circular flounce joined under the upper row of braid. The bolero has four side plaits in the back and front, and fastens on the left side. The tiny square yoke is of pastel blue cloth, embroidered in black.
A Tucked Bolero – The skirt of this tan cloth suit is a circular one, seamed in the centre of both back and front, and trimmed with a wide graduated circular flounce finished with three wide overlapping tucks. The bolero is formed entirely of wide tucks, and fastens at the left side. The straps over the shoulders and on the cuffs are finished with fancy buttons.